Minty Lime Granita Strawberry Cups are a delightful, deliciously fun summer hors d'oeuvre or dessert. If you've never been served a cocktail in a strawberry, you don't know what you're missing.
Delicious, pretty, refreshing and incredibly fun! Minty Lime Granita Strawberry Cups are quite possibly the best summer hors d'oeuvre your guests will have! (In my humble opinion, of course.)
If you choose to add the vodka, it's like a sweet, edible cocktail. So cool. It's totally your call.
What is Granita
Originally from Sicily, Granita is a typical Italian dessert that's semi-frozen, made from fresh fruit or fruit juice, water and sugar. It's more rare, but occasionally, you'll find a Granita flavored with something other than fruit, like nuts.
The ingredients form into a crunchy, melt-in-your-mouth fruit ice.
It's refreshing an delicious to eat on its own. It also makes for a fantastic frozen cocktail if you add a splash of liquor.
The most common Granita is flavored with lemon, but it Italy you can find anything from melon and watermelon to almond and pistachio.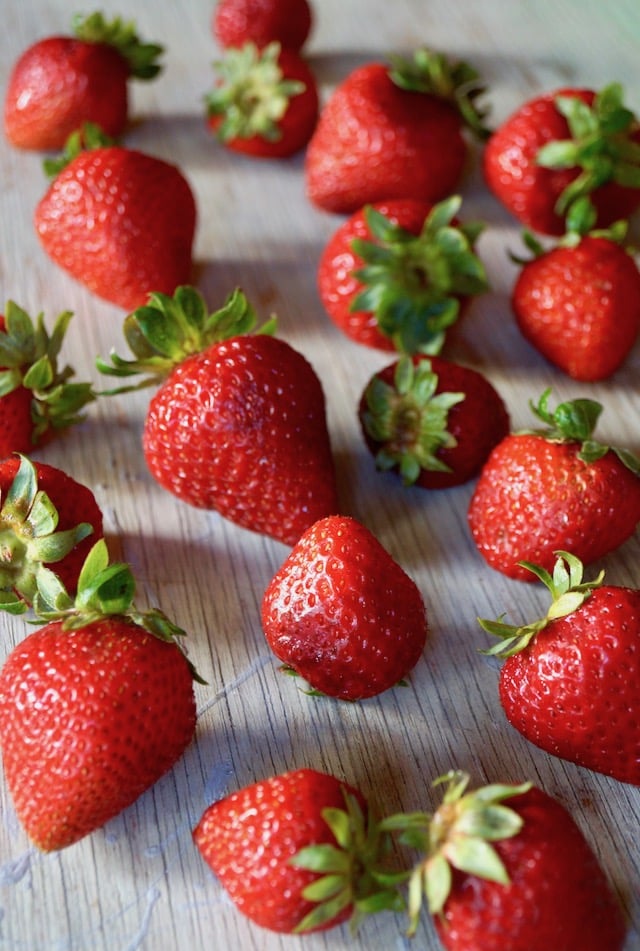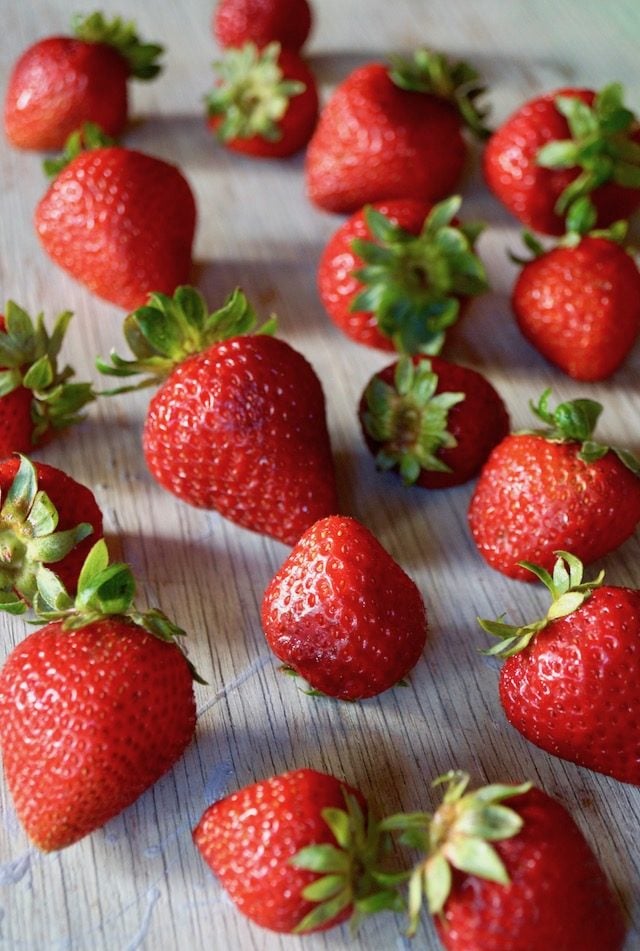 How to Make Granita
The ingredients are blended together and frozen until it begins to become icy along the edges.
Then it's mixed with a fork and frozen again.
This process of scraping and mixing is repeated every so often, until the entire mixture is tiny ice flakes. (Stirring during the freezing time is crucial to get the proper consistency.)

What's in Minty Lime Granita Strawberry Cups
With just a few fresh ingredients, you'll quickly note that this beautiful treat is naturally fat-free, practically calorie-free, vegan and gluten-free.
strawberries
mint
lime juice
sugar
That's it! Oh, unless you want to make it more of a cocktail, in which case you can add a little vodka. 😉
Enjoy these unique Minty-Lime Granita Strawberry Cups!
More granita recipes:
Minty Lime Granita Strawberry Cups
These are a delightful and refreshing, deliciously fun summer hors d'oeuvre or cocktail.

*Makes about 2 dozen
Ingredients
½

cup

water

1

tablespoon

granulated sugar

about 1

dozen medium-large

mint leaves, plus about 2 dozen tiny mint leaves for garnish

¼

cup

freshly squeezed lime juice

(from about 3 limes)

3

tablespoons

vodka

(optional)

about 2

dozen

large strawberries,

washed and dried
Instructions
Make granita
Add the water, sugar and medium-large mint leaves to a small saucepan, place it over medium heat and cook just long enough to dissolve the sugar, about 3 minutes. Let this mixture cool to room temperature and then remove the mint leaves and discard them. Add the lime juice and vodka (if using), and stir to blend.

Pour the mixture into a shallow dish, cover it with plastic wrap and place it in the freezer until the edges are frozen, about 30 minutes. Scrape the ice from the edges with a fork, mixing it into the center. Repeat this scraping and mixing process every 20 minutes or so, until it has turned into tiny ice flakes. (You should almost be "chopping" as you move the ice around.) Keep this in the freezer until you're ready to use it.
Assemble
Slice about ¼ inch from the top and bottom of each strawberry, creating a flat top and a flat base.

Use a tiny melon baler, grapefruit spoon, or paring knife to scoop out about 1½ inch scoop from the top center of each strawberry -- this will serve as a "bowl" for the granita. (Be sure not to scoop all the way through, or too close to the edges!)

Place the prepared strawberries on their bases, on a serving plate or platter. Place in the refrigerator until you're ready to assemble.

Right before you're ready to serve, spoon about 1½ teaspoons of the granita into the center "bowl" you made in the top of each strawberry, and add a tiny mint leaf to them for garnish.

Serve immediately!
NOTES
Calorie count is only an estimate.
NUTRITION
Have you tried this recipe?
I'd love to see it on Instagram! Tag me at @cookingontheweekends or leave a comment & rating below.
Save