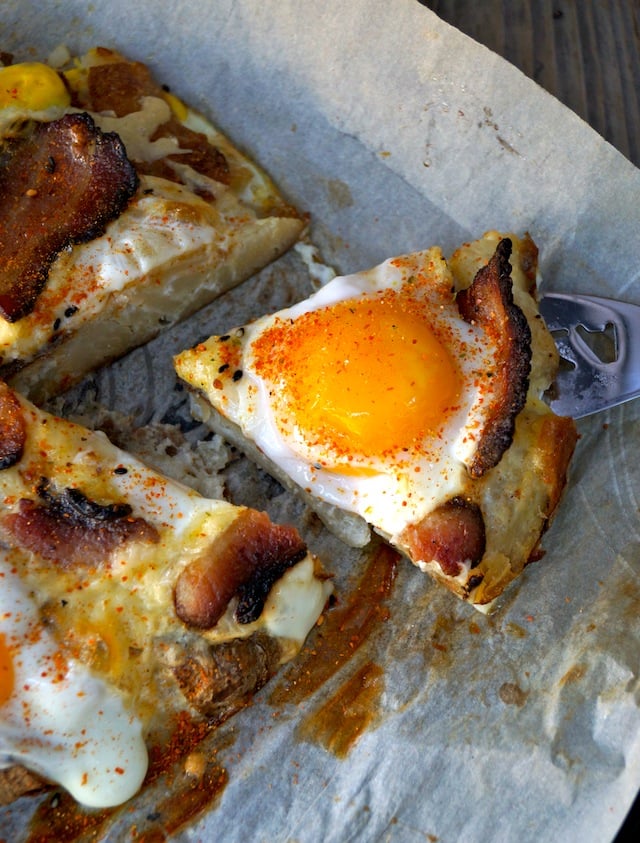 You know when this recipe would be perfect?
Yep, you got it — Christmas morning!  We'll, really any morning (afternoon or evening), but with Christmas just two days away, why not make it extra special with this deliciousness!?
A bite of crispy potato with melting Dubliner, smoky bacon and creamy egg yolk might even get up out of bed even before Santa!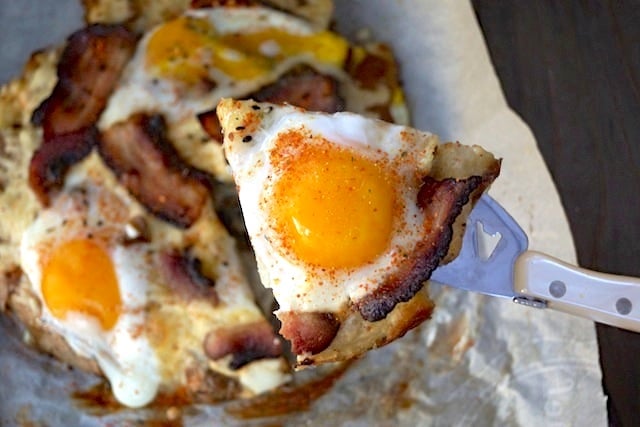 It would be so perfect with aromatic coffee brewing, wrapping paper strewn about the floor, family in warm socks and pajamas, laughing and smiling.
(I know life isn't always all that, but it's that cozy, warm and happy feeling I'm always striving for.)
Enjoy!
Breakfast Bacon and Eggs Smashed Potato Pizza
Instructions
Preheat the oven to 400 degrees F.
Sprinkle the grated cheese evenly over the top of the prepared Smashed Potato Pizza Crust, on a baking sheet.
Add the bacon on top of the cheese -- use every 3 pieces to form a triangle for each egg to go in.
Gently press down on the area inside the bacon triangles --- to create a shallow "bowl."
Carefully crack one egg into each bacon triangle, and sprinkle with chile flakes or Togarashi.
Place in the preheated 400 degree F oven and bake just until the eggs have cooked, 15 to 20 minutes.
Let the pizza sit for about five minutes, slice and serve.
This is not a sponsored post — I simply love Kerrygold cheese.