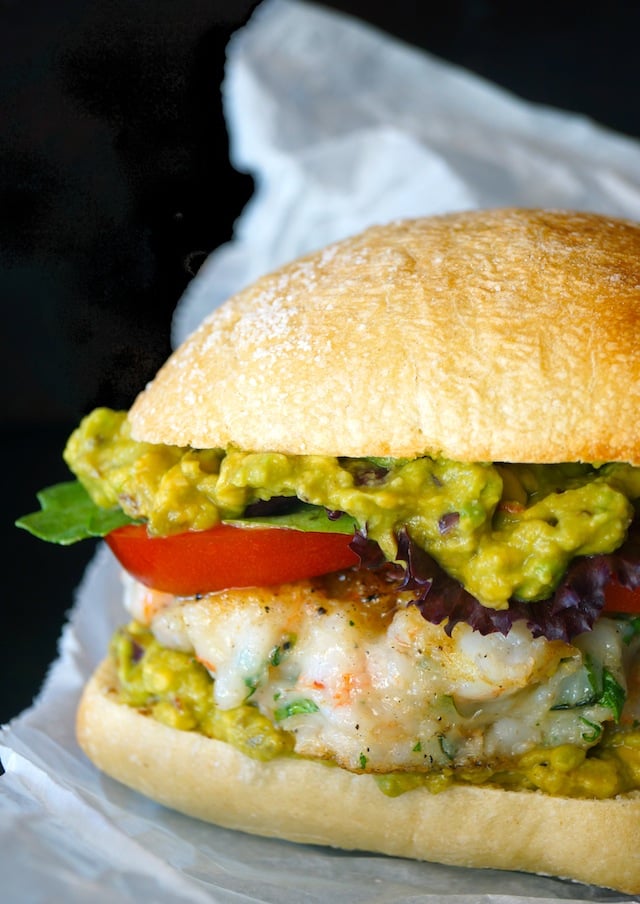 I'm going to be in full bragging mode today and tell you that you absolutely, must, without question, make this burger recipe!
The shrimp burger is out of control juicy and oozing with delicious flavors, and the guacamole is is beyond belief, as it's smoky, spicy, fresh and creamy all at once.  Oh, and the little bits of crunch from the red onion are so good!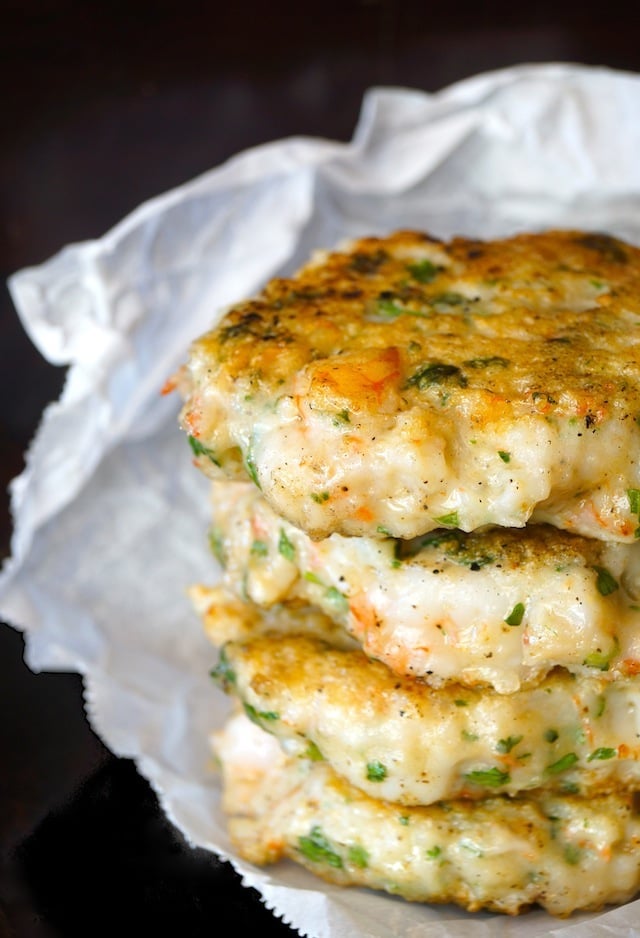 I'm telling you, this should be your dinner!
Shrimp Cilantro Burgers with Smoky Chipotle-Lime Guacamole
To save about 15 minutes, you can buy the shrimp already peeled and deveined. If you have the time though, it's easy to do your self and you'll save some money. Here's
How to Peel and Devein Shrimp.
Ingredients
For the guacamole
1 medium-sized avocado (should provide about ¾ cup mashed)
2 tablespoons finely diced red onion
1 teaspoon fresh lime juice
1½ teaspoons finely chopped chipotles in adobo sauce
¼ teaspoon sea salt
For the burger
1-pound raw shrimp, peeled and deveined (here's How to Peel and Devein Shrimp)
1 large egg
¼ cup packed cilantro leaves, washed and dried
¾ teaspoon sea salt
½ teaspoon ground cumin
½ teaspoon freshly cracked black pepper
olive oil for the pan
about 8 thin slices of vine-ripened tomato
small handful of baby lettuces
4 of your favorite burger buns, lightly toasted
Instructions
For the guacamole
In a small mixing bowl, mash the avocado with a fork. Add the onion, chipotles, lime juice, and salt -- stir to blend. Cover with plastic wrap and press it gently directly on top of the guacamole. Set aside.
For the burgers
Add all but about ¾ cup of the shrimp to a food processor fitted with the blade attachment. Turn it on to pulse it just a bit. Then add the egg and cilantro and blend again until it's smooth, about 10 seconds. Add this to a mixing bowl and set aside.
Roughly chop the remaining ¾ cup of shrimp into small pieces. Add them to the smooth portion in the mixing bowl, along with the salt, cumin and pepper. Mix just to blend and set aside.
Coat the bottom of a large sauté pan with olive oil and place it over medium-high heat. Once it's very hot, us a ½ cup measure to scoop and shape the shrimp mixture into 4 burgers. They will be sticky, but will easily hold together when you place them in the pan. Sauté them just until they're cooked through, 2 to 3 minutes per side. They should be golden brown.
Now add about 1 tablespoon or so of the guacamole to each half of the toasted buns. Add a burger to each, followed by a couple of tomato slices and a bit of the lettuce. Close the burger and enjoy! (These are best when the burgers are still warm.)