A cheesy skillet dip is heaven and this one is full of spinach, artichokes, Gruyère and spices — a true comfort food that's perfect for fall.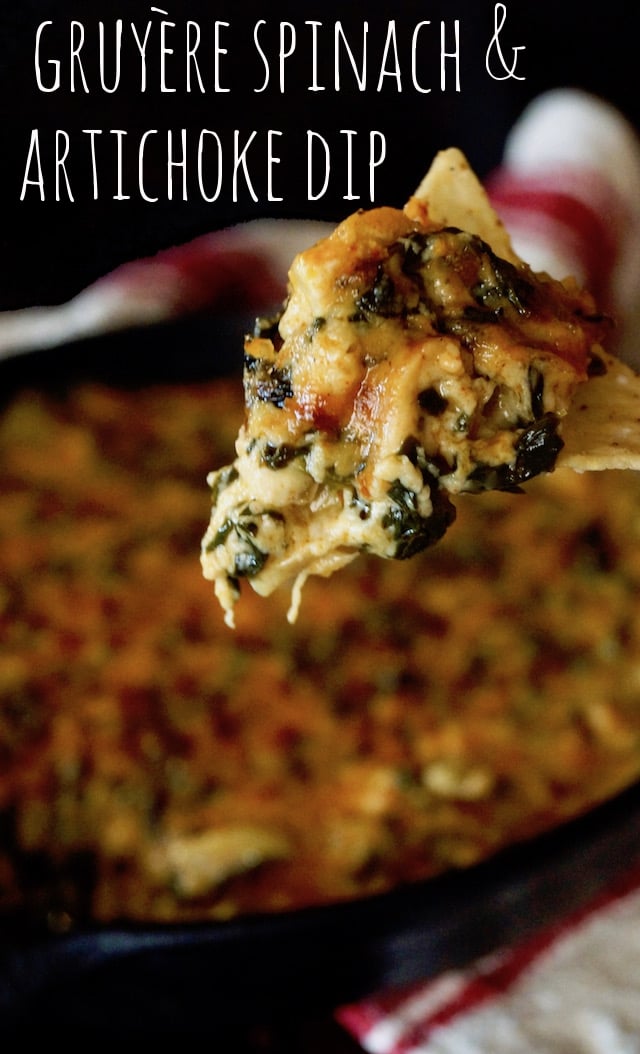 Let me set this up for you . . .
It's a cool fall afternoon and you're craving a super comforting, warming snack that you can whip up quickly.
You want to be somewhat healthy, so while there's a lot of cheese, it'll also be packed with some very nutrient rich leafy greens. Balance is good. 😉
You really don't want to have a big mess to clean up so you'll make it all in one pan — from start to finish.
You don't even want serving dishes to wash . . .
So you'll serve it in the same pan you cooked it in, which frankly it'll taste better in, if you ask me.
Your utensils will be chips! Or pieces of a lovely rustic bread.
Sometimes I make this for just my husband and I as a meal. (GASP! Yep, I do.) However, it's also a great appetizer recipe to make for a dinner party of guests.  
Everyone will love it, any which way you serve it.
You can't possibly make a dish with warm, melting cheese and not have it be a comfort food dish!  And Gruyère adds a lovely buttery, nut-like flavor that can't be matched. Add to that a few warming spices and it's over-the-top!
Oh, and also it also makes for a great pasta sauce, and is fabulous served over baked chicken.
Enjoy!

Spicy Spinach Gruyère and Artichoke Dip Recipe
Ingredients
olive oil for the pan
1 cup finely chopped onion
1 tablespoon minced garlic
1¼ cups drained, marinated artichoke hearts, roughly chopped with tougher leaves removed
1½ teaspoons smoked paprika
¼ teaspoon nutmeg
⅛ to ¼ teaspoon cayenne (depending on how much heat you like)
5 cups packed, fresh spinach leaves, washed, dried & roughly chopped (about 8-ounces)
2 cups grated Gruyère
4-ounces (1/2 cup) cream cheese
¼ cup half and half
¼ cup finely grated Parmesan cheese
salt and pepper
Instructions
Coat the bottom of a (10-inch), oven-safe skillet with olive oil, and place it over medium heat. Add the onion and garlic and cook just until the onions become slightly tender, about 4 minutes.
Add the artichokes, paprika, nutmeg, cayenne and stir to blend.
Mix in the spinach in two or three batches, cooking just until wilted.
Turn on the oven broiler, and then add Gruyère and cream cheese. Once the cheeses are melted, stir in the half and half, and season to taste with salt and pepper.
Evenly sprinkle the top with the Parmesan and then place the skillet under the broiler, just until the top is golden, about 1 minute.
Serve with chips, bread or raw vegetables.