Fresno Pepper Pesto recipe is a unique pesto that can serve as a dip, a spread or a sauce, to beautifully enhance just about anything it's added to.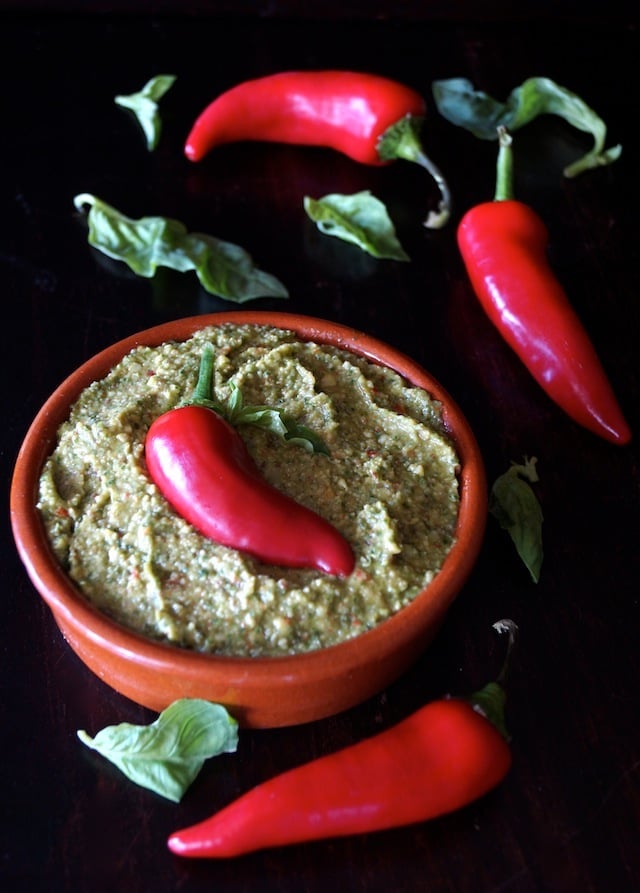 There are a handful of foods I like to have at the ready at all times: cooked rice, homemade salad dressing, compound butters, cookie dough, and pesto -- just to name a few.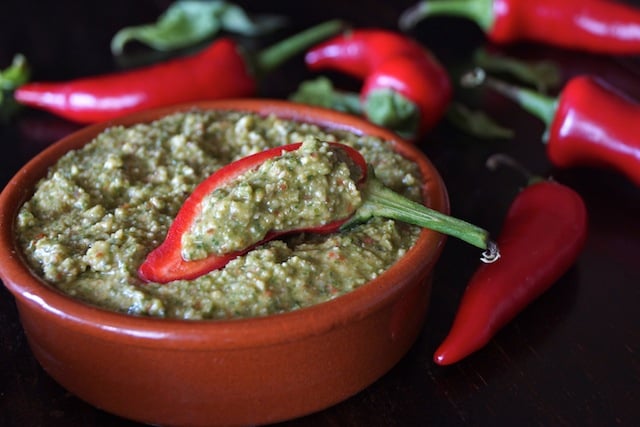 What is a Fresno Pepper?
Fresno peppers are medium-sized with a cone-like shape. They're about two inches long, and about one inch in diameter near the stem.
They can be green, but when they're mature, they are a very pretty, deep red color.
The taste of a Fresno pepper is often compared to that of a Jalapeño.
They are named for Fresno, California and are g

rown throughout California, mostly in the San Joaquin Valley.
How hot are Fresno Peppers?
Fresno peppers are typically medium heat, with a subtle smoky sweetness. When they're matured and red, they are fruitier and much hotter.
What's in Fresno Pepper Pesto Recipe?
basil
almonds
Parmesan
Fresno peppers
garlic
extra virgin olive oil
lemon juice
salt, sugar
What's the best substitute for a Fresno pepper?
A jalapeño!
Uses for Fresno Pepper Pesto
Roasted Fresno Pepper Pesto is thick, spicy and slightly sweet. It's amazingly delicious . . . on so many foods . . . .
mixed into pasta
spread on toast
to "crust" a rack of lamb
with chicken, steak or fish
added to sauces
mixed into scrambled eggs
The possibilities are endless.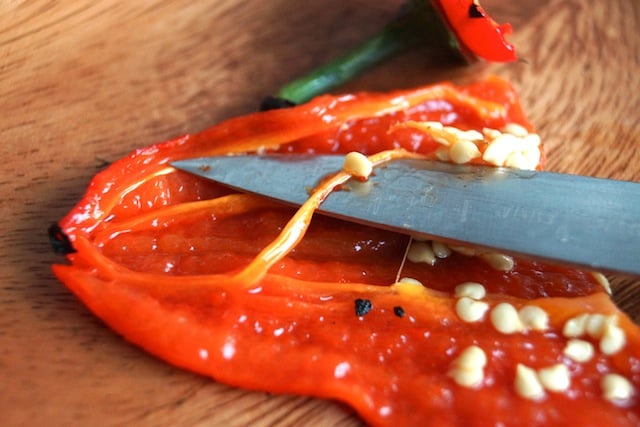 Recipe Tips and Substitutions
Did you know the seeds are not the hottest part of a chili pepper? Nope, it's the membrane that holds the most of the heat! So, in addition to removing the seeds, if you want less heat, the membrane is easily removed with a paring knife (see image above).
Feel free to adjust the amount of peppers you add, depending on the amount of heat you like.
Always taste a bit of the pepper before you add it because the heat can vary from pepper to pepper.
Of course, if you don't want any heat at all, use a red bell pepper.
Almonds are deliciously creamy in pesto, but feel free to use pine nuts, walnuts, or pecans if you'd like. (One of the fun things about pesto recipes, is that you can totally mix up the ingredients to suit your taste.)
I hope you love this Fresno Pepper recipe as much as I do!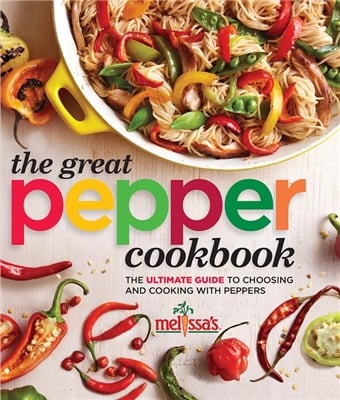 I continue to get inspiration for my pepper recipes from The Great Pepper Cookbook: A Guide to Choosing and Cooking with Peppers from Melissa's Produce.
More unique pesto recipes:
Fresno Pepper Pesto Recipe
Fresno Pepper Pesto recipe is a unique pesto that can serve as a dip, a spread or a sauce, to beautifully enhance just about anything it's added to.Makes 2¼ cups | serving size: about 2 tablespoons
Ingredients
4

ounces

fresh basil leaves,

washed and dried

1

cup

sliced almonds,

toasted

1

cup

Parmesan cheese,

grated

1

teaspoon

garlic,

minced

1

cup

extra virgin olive oil

⅓

cup

fresh lemon juice

1

tablespoon

granulated sugar

1¼

teaspoon

salt
Instructions
Add the basil, almonds, cheese, roasted peppers and garlic to a food processor fitted with the blade attachment.

Blend for about 30 seconds, and then gradually add the oil. Blend until it's as smooth as possible.

Add the lemon juice, sugar and salt and blend just to combine.
Notes
Calorie count is only an estimate.
Have you tried this recipe?
I'd love to see it on Instagram! Tag me at @cookingontheweekends or leave a comment & rating below.
Cooking On The Weekends is a participant in the Amazon Services LLC Associates Program, an affiliate advertising program designed to provide a means for sites to earn advertising fees by advertising and linking to Amazon.com.