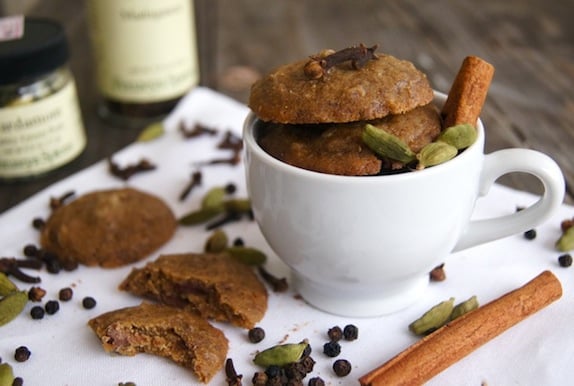 These cookies are near and dear to my heart.
I created this recipe a dozen years ago, and today is the first time I'm ever sharing it.  (Well, sharing it in writing — many people have eaten them over the years!)
Chai is the generic word for tea in India.  There's no tea in the recipe — just the some of the alluring, exotic spices often found in Masala Chai.
Fiery and sweet at the same time, this incredibly flavorful spice blend makes for a delicious and calming (yes, calming), cookie-eating experience.
They'll warm your heart and sooth your soul.  Try them and see.
With cooler weather, these cookies are an ideal snack for you and a friend to share on the weekend!
Or, simply spend some nice, relaxing weekend time baking them!
I love them.
Chai Chocolate Chunk Cookies
Makes 4 dozen
Ingredients
14-

ounces

roughly chopped milk or dark chocolate

see notes

1

teaspoon

ground black pepper

1

teaspoon

ground cardamom

1

teaspoon

ground cinnamon

1

teaspoon

ground cloves

1

teaspoon

ground ginger

1/2

teaspoon

sea salt

2 1/4

cups

all-purpose flour

1/4

teaspoon

baking soda

1

cup

unsalted butter

softened

1

cup

granulated sugar

1/2

cup

light brown sugar

1

teaspoon

vanilla extract

1

tablespoon

heavy cream

1

tablespoon

molasses

1

egg
Instructions
Line a couple of baking sheets with parchment paper. Set them aside.

Combine the chai spices in a small bowl and chop the chocolate. Set these aside, too.

In a large mixing bowl, mix the flour and baking soda with the chai spices and salt.

In a slightly larger mixing bowl, combine the softened butter with the sugars, vanilla, molasses, and cream. Then, gradually blend in the egg.

Add the flour mixture and stir only until the flour is incorporated. Then fold in the chocolate chunks.

Use an (approximately 1-1/2-inch) ice-cream scoop to shape the dough into balls, placing each one on the parchment-lined baking sheets as you go. (At this point, the balls can be very close together.) Cover the baking sheet with plastic wrap and refrigerate until the dough is firm, about 1 hour.

While the dough is in the refrigerator, preheat the oven to 350 degrees F.

Place 9 to 12 of the shaped cookie dough balls on another parchment-lined baking sheet and bake for about 7 minutes, just until the dough has solidified. It will still look a bit doughy -- which is perfect!

Carefully remove the baked cookies with a metal spatula and place them on a cooling rack.

Repeat this process until all of the cookies are baked.
Recipe Notes
I'm usually a dark chocolate girl, especially when I bake -- however, with the intensity of the spices in these cookies, I prefer milk chocolate. These cookies are a hit either way, so use whichever you like! (Scharffen Berger is my favorite.)
You can keep reusing the same parchment paper. Absolutely no need to change it after each batch. Save paper!
Timeline:
Up to a week and at least 2 hours ahead of time: Make the cookie dough.
Up to 1 day and at least 20 minutes ahead of time: Bake the cookies.
You can make the dough, shape it, and freeze it!  Then you'll have them at the ready to pop in the oven just before guests are arriving.  The house will smell great, and everyone will get fresh-out-of-the-oven cookies!  The dough can be kept frozen for a few weeks or so — but it's best to bake it within a week. You can also freeze the baked cookies for a couple of weeks.  When I do this, I like to warm them in the oven just before serving.
Save