Chai Chocolate Chunk Cookies might just warm your heart and soothe your soul. Warming spices and melting chocolate make these one of the best exotic cookie recipes.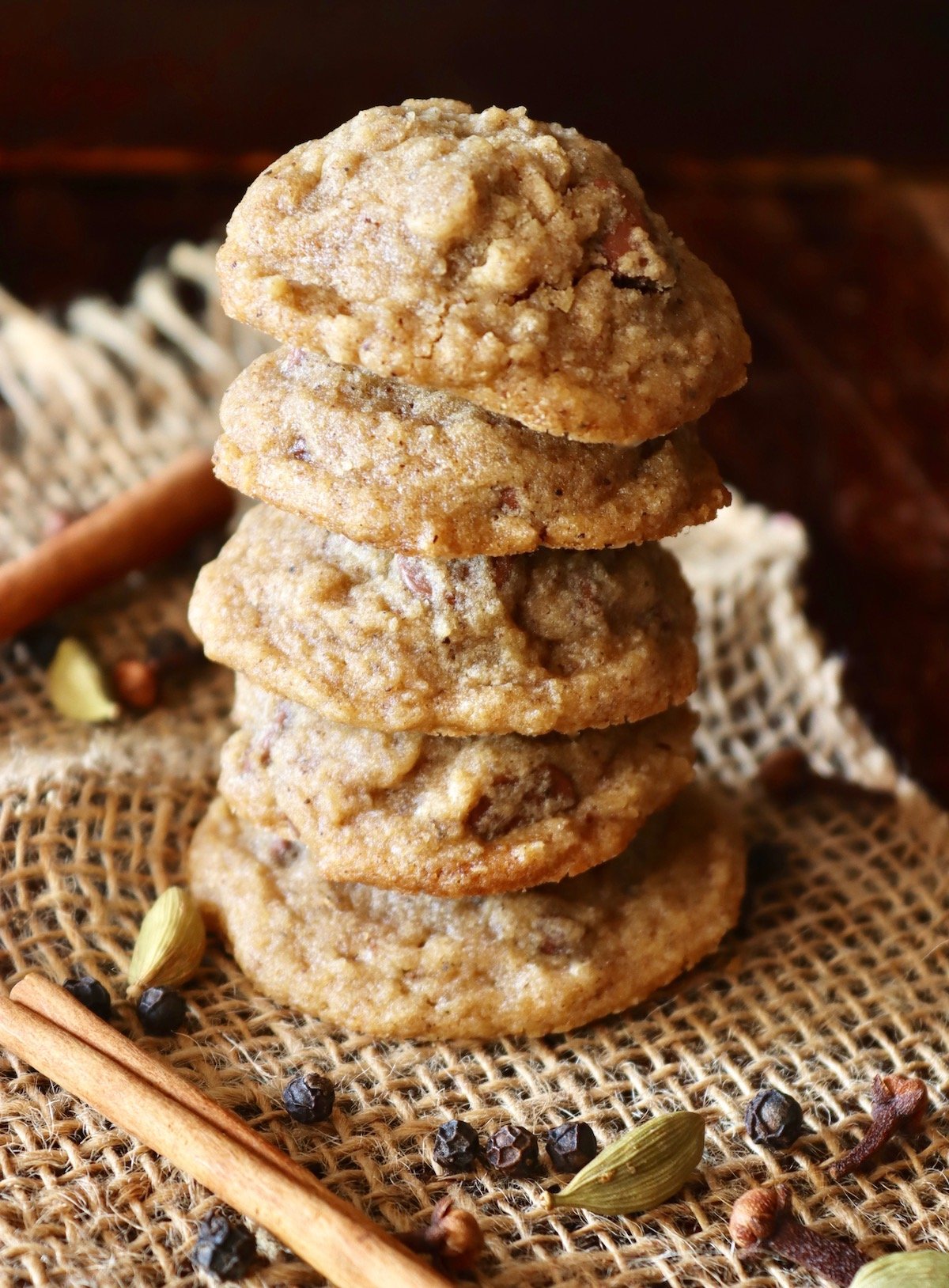 These Chai Chocolate Chunk Cookies are near and dear to my heart.
Once upon a time, they almost had me starting a cookie brand.
They are without a doubt, my favorite cookie recipe I've ever created. The warm flavors, the soft texture, the melting chunks of chocolate, it's all so dreamy.
What is Chai?
Chai is the generic word for tea in Hindi, a main language of India. Chai is derived from the Chinese word for tea, which is Cha.
Chai is a mix of spices steeped into a tea-like beverage, and recipes for it can vary greatly.
Traditional ingredients for Chai usually include black tea mixed with strong spices, like cinnamon, cardamom, cloves, ginger and black peppercorns.
The tea is typically brewed strong, and has milk and sugar or honey added to it.
There's no tea in my Chai Chocolate Chunk Cookies — just the alluring, exotic spices.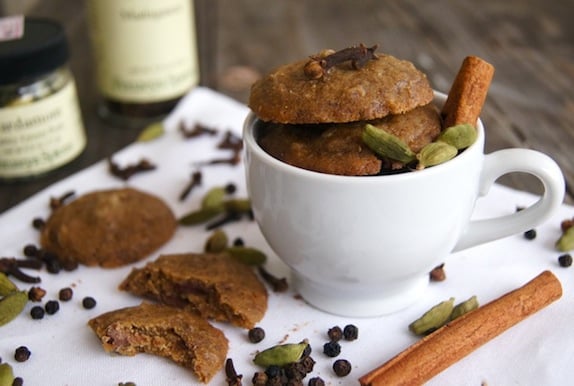 Fiery and sweet at the same time, this incredibly flavorful spice blend makes for a delicious and calming (yes, calming), cookie-eating experience.
They'll warm your heart and soothe your soul. Try them and see.
Recipe Tips and Substitutions
You can use whole or ground spices. If you choose to grind whole spices, I suggest using an

electric spice grinder

, rather than a

mortar and pestle

. We want the spices as fine as possible. (Of course, pre-ground will save time.)
I use milk chocolate in this recipe. I have tested it with both semisweet and dark chocolate, and find that the milk chocolate doesn't compete as much with the flavor of the spices.
The baking time is 7 minutes. You want them to be only slightly crisp on the edges and almost doughy looking in the very center. They will still be good if they're baked a bit past this point, but I prefer the texture this way.
You can reuse the parchment paper after each batch is baked. No need to keep using new sheets.
I use a 1

¼

inch cookie scoop for these cookies, but feel free to make them any size you like.
Final tip: share! 🙂
I hope you enjoy every last crumb of these incredibly scrumptious Chai Chocolate Chunk Cookies!
More exotic cookie recipes:
Chai Chocolate Chunk Cookies
Chai Chocolate Chunk Cookies might just warm your heart and soothe your soul. Warming spices and melting chocolate fill a delicious soft, buttery cookie.Makes 4 dozen | Serving size: 2 cookies
Instructions
Line a couple of baking sheets with parchment paper. Set them aside.

Make chai spice mix. Combine the chai spices in a small bowl and chop the chocolate. Set these aside, too.

Make batter. In a large mixing bowl, mix the flour and baking soda with the chai spices and salt.

In a slightly larger mixing bowl, combine the softened butter with the sugars, vanilla, molasses, and cream. Then, gradually blend in the egg.

Add the flour mixture and stir only until the flour is incorporated. Then fold in the chocolate chunks.

Shape and refrigerate. Use an (approximately 1¼ inch) cookie scoop to shape the dough into balls, placing each one on the parchment-lined baking sheets as you go. (At this point, the balls can be very close together.) Cover the baking sheet with plastic wrap and refrigerate until the dough is firm, at least 1 hour.

While the dough is in the refrigerator, preheat the oven to 350° F.

Bake and cool. Place 9 to 12 of the shaped cookie dough balls on another parchment-lined baking sheet and bake for about 7 minutes, just until the dough has solidified. It will still look a bit doughy -- which is perfect!

Carefully remove the baked cookies with a metal spatula and place them on a cooling rack. Repeat this process until all of the cookies are baked.
Notes
Calorie count is only an estimate.
Have you tried this recipe?
I'd love to see it on Instagram! Tag me at @cookingontheweekends or leave a comment & rating below.
Cooking On The Weekends is a participant in the Amazon Services LLC Associates Program, an affiliate advertising program designed to provide a means for sites to earn advertising fees by advertising and linking to Amazon.com.