Mexican Chocolate Crème Brûlée is a fabulous Cinco de Mayo dessert. Every rich, chocolatey bite is subtly spiced with cinnamon, and the creamy texture is over the top! Whether you serve this for the holiday, or any day, it's sure to make you happy.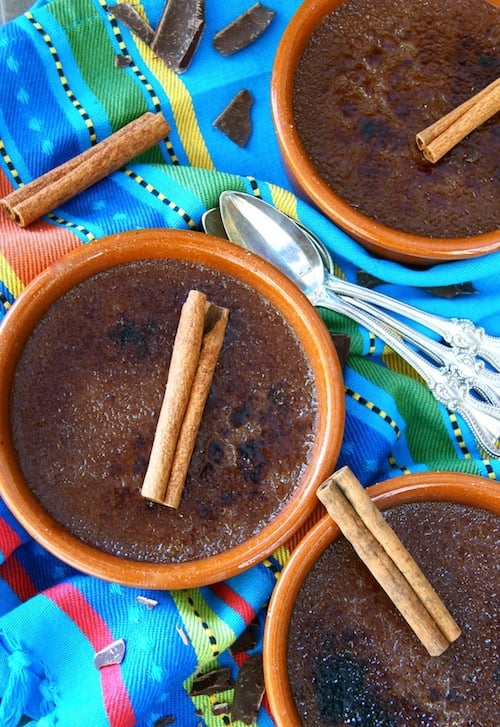 Cinco de Mayo is a holiday that gives me the perfect excuse to make delicious Mexican recipes. Not that I really need an excuse -- but it's fun!  And this Mexican Chocolate Crème Brûlée might just be my favorite!
What is Cinco de Mayo a Celebration of?
In the United States, Cinco de Mayo is very often thought of as Mexico's Independence Day, which it is not. Mexico's Independence Day is actually September 16th.
Cinco de Mayo commemorates a victory over France in the Battle of Puebla on May 5, 1862.
Cinco de Mayo is not widely celebrated in Mexico -- in the United States however, the commercialization of the holiday has taken off and it's all about food and drinks.
You can find out much more about he history of Cinco de Mayo here.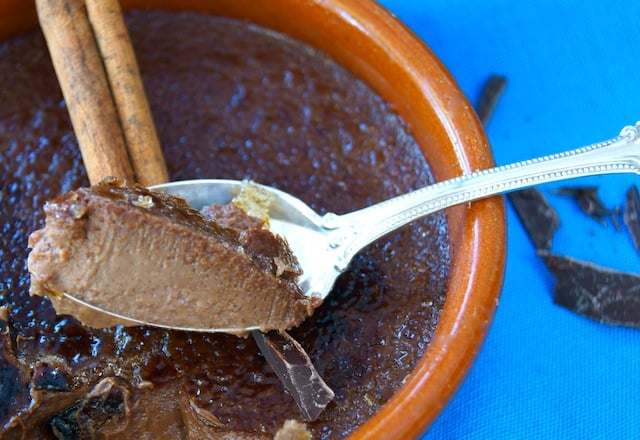 How to Make Mexican Chocolate Crème Brûlée
There are a few different ways to make crème brûlée. It can be made on the stove or in the oven. For this recipe, there is a little bit of stove time, but the majority of the baking is done in the oven in a water bath.
Here's a summary of how to make it. (More detailed instructions are below.)
Infuse cream and half and half with cinnamon and vanilla. Then add chocolate to it and mix until it's melted and smooth.
Whisk eggs with sugar, and once the chocolate mixture has melted, combine the two components.
Bake the custards in a water bath for about forty minutes, cool to room temperature, and then cool completely in the refrigerator.
Then the fun part . . . brûlée the sugar on the surface of the custard with a

kitchen torch

.
What makes this Chocolate Crème Brûlée unique?
This recipe is unique because cinnamon is mixed into the sugar coating, spicing things up a bit more.
Whether you make this for a Cinco de Mayo dessert, for a weekend dinner party, or just because (my favorite), I hope you love Mexican Chocolate Crème Brûlée as much as my family and I do!
More spiced chocolate desserts: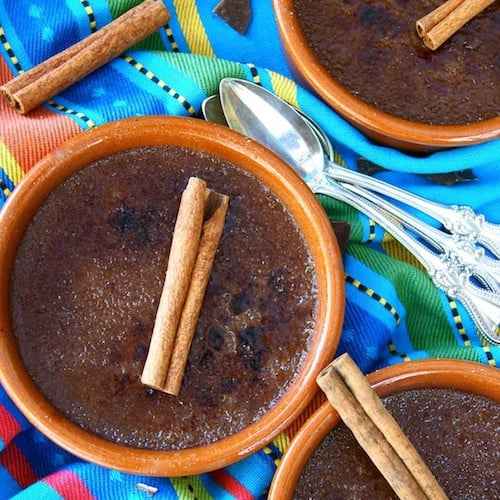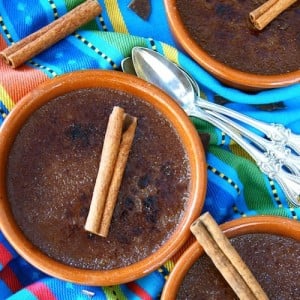 Mexican Chocolate Crème Brûlée
Every rich, chocolatey bite of this crème brûlée is subtly spiced with cinnamon, and the creamy texture is over the top!
Instructions
Preheat the oven to 325°F.

Add the cream, half and half, vanilla and 1 tablespoon of the cinnamon to a medium-sized saucepan. Use a whisk to blend in the cinnamon. Then place the pan over medium heat and cook just until it's beginning to simmer.

Remove the pan from the heat, add the chocolate, and mix until it's melted and smooth.

In a medium-sized mixing bowl, whisk the egg yolks with ⅓ cup of the sugar and the salt. Whisk until it's smooth, at least 30 seconds.

As gradually as possible, whisk the egg mixture into the chocolate mixture. Once it's smooth, strain it into another bowl, and let it cool for at least 10 minutes. Then use a large spoon to skim any foam from the surface.

Divide the custard mixture among six 1-cup round ramekins (ideally 4 X 1-inch). Place the filled ramekins in a large enough baking pan to hold all of them comfortably. Carefully pour water into the pan, around the ramekins about about ⅓ to ½ of the way up the sides.

Place the pan in the preheated 325° F oven until the custards are set but centers still move slightly when gently shaken, about 40 minutes. Remove the ramekins from the pan and place them on a dry pan or the counter. Let them sit until they come to room temperature, about an hour. Then cover them with foil or plastic wrap, and place them in the refrigerator to cool completely.

Mix the remaining 3 tablespoons of sugar with the remaining ¾ teaspoon of cinnamon. Sprinkle about ½ tablespoon of this mixture on the surface of each custard. (I like using a sugar/or salt shaker for this, but you can also evenly sprinkle with your fingers.)

Use a kitchen torch to brown the sugar to create a crust. (You can also place them under the broiler, fairly close to the flame, just until they brown, 1 minute or less.) Serve!
NOTES
You can make this up to 2 days ahead of time, through the cooking of the custard. Then brûlée them just before serving.
NUTRITION
Have you tried this recipe?
I'd love to see it on Instagram! Tag me at @cookingontheweekends or leave a comment & rating below.
Cooking On The Weekends is a participant in the Amazon Services LLC Associates Program, an affiliate advertising program designed to provide a means for sites to earn advertising fees by advertising and linking to Amazon.com.