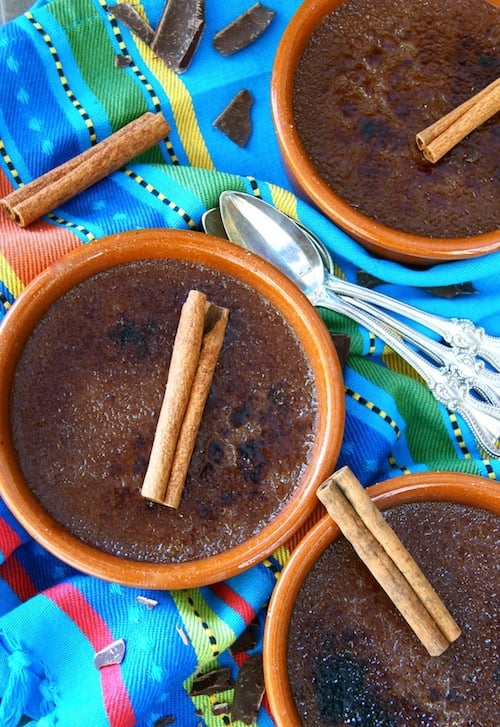 My mom takes her desserts very seriously.
Her desserts must be just the right flavor, texture and temperature.
My mom adores custards, so when we're in a Mexican restaurant she loves ending her meal with a lovely flan.  In her fairly fluent Spanish, she asks the server if the flan is "as smooth as silk," or if it's at all "gritty, like sand on the beach?"  Quite a lot of pressure for the server, don't you think?
Typically they tell my mom it's a smooth as can be, and about half the time they're right.  (And you can bet the other half of the time, she tells someone of high authority in the restaurant, that they really should work on creating a smoother flan.)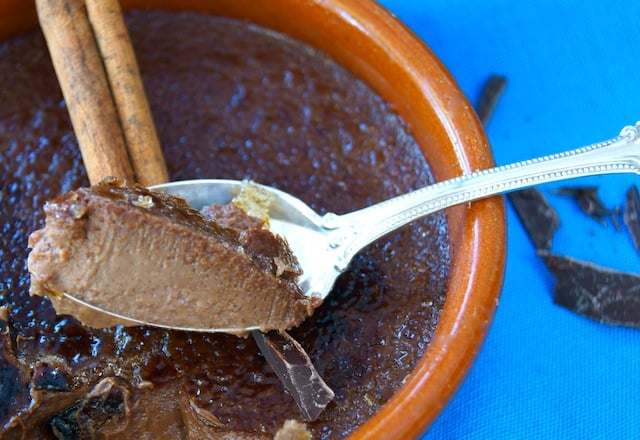 Without any hesitation, I will serve this insanely delicious, perfectly smooth crème brûlée to my mom.  Tonight, in fact!  And again on Sunday for Cinco de Mayo!
It's my favorite crème brûlée of all time!  I hope you enjoy it as much as I do.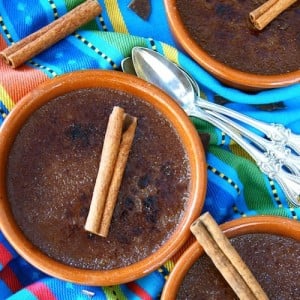 Cinco de Mayo Recipes: Mexican Chocolate Crème Brûlée
Ingredients
1 1/2

cups

heavy cream

1 1/2

cups

half and half

1

tablespoon

vanilla extract

1

tablespoon

plus 3/4 teaspoon ground cinnamon, divided

5

ounces

finely chopped semisweet chocolate

I like Scharffen Berger

6

large egg yolks

1/3

cup

plus 3 tablespoons granulated sugar

divided

1/4

teaspoon

sea salt
Instructions
Preheat the oven to 325°degrees F.

Add the cream, half and half, vanilla and 1 tablespoon of the cinnamon to a medium-sized saucepan. Use a whisk to blend in the cinnamon. Then place the pan over medium heat and cook just until it's beginning to simmer.

Remove the pan from the heat, add the chocolate, and mix until it's melted and smooth.

In medium-sized mixing bowl, whisk the egg yolks with 1/3 cup of the sugar and the salt. Whisk until it's smooth, at least 30 seconds.

As gradually as possible, whisk the egg mixture into the chocolate mixture. Once it's smooth, strain it into another bowl, and let it cool for at least 10 minutes. Then use a large spoon to skim any foam from the surface.

Divide the custard mixture among six 1-cup round ramekins (ideally 4 X 1-inch).

Place the filled ramekins in a large enough baking pan to hold all of them comfortably.

Carefully pour water into the pan, around the ramekins about about 1/3 to 1/2 of the way up the sides of them.

Place the pan in the preheated 325 degree F oven until the custards are set but centers still move slightly when gently shaken, about 40 minutes. Remove each ramekin from the pan and place them on a dry pan or the counter. Let them sit until they come to room temperature, about an hour. Then cover them with foil or plastic wrap, and place them in the refrigerator to cool completely.

Mix the remaining 3 tablespoons of sugar with the remaining 3/4 teaspoon of cinnamon.

Sprinkle about 1/2 tablespoon of the sugar-cinnamon mixture on the surface of each custard. (I like using a sugar/or salt shaker for this, but you can also evenly sprinkle with your fingers.)

Use a

small blow torch

to brown the sugar to create a crust. (You can also place them under the broiler, fairly close to the flame, just until they brown, 1 minute or less.
Recipe Notes
You can make this up to 2 days ahead of time, through the cooking of the custard. Then brûlée them just before serving.
Save