My Lemon-Basil Strawberry Caprese is the essence of summer — on a toothpick. Lemon Strawberry recipes are always a hit, and when you add fresh basil and mozzarella to that, you get a beautiful masterpiece of an hors d'oeuvre.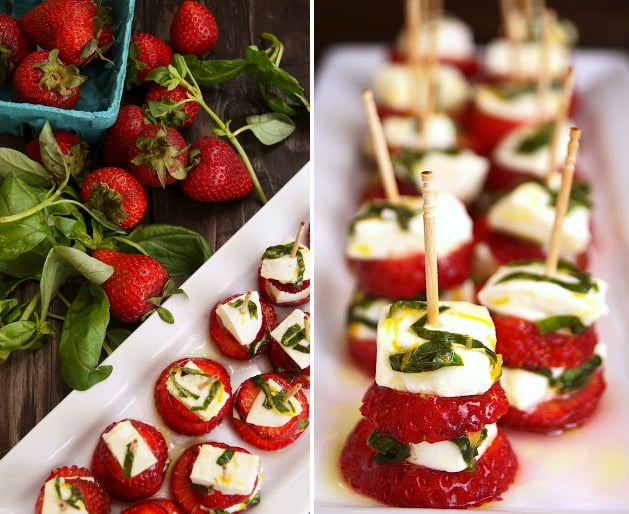 I've been tasting strawberries for the past few weeks at my local Farmer's Market, and they've been getting sweeter and sweeter. This past Sunday they were so amazing that I bought two, three packs at once.
To be clear, that's six baskets!
Today I have five single strawberries left. Five!
Sure I there's my husband and two boys, but my husband isn't into strawberries (imagine that!?) — and my boys, well, they each got a few in their lunch yesterday. Then of course, a dozen were used in this recipe.
I single-handedly ate the rest.  You do the math. 😉
Isn't this Strawberry Caprese a gorgeous summer hors d'oeuvre?  I'm in love with it.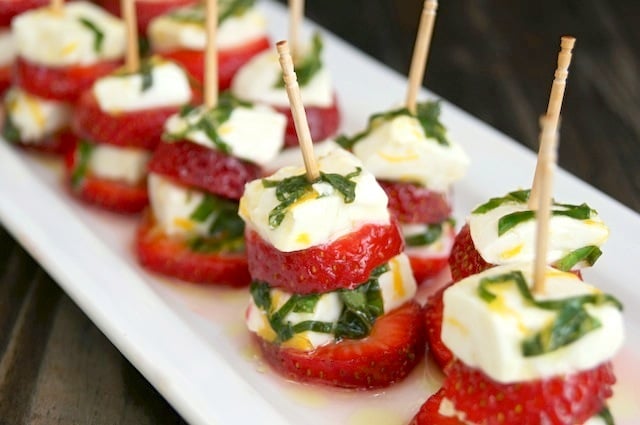 In can be presented as an hors d'oeuvre or a plated first course. Or a "salad," or really, it's whatever you want it to be.
I love lemon strawberry recipes, and the combination with the aromatic basil and mild cheese is over-the-top tasty.
It's tangy, sweet and of course — a scrumptious bite!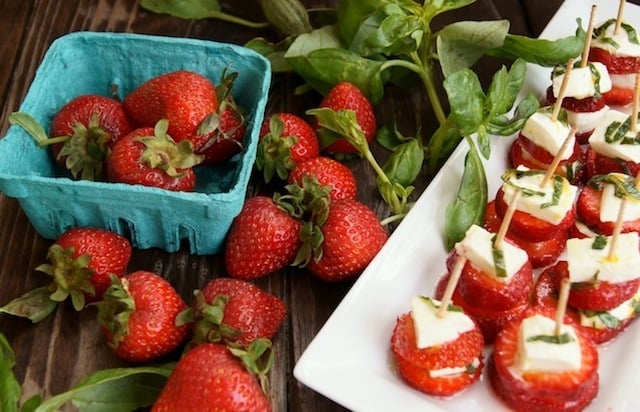 Where to get the Best Strawberries
I can't seem to get enough strawberries during the summer months. And even though we can get them from warm places, like Mexico during the cooler months, they're never as good as they will be peak season, grown close to where you get them.
If you have a good Farmers Market near you, that's usually going to be the best place to find the sweetest berries.
Here are a couple more lemon strawberry recipes:
And now a few of my favorite straight up strawberry recipes:
In the meantime, enjoy this Lemon-Basil Strawberry Caprese!
Lemon-Basil Strawberry Caprese Recipe
My Lemon-Basil Strawberry Caprese is the essence of summer -- on a toothpick.

Ingredients
about 2

dozen

small to medium sized fresh basil leaves,

thinly sliced (see notes)

zest from 1 medium-sized lemon

3

tablespoons

fresh lemon juice

2

tablespoons

extra virgin olive oil

1/4

teaspoon

salt

1/4

teaspoon

sugar

4

ounces

fresh mozzarella cheese,

drained and cut into 2 dozen cubes

1

dozen

medium-sized fresh strawberries,

washed and dried, stems removed

freshly ground black pepper
Instructions
In a small bowl, combine the basil leaves, lemon zest, lemon juice, oil, salt and sugar.

Add the cubed mozzarella and gently toss to be sure all of the cheese is well coated. Cover with plastic wrap, place in the refrigerator, and marinate for 15 minutes.

While the cheese is marinating, cut the strawberries, horizontally, into 1/4 to 1/2-inch slices. (There will be a handful of "scraps" that you should eat. Right now, while you're cooking. Delicious!)

Remove the marinating cheese from the refrigerator and place 1 dozen of the largest strawberry slices on a serving plate. Place one piece of cheese on top of each strawberry base, being sure to pick up bits of basil and lemon zest with each one. Add a second slice of strawberry on top, followed by another piece of cheese (again, well coated with basil and zest). Now gently stick a toothpick through each stack.

Crack black pepper over the entire plate and serve. (Be generous with the pepper, it adds a nice kick to the sweetness of the berries.)
Recipe Notes
To thinly slice the basil, pile the leaves on top of each other to form a stack. Roll them up tightly, lengthwise, and then horizontally, cut this roll into thin slices. (This cut is called a chiffonade.)
Save
Save
Save