This easy-to-make, Oregano-Lemon Butter Braised Chicken is so succulent and delicious that it might just become your new go-to chicken recipe.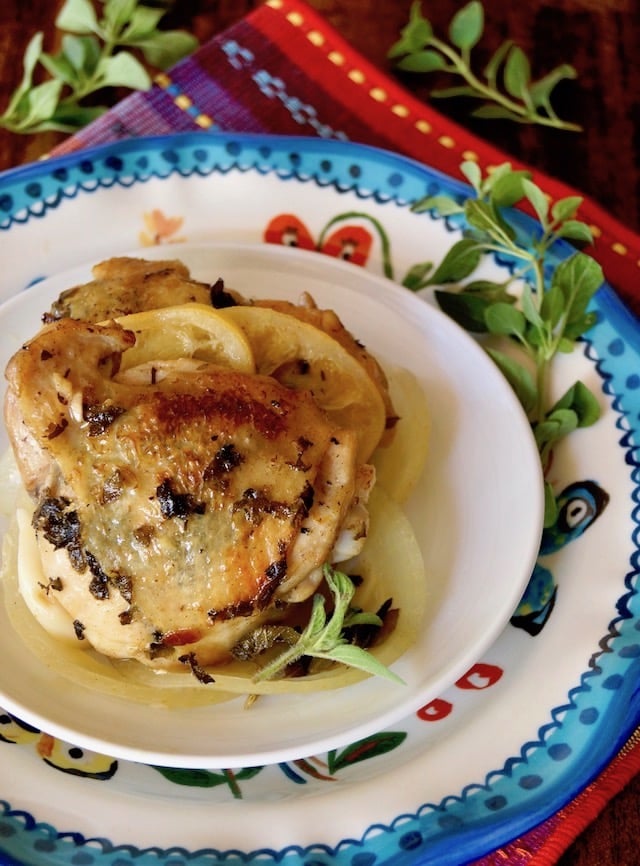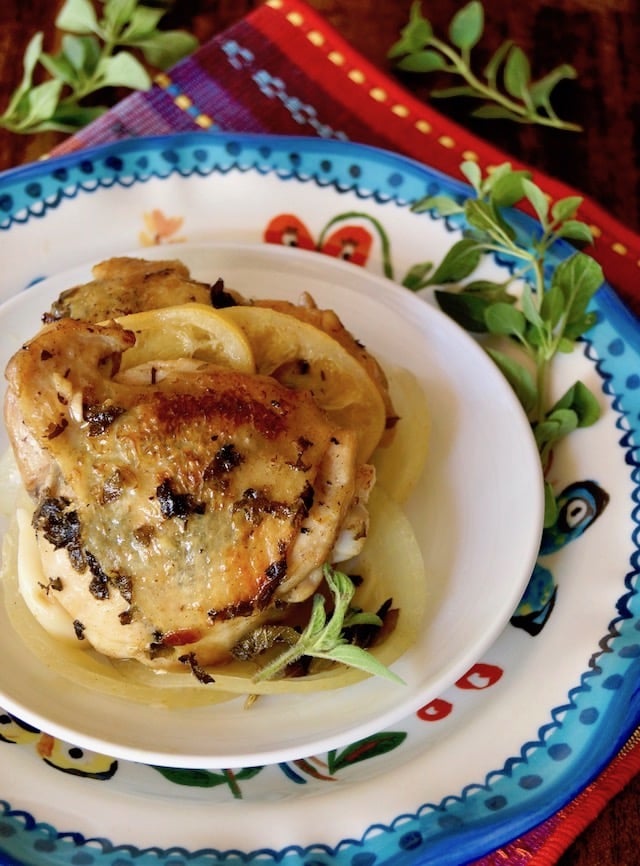 My life has a different rhythm than it did a few months ago.
The last time I wrote about my parents' situation, I let you know my dad was back home after a couple of months in the hospital, and that he was improving.
Now just 2 weeks later, he's even better. He's come a long way, and it's awesome!  Though my mom isn't well, she's stable – and so relieved and happy that my dad's back.
I'm managing their house as well as mine. Every day when my boys are at school, I'm there part of the time making sure everything is running smoothly.  I try to spend time with both of them and do a bunch chores while I'm at it.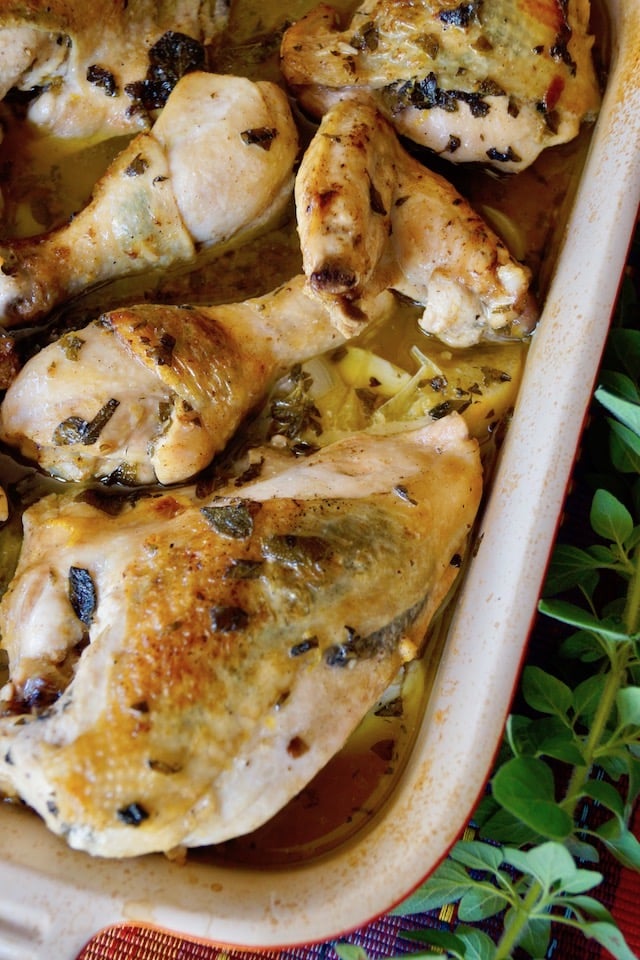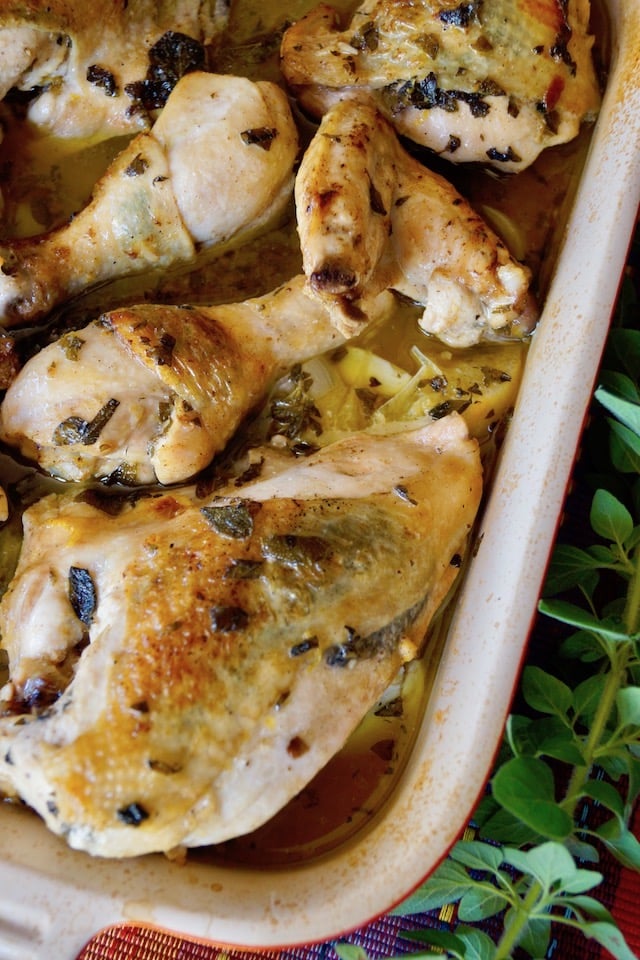 Somehow I'm in a groove.  Things are going well as I'm trying to find a new balance between my boys (including my husband!), my parents and my work.  The work has had to drop a little, and it's a juggle for sure. I'm dropping balls all over the place, but when I do, I pick them up and move on.
Let's move on to the yummy Oregano-Lemon Butter Braised Chicken now, shall we!?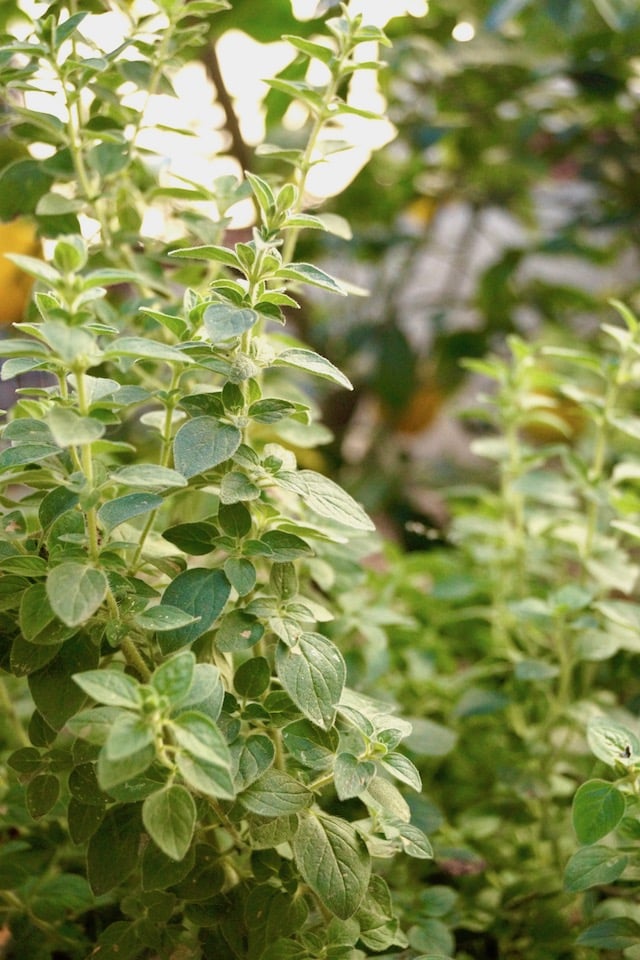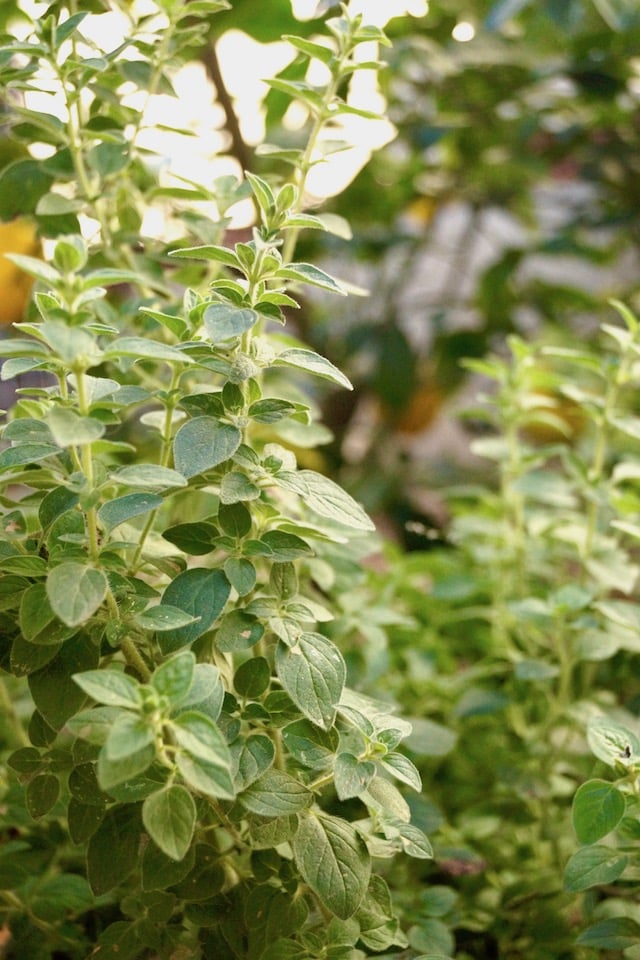 This recipe came to be because of my beautiful, growing-out-of-control oregano in the garden.
Just below my small lemon tree, it's grown from a few sprigs last summer into a sprawling bed of green right now.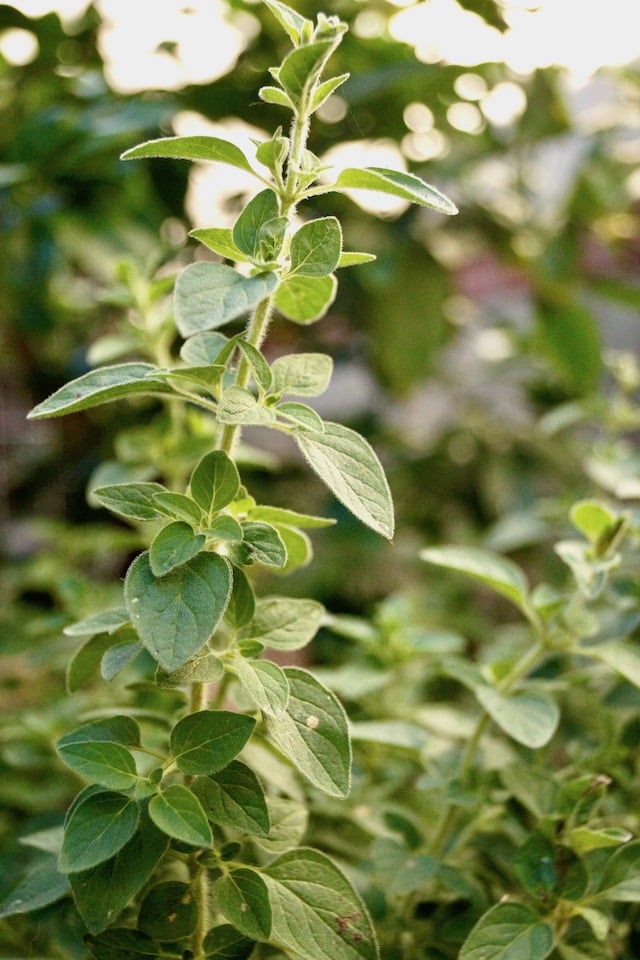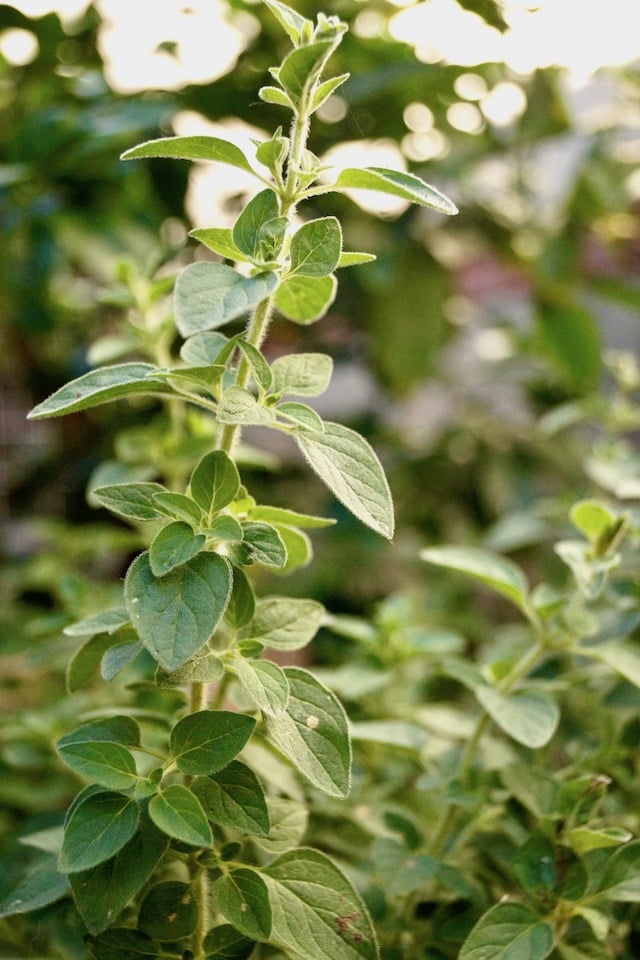 In the last month or so, every time I'd walk past it, I'd imagine it with butter, lemon and chicken.  I could not get this recipe idea out of my head.  And when that happens, I must cook the idea. 🙂
The result: A chicken dish so succulent and delicious that it will likely become your new go-to chicken recipe.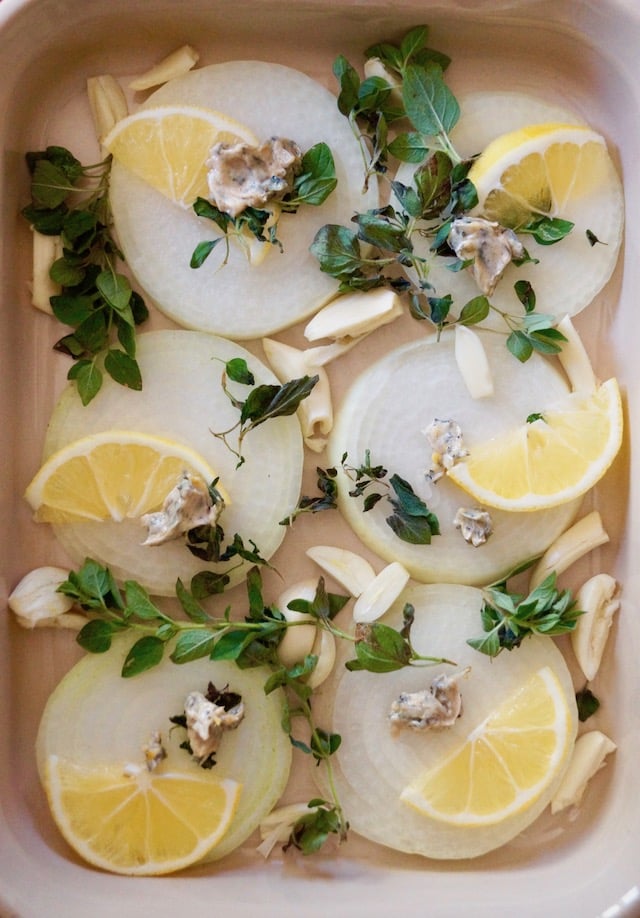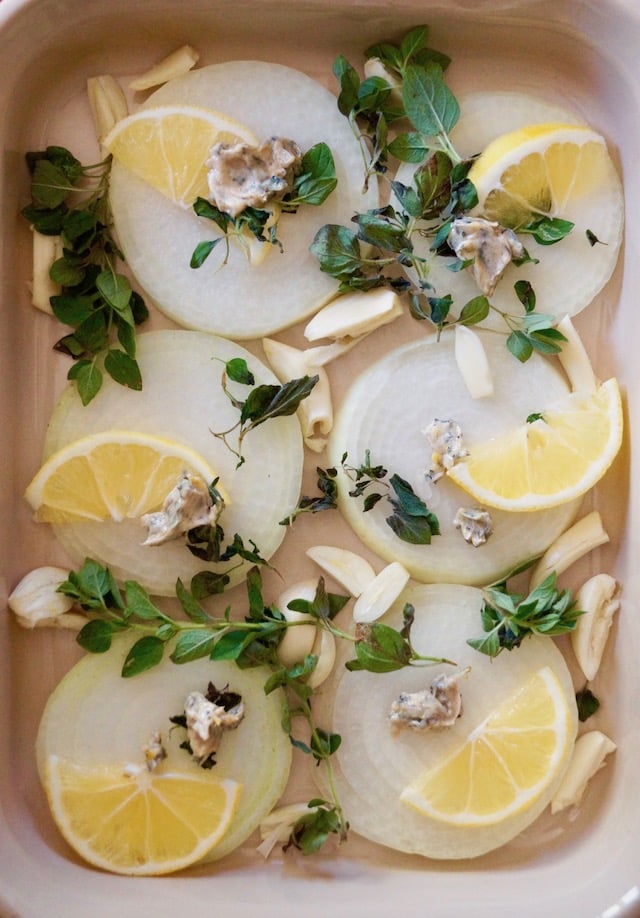 Two of the secrets to the deliciousness of the Oregano-Lemon Butter Braised Chicken:
There's wine in the braising liquid.
The chicken braises while sitting on top of onion and lemon slices, and whole garlic cloves.
Every bite is absolutely bursting with bright and warm flavors — and it's certainly a comfort food dish!
This recipe is easy for a weeknight dinner and impressive enough for a dinner party!  It's perfect served with a salad and over Roasted Garlic-Basil Brown Rice.
Enjoy!
Oregano-Lemon Butter Braised Chicken Recipe
This easy-to-make, Oregano-Lemon Butter Braised Chicken is so succulent and delicious that it might just become your new go-to chicken recipe.
Ingredients
1/2

cup

unsalted butter,

softened to room temperature

1

cup

loosely packed fresh oregano leaves,

finely chopped, plus about 10 small sprigs, washed and dried

zest of 1 medium-sized lemon

1

tablespoon

fresh lemon juice

1

teaspoon

garlic,

minced

1/4

teaspoon

ground cinnamon

1/2

teaspoon

ground cumin

1/2

teaspoon

sea salt

a few turns freshly ground black pepper

1

large

yellow onion

peeled and sliced into about 6 (1/4 to 1/2-inch) rounds

1

(approximately 3- pound)

chicken,

cut into parts, bone-in, skin-on

olive oil for the pan

3/4

cup

chicken stock

1/3

cup

dry white wine

a few thin lemon slices

6

cloves

garlic

roots trimmed, sliced thinly
Instructions
Preheat the oven to 375 degrees F and adjust a rack to the center.

In a small mixing bowl, combine the butter, 1 cup chopped oregano leaves, lemon zest, lemon juice, minced garlic, cinnamon, cumin, salt and pepper. Mix to blend. Set aside.

Add the onion slices, lemon slices, oregano sprigs, and the whole, sliced cloves of garlic to the bottom of an approximately 9 x 13 x 2-inch baking dish. Add about 1/2 teaspoon of the oregano butter to each onion.

Using your hands, loosen the skin of all the pieces of the chicken, except the wings. Evenly distribute about 2/3 of the remaining oregano butter among them, beneath the skin. Set aside.

Add the remaining butter to large sauté pan with a drizzle of olive oil, and place it over medium-high heat. Once it's very hot, add the chicken, skin side down. (You should hear a sizzling sound — if you don't wait until you do.) Let the chicken sauté just long enough to brown, about 2 minutes per side. Then, using kitchen tongs, remove the chicken pieces from the pan and place them directly on top of the onion slices in the baking dish.

Turn the heat to low under the sauté pan and add the stock and wine. Use wooden spatula to scrape the bottom of the pan, to work back in any bits of food that are stuck. Turn off the heat and pour this over the chicken. Cover the dish with foil and place it in the preheated 375 degree F oven. Braise until the chicken is almost all they way cooked, about 20 minutes. Then remove the foil and continue to cook just until the chicken is cooked through, 5 to 10 minutes.

Remove from the oven, sprinkle with a bit of salt and pepper and serve.
Save
Save
Save
Save
Save
Save
Save