Baked Feta with Olives and Roasted Peppers is served sizzling hot, and is a ridiculously delicious and easy to prepare. This Feta cheese appetizer is perfect for sharing before a meal, you simply won't be able to get enough!
This baked Feta recipe has quickly become my favorite Feta cheese appetizer to serve. Guests simply cannot get enough!
I love Feta served crumbled and chilled in salads, but I might just love it a little more served in a block and hot!
Where does Feta cheese come from?
Feta cheese is Greek and was first mentioned during Byzantine times (

330 to 1453 CE

).
In the 17th century Greeks started using the name "Feta." Feta literally means slice.
It is thought that the name came from the practice of slicing the cheese to serve or for storage.
Feta is a brined curd white, crumbly aged cheese made from sheep's milk, or sometimes from a mixture of sheep and goat's milk.
It's commonly produced in blocks, and has a slightly grainy texture.
What does Feta taste like?
Feta is a salty, tangy tasting cheese. These flavors are enhanced from its brine solution, which is essentially salt water.
What kind of Feta should you buy?
It's always best to buy Feta in brine. The texture will be smoother and creamer. And if it's crumbled Feta you want, it's easy enough to crumble it in a matter of seconds. The shelf life is also lengthened when it's in brine.
Should you rinse feta cheese?
Yes, it's a good idea to lightly rinse feta cheese when it's used directly from its brine. This will remove any excess salt.
How to Bake Feta Cheese
It's so quick and easy to bake Feta cheese, and there's something quite magical about serving it hot and sizzling.
In this recipe, we're adding a small handful of super delicious ingredients, but the baking instructions would be more or less the same without them.
Drizzle a block of Feta cheese with olive oil in a small casserole dish.
Bake it in a 350°F oven until the oil is sizzling around it, and the top edges become golden. Often, the oil is sizzling before it's golden, in which case a few seconds under the broiler will do the trick.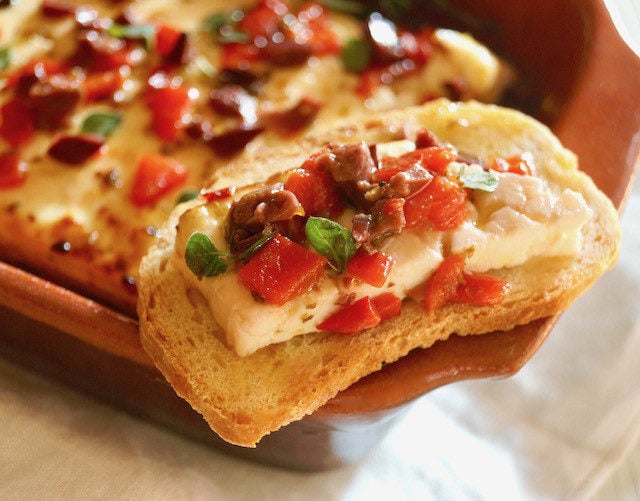 How to Serve it
Really, I could eat this with a fork — and I have. 🙂
Typically though, I serve this with thin, toasted baguette slices. And it's a delicious idea to rub a raw garlic clove on them. Otherwise, I don't add any additional flavors because the Baked Feta itself is so flavorful.
You could also serve it with plain crackers. (

I like these

.)
Recipe Tip
You can buy jarred, roasted peppers, or roast them yourself. Here's How to Roast and Peel Peppers. Of course it saves time to buy them, which for this recipe is great because it's so quick and easy.
Just make sure they have a lot of flavor. These are my favorite jarred, roasted red peppers.
Can you make this baked Feta recipe ahead?
You can prep the recipe 100%, and then just put it in the oven about 20 minutes before you're ready to serve.
I would definitely keep this Feta cheese appetizer in mind for the holiday season!
Hope you love it as much as I do!
Oh, and here are a few more of my favorite recipes using Feta:
Baked Feta with Olives and Roasted Peppers
Keyword:
appetizers for parties, appetizers for sharing
Ingredients
approximately 1/2

pound

Feta cheese block,

drained

2

tablespoons

extra virgin olive oil

2

tablespoons

Kalamata Olives,

pitted, finely chopped

2

tablespoons

roasted red peppers,

finely chopped

1

tablespoon

fresh lemon juice

3/4

teaspoon

fresh oregano,

washed and dried, finely chopped

freshly ground black pepper
Instructions
Preheat the oven to 350°F.

Place the block of Feta in a small casserole dish. Ideally the dish should be just a little bigger than the block.

In a small bowl, combine the oil, olives, peppers, lemon juice and oregano. Mix and pour this over the Feta. Gently lift the block so a bit of the mixture goes beneath it.

Bake in the preheated 350°F oven until the oil is bubbling and the edges and top of the Feta are golden, 15 to 20 minutes. (If this amount of time passes, and the top is not golden, place it under the broiler briefly — 30 seconds or so.)

Serve immediately with small toasts or something similar.
Cooking On The Weekends is a participant in the Amazon Services LLC Associates Program, an affiliate advertising program designed to provide a means for sites to earn advertising fees by advertising and linking to Amazon.com.