Plantain-Picadillo Empenada Recipe with Mango Salsa is so much fun to cook, and it's a huge hit with everyone who tries it.  Plantain empenadas are subtly sweet, and with the spices and fresh ingredients, the combination is over-the-top-delicious!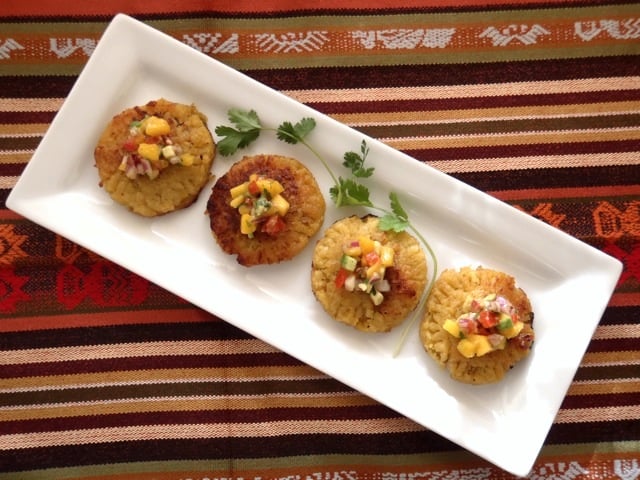 This recipe is insanely delicious. Really and truly delicious! (You'll learn I don't hold back when I like something.)  I love Latin flavors and I cooked up a storm for Cinco de Mayo this year.
This Picadillo recipe was the hit of the night.
First . . .
What is Picadillo?
Picadillo is a traditional dish in Spain and many Latin American countries, and its ingredients will vary from region to region.
Often said to reminiscent of a hash-like dish, Picadillo may include ground or shredded beef, chorizo, onions, garlic, tomatoes, vinegar, cinnamon, cumin, oilves, nuts, raisins, potatoes — and the list goes on.
Picadillo can serve as a main dish, accompanied by rice and beans or on top of mashed potatoes. It's also commonly used as a filling for empanadas, chile rellenos, tamales, and tacos.
Not totally authentic, my version, that I made to combine with plantains, is a combination of many regions, I'm guessing.
The sweet plantain "dough" is brilliant!  I wish it was my original idea, but my inspiration was from the Boarder Grill restaurant in Santa Monica.  I used to always order their plantain empenadas during their happy hour.
My plantain empenadas are made from 100% plantains, and they're gluten-free to boot!  Note that the plantains should be cooked the night before, as they are much easier to work with this way.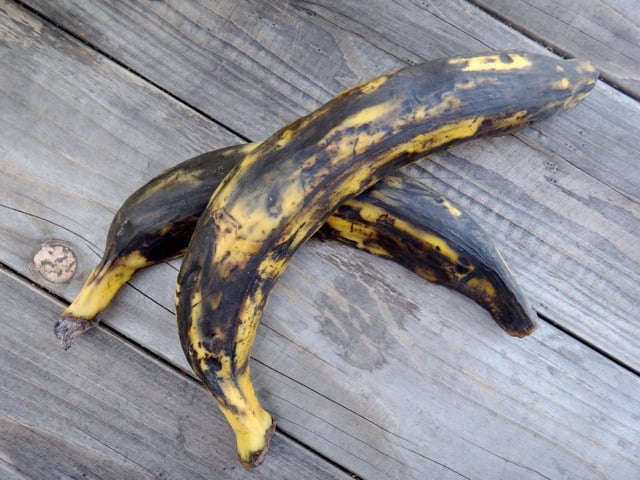 Plantains are fully ripe when their skin is mostly black.
This cooking project will be well worth your effort.  That's a promise.  So, take some time over the weekend to create, and invite friends!  They can help! (Don't let the cooking times daunt you, at least half of it is just waiting and hanging out!)
I highly recommend getting yourself a small (1 1/4-inch), ice-cream scoop.  It's perfect to form the dough in the recipe and you'll find you use it almost every time you make cookies from here on out.  You use less muscle and work faster!
Oh, I almost forgot, I served this with a super refreshing Mango Salsa.  It was perfect.
Did I mention just how delicious this is?
I hope you love this Picadillo Empenada Recipe as much as I do.
Please note that the prep time in the recipe does not include the overnight refrigeration time.
Plantain-Picadillo Empenada Recipe
Plantain-Picadillo Empenada Recipe with Mango Salsa is so much fun to cook, and it's a huge hit with everyone who tries it. Plantain empenadas are subtly sweet, and with the spices and fresh ingredients, the combination is over-the-top-delicious!

*Makes 3 dozen
Keyword:
appetizers for parties
Ingredients
For the dough
5

pounds

plantains,

fully ripe
For the filling
1

pound

skirt steak

olive oil for the pan

1/2

cup

yellow onion,

finely chopped

1

tablespoon

garlic,

minced

3

tablespoons

almond meal

1/3

cup

plantain,

fully ripe, finely chopped

3/4

cup

tomatoes,

seeded, finely chopped

1/3

cup

capers,

finely chopped

1/3

cup

raisins,

finely chopped

1

teaspoon

chipotles in adobo sauce,

finely chopped

1/4

teaspoon

ground cumin

sea salt and freshly ground black pepper

1/2

recipe

Mango Salsa
Instructions
For the dough
Leaving the peels on, slice each plantain in half, horizontally, and place them in a pot with just enough water to cover them. Bring to a boil, reduce the heat to a simmer and cover the pot. Cook until the plantains are tender (you can check with a fork -- the fork should slide in and out easily when they're done), about 10 minutes. Remove the plantains from the water and once they're cool enough to touch, peel them. Place them in a bowl, cover with plastic wrap and refrigerate overnight.

The next day add the plantains to a food processor with the blade attachment, and blend until smooth. (You can also use a large fork or potato masher -- if you feel like a small workout!)


Wet your hands with a little water or olive oil and form the mashed plantains into about 6 dozen balls, about 1 1/4-inches each. (I like to use my 1 1/4-inch ice-cream scoop.) The balls will not stick together, so you can pile them on top of each other until you're ready to assemble the empenadas.
For the filling
Place the steak in a large pot. Add enough water to the pot to cover the meat by a couple of inches, sprinkle with salt and pepper, and bring to a boil. Turn the heat to a simmer, cover and cook until the meat is tender, (but not falling apart), about 1 1/2 hours. Once the meat is cool enough to touch, shred it and then chop it finely.

Coat a large saute pan with olive oil and place it over medium-high heat. Add the onions and garlic and cook until soft, about 5 minutes. Then, one at a time, add the almond meal, plantains, tomatoes, capers, raisins, chipotles, cumin and the shredded, chopped steak. Let the flavors come out of each one ingredient before adding the next. Cook everything together for about 10 minutes to fully combine all of the flavors, and season to taste with salt and pepper. (Here's How to Season to Taste.) Cool to room temperature.

To assemble, place each ball of dough between two pieces of plastic wrap and flatten them with the palm of your hand. Now you can add a bit of the Picadillo to half of rounds of dough, right in the center -- I use the same 1 1/4-inch scoop, filling it about halfway. Place a second round of dough on top, and using another piece of plastic wrap, gently press it down.


Then, use a fork to press light along the edges.

Heat up your saute pan again and add olive oil to generously coat the bottom. Once the pan and oil are hot, add a few of the empenadas -- as many as you can fit, with a couple inches between them. You should hear a sizzling sound as they hit the pan, and if you don't, wait until the pan is hotter. Cook until the empanadas are golden brown, about 2 minutes per side. Drain them on paper towels and serve!
Recipe Notes
You can also boil the steak, (the first step to making the filling), the night before.  And, if you're up to it, the entire filling can be made up to two days in advance.  This could make party day more fun.