Pumpkin Sausage Pasta with Sage is hearty, delicious and makes for an ideal fall meal. The pumpkin pasta sauce is full of warming flavors that are perfect for the season.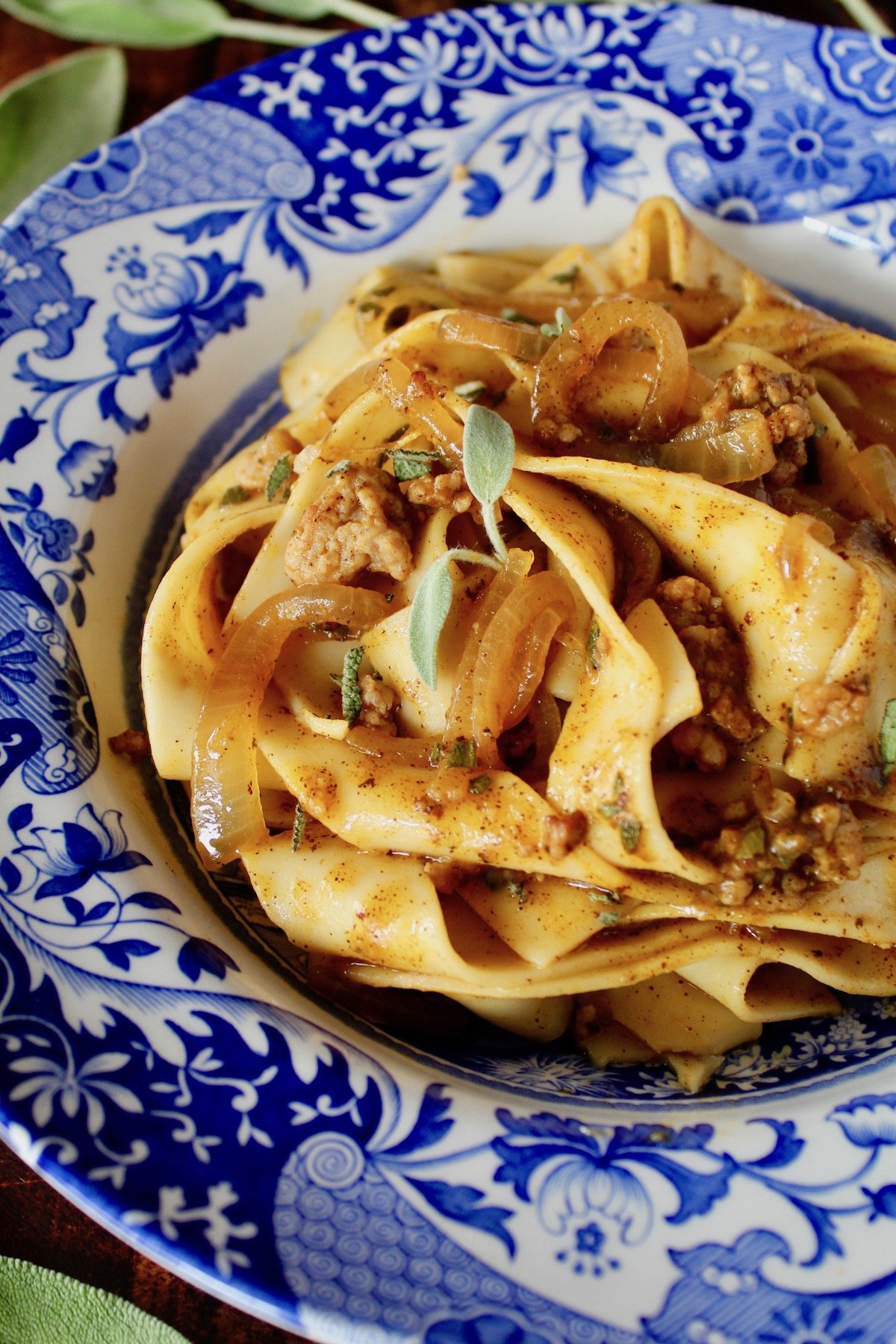 Pumpkins!
In early fall — or even earlier — we start seeing pumpkins. Through windows, on doorsteps, in fields and in every single store — they're everywhere.
They're starring in all sorts of recipes.
As many pumpkin recipes as I've made — sweet and savory — I just can't seem to make it through a fall season with adding at least one new pumpkin recipe into the mix.
I've been experimenting with pumpkin pasta sauce recipes, and this one is simply over-the-top-delicious!
Pumpkin + Sage
There's a reason it's so common to add sage to pumpkin recipes.
Like peanut butter and jelly, chocolate and hazelnuts, mushrooms and sherry — it just works. A perfect culinary marriage, if you will.
The combination of the earthy, pine-like sage flavor with the sweetness from the pumpkin is lovely.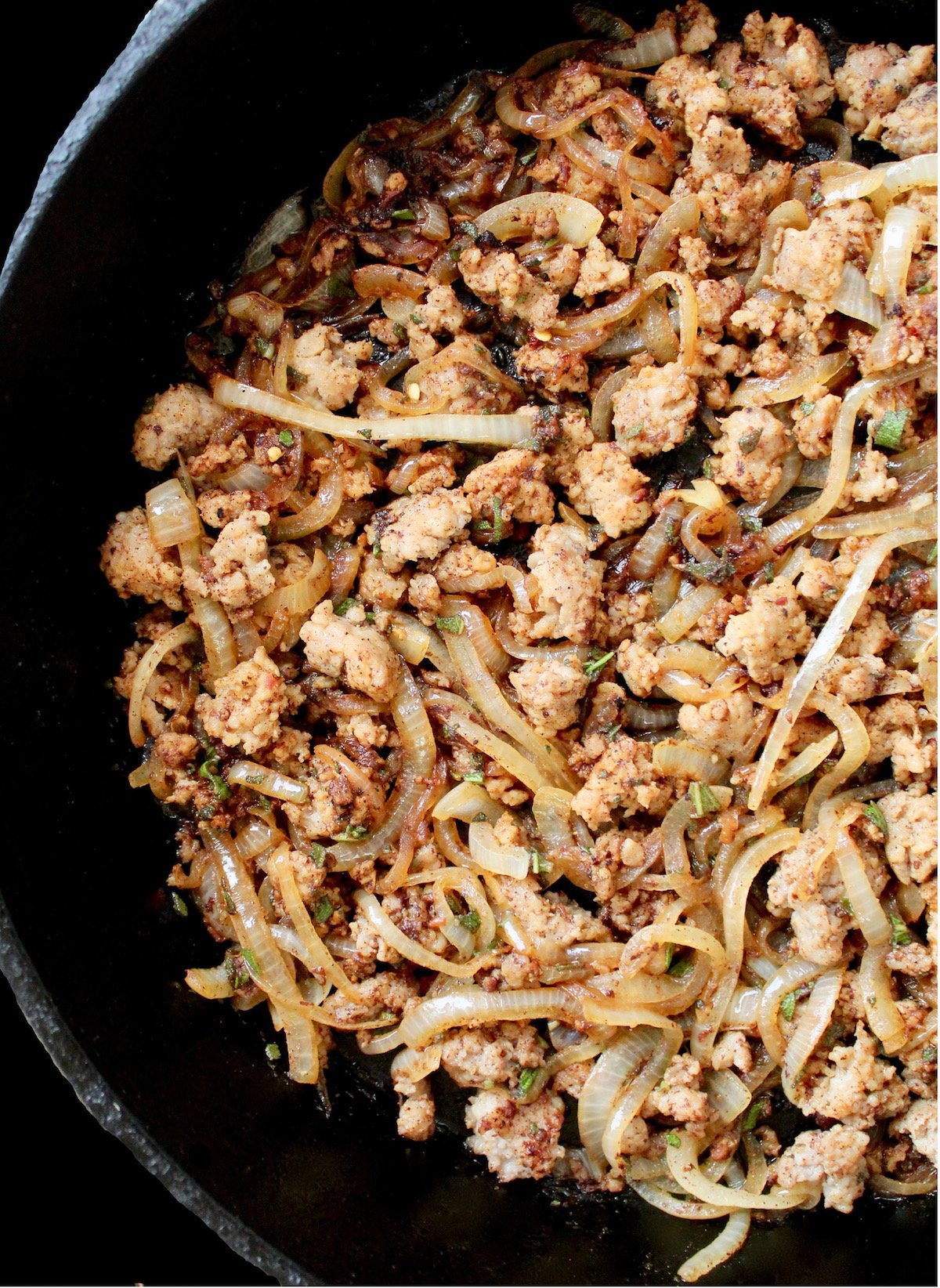 About this Pumpkin Sauce
Pumpkin Pasta Sauce with Sausage is everything fall is meant to be in the kitchen — it's full of warming spices, pumpkin and sage.
And it's a hearty, scrumptious comfort food through and through!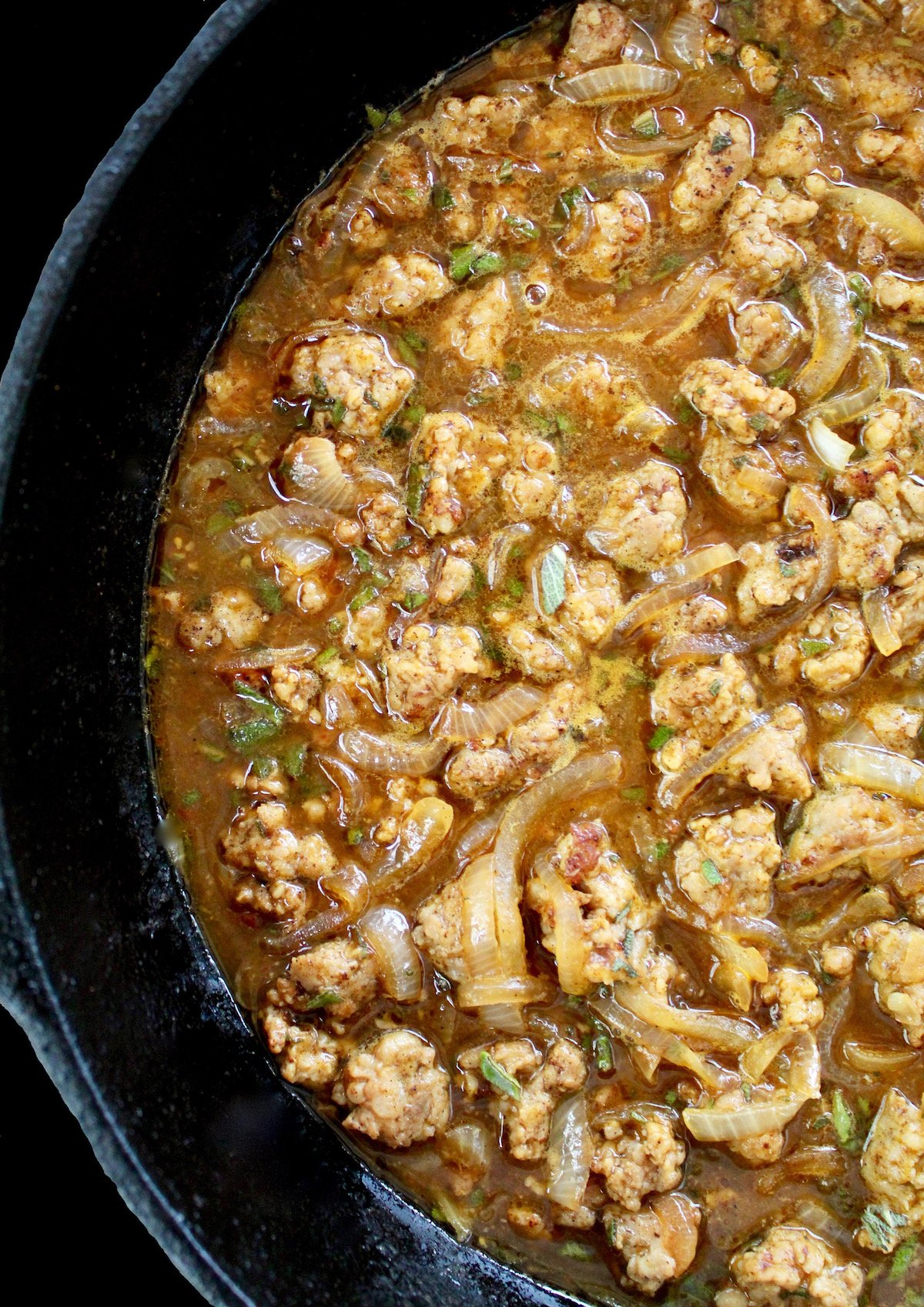 What to Serve with it
To be honest, I would easily and happily serve this on its own. That said, I do think it's always nice to add a salad — something light, something fresh.
Persimmon Salad is perfect for fall and would be lovely with this cozy dish.
Recipe Tips and Substitutions
Pappardelle is my favorite pasta "shape" — I love wide noodles. You can, however, use any shape you like.
Want to make this vegetarian? Easy — just omit the sausage and use vegetable stock. You'll need to add about 2 tablespoons of olive oil to the recipe in the beginning, and sauté the onions and garlic in it. Then follow the same instructions.
You can substitute dry sage for the fresh, using about

⅓

the amount.
Any type of sausage can be used in this pumpkin pasta sauce. Sweet Italian, chicken, pork, whatever you like.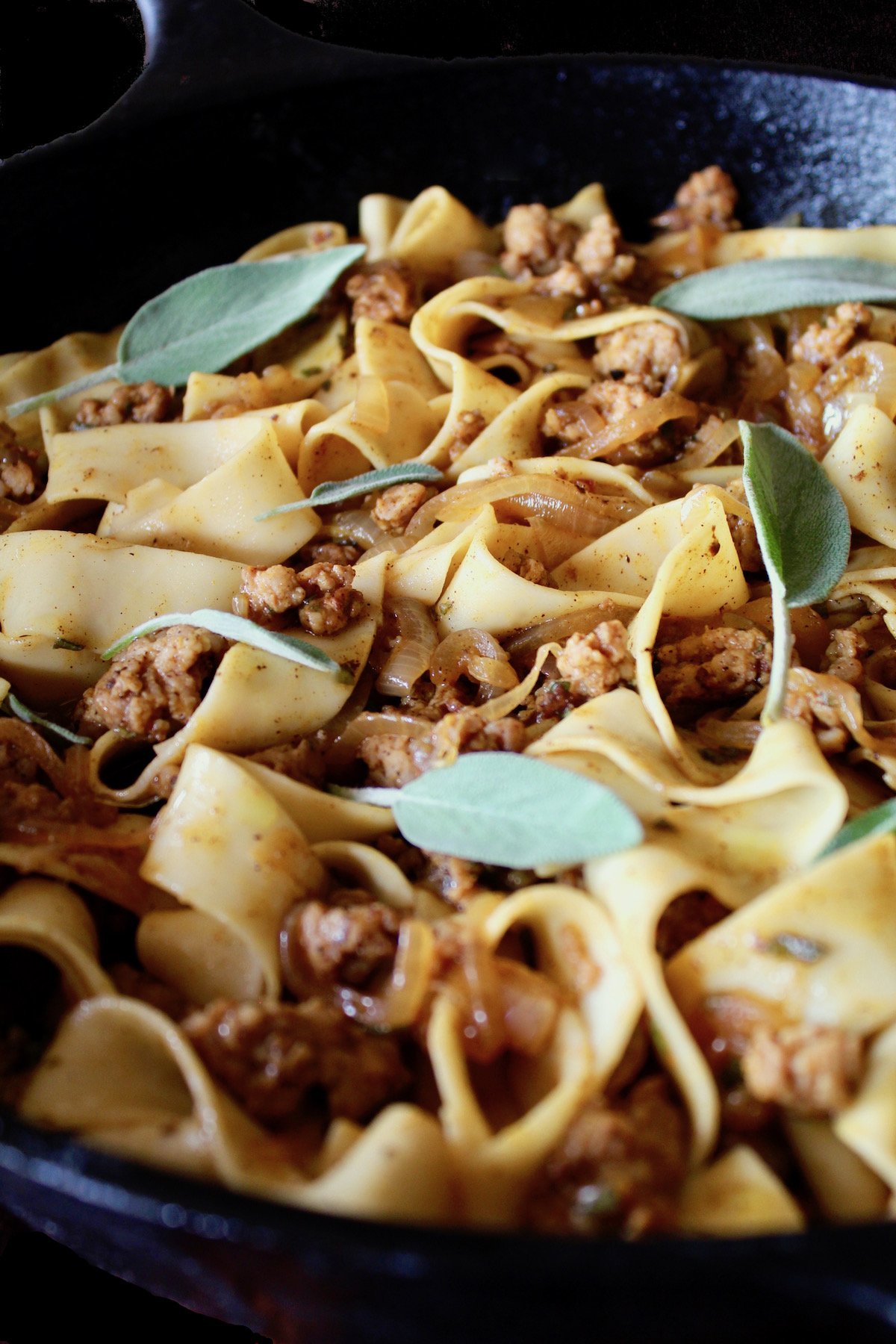 I hope you love the this pumpkin pasta dish as much as my family and I do!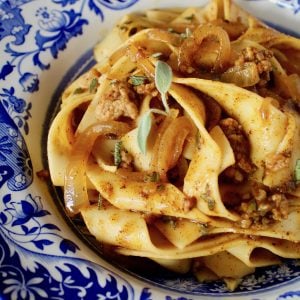 Pumpkin Sausage Pasta with Sage
Pumpkin Sausage Pasta with Sage is hearty, delicious and makes for an ideal fall meal. The pumpkin pasta sauce is full of warming flavors that are perfect for the season.
Ingredients
olive oil for the pasta

¾

pound

raw sweet chicken sausage (or sausage of your choice)

2

cups

thinly sliced yellow onion

2

teaspoons

minced garlic

2

tablespoons

finely chopped fresh sage leaves

1

teaspoon

ground cinnamon

1

teaspoon

chili paste

¼

cup

medium dry sherry

1

cup

chicken stock

½

cup

pumpkin purée

salt and freshly ground black pepper to taste
Instructions
Cook the pasta. Cook the pasta in a large pot of boiling, salted water until it's al dente. (Al dente means "to the tooth." The pasta should be tender, but with a bite to it.) Drain the pasta, toss with a bit of olive oil, cover and set aside.

Cook the sausage. Add the sausage to a large sauté pan. Break up the pieces with a wooden spatula and sauté just until cooked through, about 7 minutes. (If there isn't enough grease from the sausage, add a bit of olive oil.) Add the cooked sausage to a bowl and set aside.

Sauté onions and garlic. Add the onions and garlic to the same pan over medium-low heat, adding a drizzle of oil if they begin to stick. Sauté, mixing often, until the onions are soft and beginning to brown, about 10 minutes.

Add sausage, sage and spices. Return the cooked sausage to the pan and add the sage, cinnamon and chili paste. Mix and sauté for another few minutes to blend the flavors.

Deglaze the pan and add remaining ingredients. Turn the heat to high and add the sherry. Use a flat-edged spatula to scrape the bottom of the pan -- to bring anything that's stuck back into the mixture.

Add the chicken stock and pumpkin and stir until blended. Turn the heat to low, simmer for 5 minutes and then season to taste with salt and pepper.

Combine the sauce with the pasta. Add the cooked Pappardelle to the pan and gently mix until it's well coated with all of the ingredients. Let this cook on low heat just to be sure the pasta is hot, about 4 minutes.

Serve!
Notes
Calorie count is only an estimate.
Have you tried this recipe?
I'd love to see it on Instagram! Tag me at @cookingontheweekends or leave a comment & rating below.
Cooking On The Weekends is a participant in the Amazon Services LLC Associates Program, an affiliate advertising program designed to provide a means for sites to earn advertising fees by advertising and linking to Amazon.com.