Roasted Cauliflower Basil Soup is a comforting bowl of hearty vegetables and aromatic herbs and spices. This soup is both vegan and gluten-free, and while it's warming enough to be perfect for a cool winter night, it's also not too heavy for the warmer months.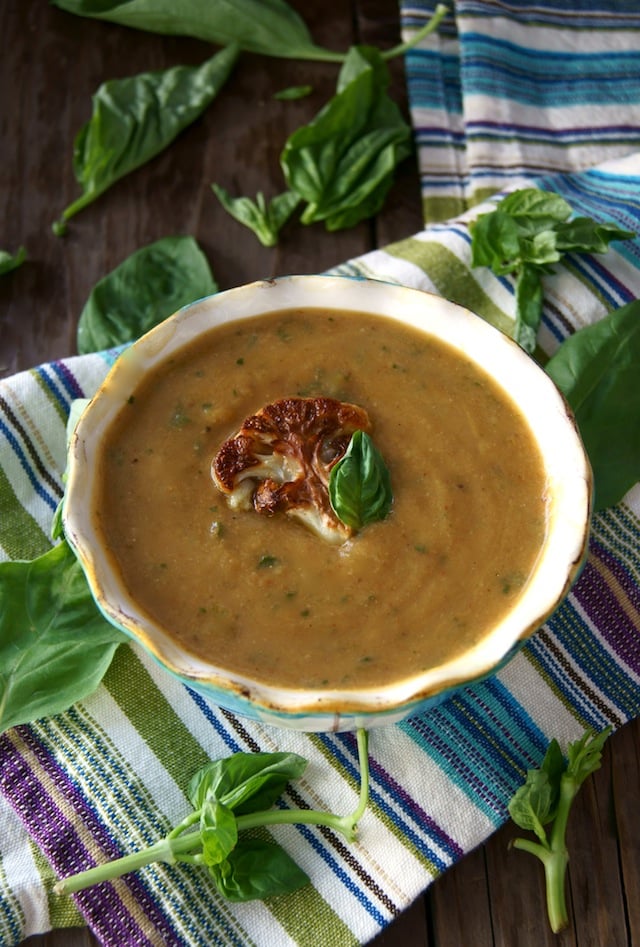 In some places around the globe you can see the seasons change. From leaves that are stunningly red when the weather cools, to bare trees, to the sun shining through the clouds, and to vibrant, colorful blooms and intense heat.
In Los Angeles where I live — other than the Liquid Amber trees in my neighborhood — and slight changes in the temperature, the changing seasons are mostly noticeable in the foods I'm eating.  As I cook through the year in my kitchen, I move from rich soups and creamy pies, to slow roasting all day and and sampling gorgeous citrus, to lovely salads, and finally to sweet stone fruits and fresh, flavorful herbs.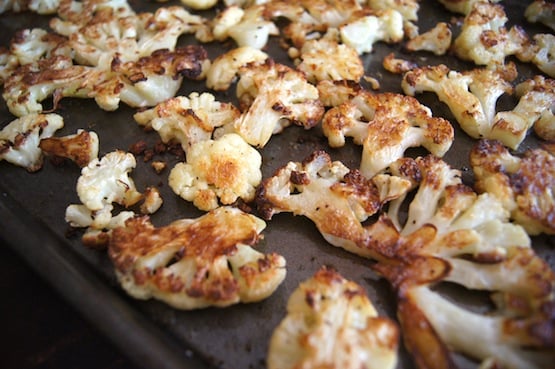 This fall-like Roasted Cauliflower Basil Soup would certainly warm you up on a cold winter night, and it's brightened greatly with fresh basil, also making it a nice fit in the spring and summer.  And really, no matter the season, it's a delicious, rich, flavorful and comforting bowl of soup.  Who wouldn't want that any day?
When soups are puréed like this Cauliflower Basil Soup, they can become incredibly rich and creamy. And dreamy! I think you'd be hard pressed to find anyone who tasted it, who wouldn't think there was cream in it. And I think that's pretty impressive for a vegan soup.
The cooking technique to achieve this is quite simple, and it can be done with almost all vegetable you choose to use in a puréed soup similar to this one.  The secret: potato!
Enjoy every last, delicious spoonful of this Cauliflower Basil Soup.
(Here are a few additional ways to thicken soups — for all diets.)
If you try this soup or any of my other recipes, I'd love to hear what you think about it in the comments below. I love hearing from you! You can also follow me on Facebook, Instagram and Pinterest to see more of my mouth-watering recipes!
Roasted Cauliflower Basil Soup Recipe
A comforting bowl of hearty vegetables and aromatic herbs and spices, this soup is both vegan and gluten-free. It's warming enough to be perfect for a cool winter night, it's also not too heavy for the warmer months.
Course:
First Course, Soup
Keyword:
creamy vegan soups, fall and winter soups
Ingredients
3 1/4

pounds

cauliflower

7

tablespoons

olive oil

1

cup

yellow onion,

roughly chopped

2

teaspoons

garlic,

minced

3/4

cup

white potato,

peeled, roughly chopped

2

cups

packed basil leaves,

washed and dried

1/2

teaspoon

ground nutmeg

5

cups

vegetable stock

ssalt and freshly ground black pepper to taste
Instructions
Preheat the oven to 500 degrees F. (Yes, you read that right. The very high heat is crucial in making this so delicious!)

Pour 1/4 cup of the olive oil on a baking sheet and set aside.

Trim the greens and the root off of the cauliflower and cut it into approximately half-inch slices, placing them on the oil-coated baking sheet as you go. (You won't have perfect slices, because many of the flowerets will break into pieces.)

Flip the cauliflower pieces over so both sides are coated with the olive oil. Then, generously sprinkle with salt and pepper.

Roast in the preheated 500 degree F oven until the underside of the cauliflower is very brown, about 15 minutes. Use metal kitchen tongs to flip the pieces over and sprinkle this side with salt and pepper. Then brown this side as well, about 10 more minutes.


While the cauliflower is roasting, coat the bottom of a large soup pot with the 1 tablespoon of olive oil and place it over medium-high heat.

Add the onion and garlic and cook until the onion is soft, about 5 minutes.

Add the potato and cook for another couple of minutes.

Then add the roasted cauliflower, along with any remaining oil from the baking sheet.

Pour the vegetable stock over all of the ingredients and bring to a boil. Turn the heat to low, cover and simmer for 20 minutes. (The potatoes should be very tender when it's done.) Add the basil leaves and nutmeg and mix them in.

Turn the heat off and use an immersion blender or standing blender to puree the soup until it's as smooth as possible. (It will be relatively thick and creamy when it's done.)
Recipe Notes
Now sure exactly how to season to taste? Here's how.
The final color on your soup might vary, depending on the richness of the stock you use.