Rich and creamy, spicy and hearty — this Vegetarian Cauliflower Jalapeño Soup recipe is a super delicious bowl of comfort!
I bought a few too many jalapeño peppers last week when I made the oh-so-delicious Puerco Con Salsa Verde.
Every time I opened the refrigerator and saw them, I wondered where they would land. After all, jalapeños have to land somewhere  — they're not something one generally just snacks on.
And what better place to land than in a pot full of cauliflower!?
How hot are Jalapeño Chile Peppers
The jalapeño chile pepper heat level varies from mild to hot, depending on cultivation and preparation. When working with jalapeños, or any chile peppers, you should always take a (very tiny) taste first. You have to know how much heat you're adding to your recipes.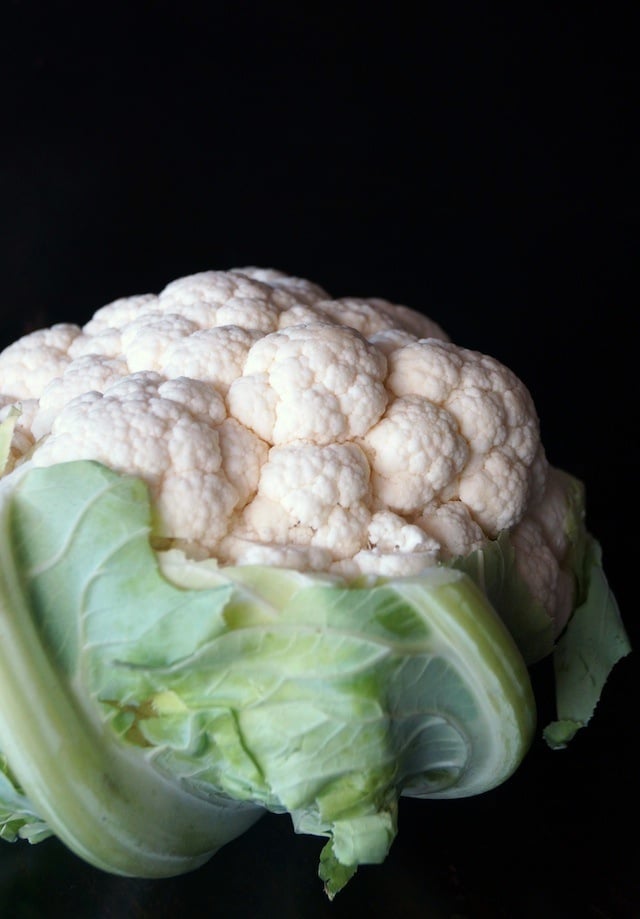 There's something incredibly delicious about the heat of the jalapeño pepper with cauliflower when it's creamy.  Together they create a comforting and intensely flavorful bite.
The flavor and texture are so lovely, that you might just get caught licking your bowl. (No joke!)
Here are a couple more of my favorite jalapéno recipes if you want a little more heat:
And here are a few more of my favorite cauliflower recipes:
Enjoy this delicious Vegetarian Cauliflower Jalapeño Soup recipe!
FYI: The color of your soup will vary, depending on the vegetable stock you use.
Vegetarian Cauliflower Jalapeño Soup Recipe
Rich and creamy, spicy and hearty -- this Cauliflower Jalapeño Vegetarian Soup recipe is a super delicious bowl of comfort!
Course:
First Course, Soup
Keyword:
comfort food recipes for winter, fall and winter soups
Ingredients
olive oil for the pan, and a bit more to drizzle for garnish

1

cup

yellow onion,

roughly chopped

1

tablespoon

garlic,

roughly chopped

2

approximately 3-inch

jalapeño peppers,

washed & dried

1

teaspoon

ground cumin

1 1/2

pounds

cauliflower,

washed and dried

4

cups

vegetable stock

1/4

cup

fresh cilantro, plus a few sprigs for garnish

washed and dried

1/4

cup plus 1 tablespoon

Crema Mexicana

(see notes)

salt and freshly ground black pepper
Instructions
Coat the bottom of a large soup pot with olive oil and place it over medium heat. Add the onion and garlic and cook, stirring often, until soft, about 7 minutes.

Cut the stems off the jalapeños and then slice them in half, lengthwise. Remove the seeds, roughly chop them, and add them to the pan, along with the cumin. Cook until the jalapeños are soft, about 4 minutes. (If you want more heat, leave some of the seeds.)

Now add the cauliflower and stir to coat it with the other ingredients. Pour in the stock and bring to a boil. Immediately turn the heat to low, cover and let it simmer until the cauliflower is very tender, about 30 minutes.

Add the cilantro and then pour the contents of the pot into a powerful blender and blend until very smooth, about 10 seconds.

Return the soup to the pot, add the 1/4 cup of crema and season generously to taste with salt and pepper. (Here's

How to Season to Taste

.)

Drizzle each serving with a bit of the remaining tablespoon of crema, olive oil and a sprig of cilantro.
Recipe Notes
Crema Mexicana is available in most grocery stores, but if you can't find it, you can mix 2 tablespoons plus 3/4 teaspoon of sour cream with 2 tablespoons plus 3/4 teaspoon of heavy cream.