Cream of Jalapeño Cauliflower Soup is a vegan soup that's made rich and creamy with slowly cooked cauliflower, and deliciously comforting with warming spices and peppers. It's an ideal meal or first course during the fall and winter months.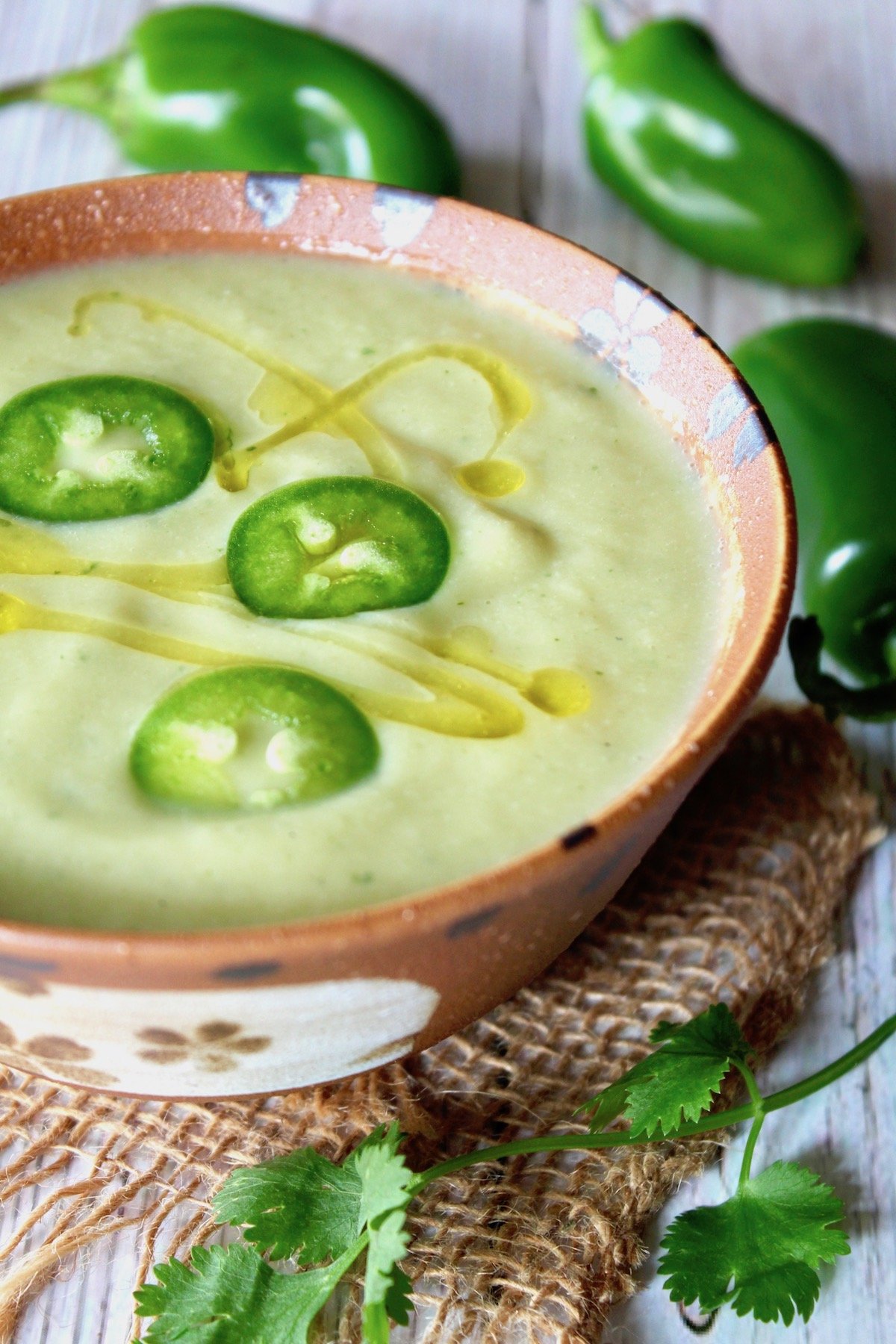 There's something incredibly delicious about the heat of a jalapeño pepper mixed with creamy cauliflower.
This blend is both warming and soothing, and together they create a comforting and flavorful bite.
That's why Cream of Jalapeño Cauliflower soup so magical.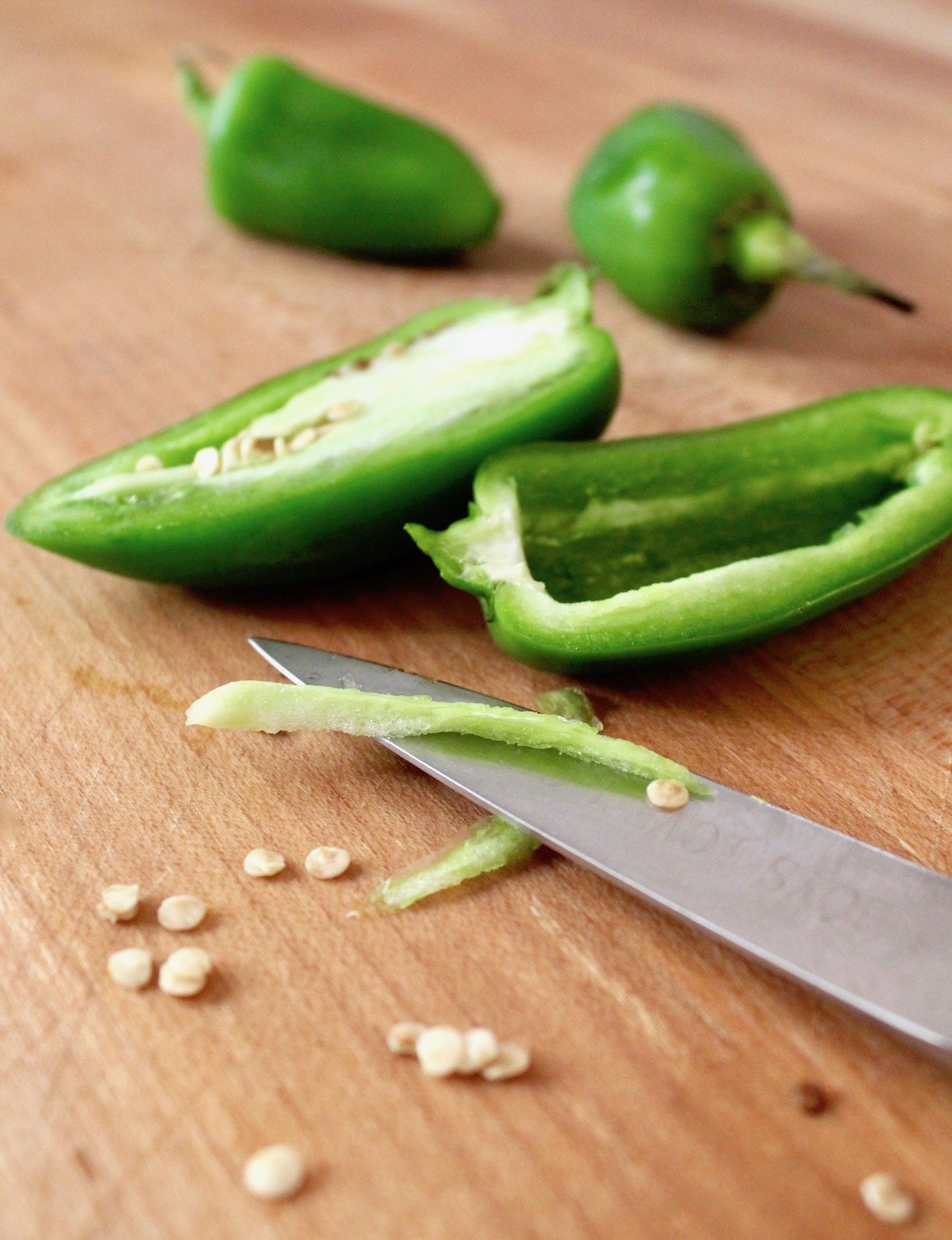 How hot are Jalapeño Peppers?
The jalapeño pepper heat level varies from mild to hot, depending on cultivation and preparation.
When working with jalapeños, or any chile peppers, you should always take a (very tiny) taste before you use them. You have to know how much heat you're adding to your recipes. No matter what most recipes call for, you can adjust the amount of jalapeño you add.

The inside membranes of the pepper carry the most heat, followed by the seeds. If they're particularly hot, I remove all of the seeds and the membranes (see above image). If they're only half as hot as I'd like, I leave some in. This is totally a matter of taste.
Is a jalapeño a fruit or a vegetable?
Botanically speaking, jalapeño peppers are a fruit. They are actually a berry, as berries are fruits with seeds inside them.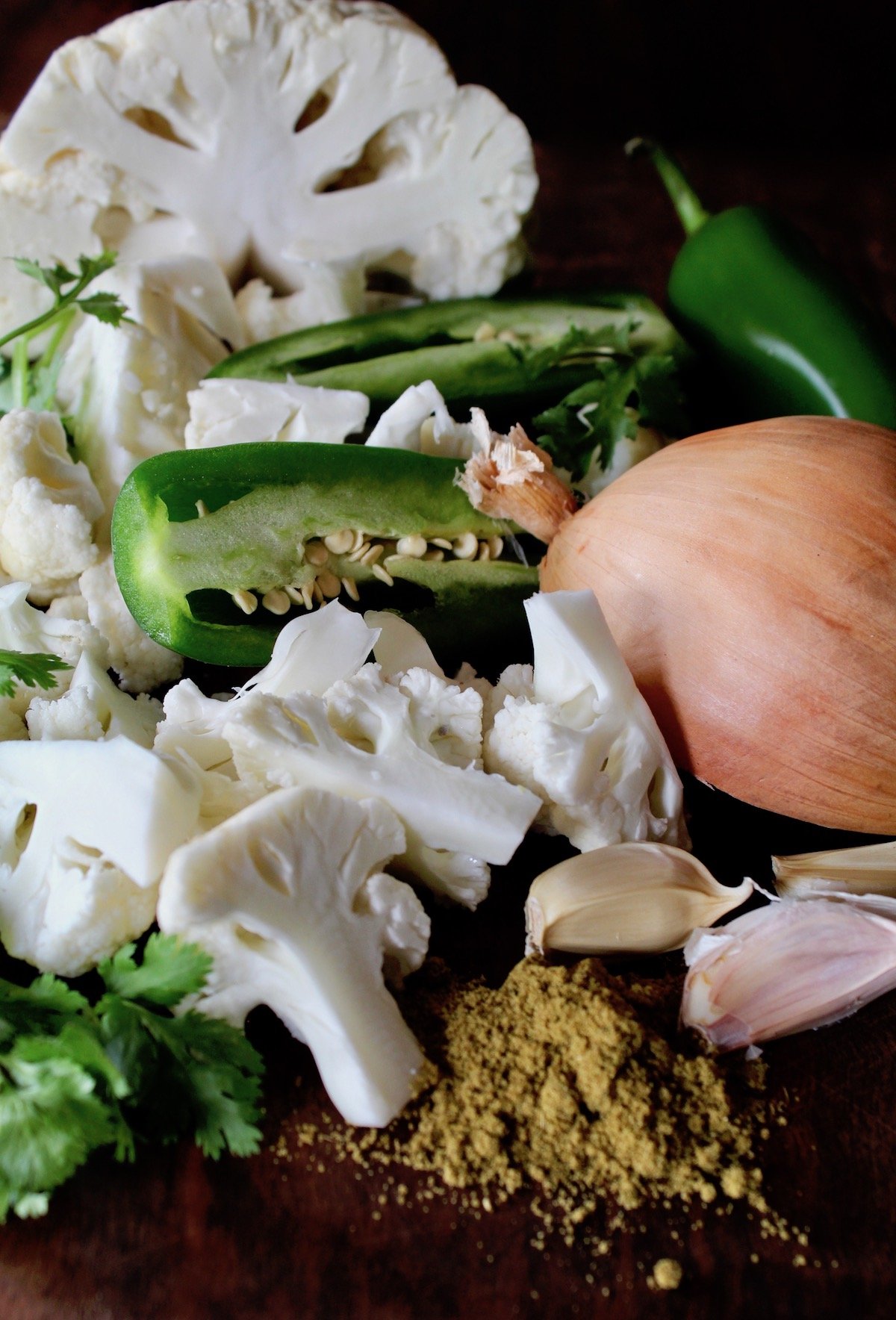 Recipe Tips and Substitutions
As I mentioned in discussing the heat of the jalapeños, taste them first and adjust the amount to your taste. I find that the amount listed in the recipe is perfect for medium hot peppers. The creamy cauliflower mellows it a bit, but you'll still get the heat.
The recipe calls for four to five cups of stock. The stock should go just to the level of the cauliflower in the pot, before you simmer it. You can vary the texture if you'd like, by adding more or less. Wait until you blend it before deciding if you want to add more liquid so you can see (and taste) it first. It's also okay to add water to thin it.
The color of your soup will vary, depending on the vegetable stock you use. A very rich and hearty stock will produce a darker, more golden-colored soup. The stock I used was on the light side. It's likely no two soups will look alike.
Other Uses for Cream of Jalapeño Cauliflower Soup
While serving this for what it is -- a soup -- is perfect, it can also be used in other recipes.
This soup is perfect for mixing into vegan casseroles to make them flavorful and creamy. (I roast root vegetables, caramelize onions, and then layer them with the Cream of Jalapeño Cauliflower Soup and grated Gruyere cheese. It's fantastic!)
This can also be used as a pasta sauce, or mixed into rice.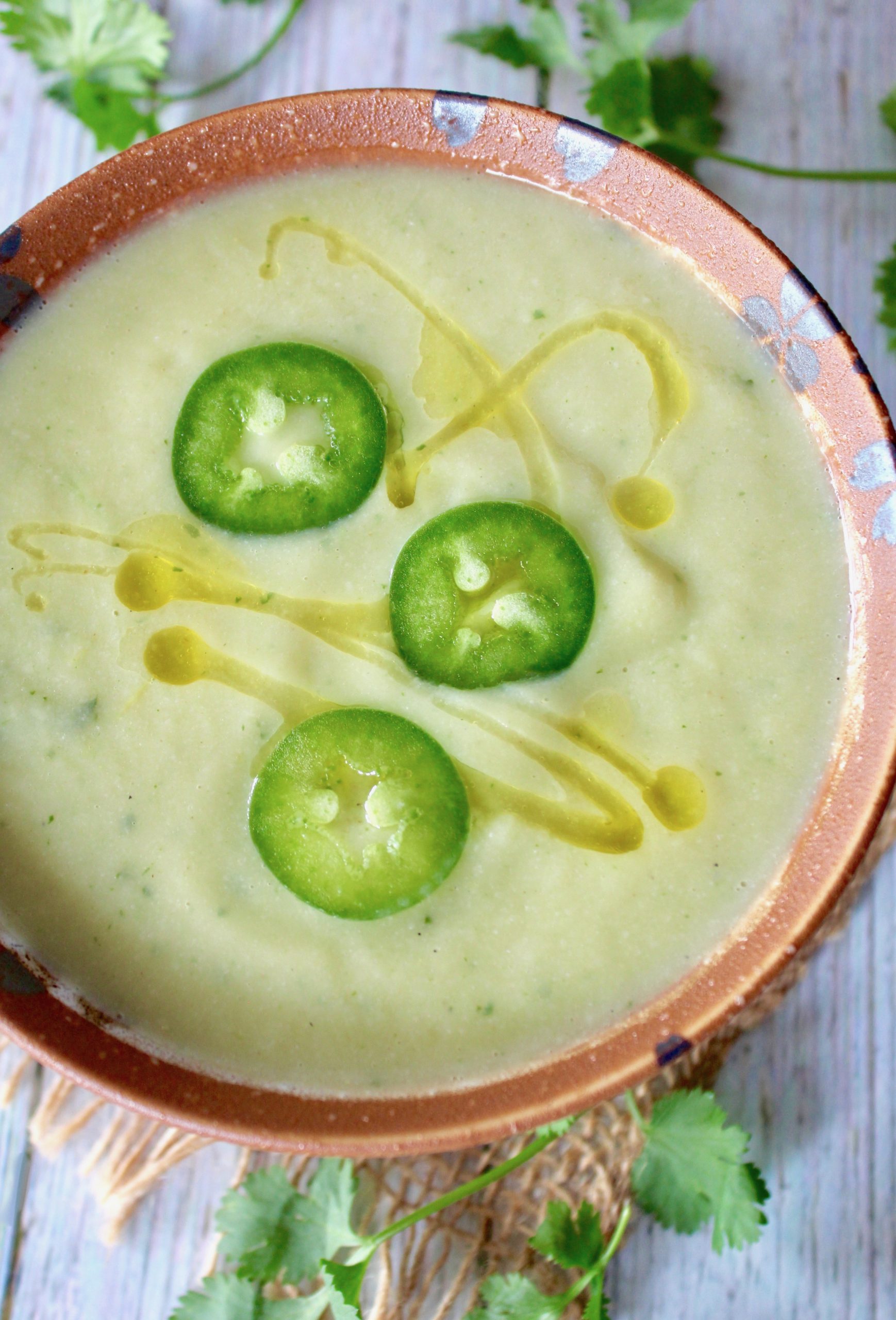 I hope you enjoy Cream of Jalapeño Cauliflower Soup as much as my family and I do.
More recipes with jalapeño peppers:
More recipes with cauliflower:
Cream of Jalapeño Soup
Rich and creamy, spicy and hearty -- this Cream of Jalapeño Cauliflower Soup recipe is a super delicious bowl of comfort!
Ingredients
olive oil for the pan, and a bit more to drizzle for garnish

1

cup

roughly chopped yellow onion

1

tablespoon

roughly chopped garlic

2

(approximately 3-inch)

jalapeño peppers (approximately ¼ pound),

washed and dried

1

teaspoon

ground cumin

1½

pounds

cauliflower,

washed and dried, roughly chopped (weight is for whole head -- the way you purchase it) with greens

approximately 5

cups

vegetable stock

¼

cup

fresh cilantro,

washed and dried

salt to taste
Instructions
Sauté the onion and garlic. Coat the bottom of a large soup pot with olive oil and place it over medium heat. Add the onion and garlic and cook, stirring often, until soft, about 7 minutes.

Prepare and add the jalapeños with the cumin. Cut the stems off the jalapeños and then slice them in half, lengthwise. Remove the seeds, roughly chop them, and add them to the pan, along with the cumin. Cook until the jalapeños are soft, about 4 minutes. (If you want more heat, leave some of the seeds and/or membranes.)

Add cauliflower and stock and cook. Now add the cauliflower and stir to coat it with the other ingredients. Pour in the stock and bring to a boil. Immediately turn the heat to low, cover and let it simmer until the cauliflower is very tender, about 30 minutes.

Add cilantro and blend. Add the cilantro and then pour the contents of the pot into a powerful blender and blend until very smooth, about 10 seconds. Return the soup to the pot and season with salt.

Serve. Drizzle each serving with a bit of olive oil and garnish with slices of jalapeño if desired.
Notes
Calorie count is only an estimate.
Have you tried this recipe?
I'd love to see it on Instagram! Tag me at @cookingontheweekends or leave a comment & rating below.