This Shredded Chicken Cobb Salad is drizzled with Citrus Vinaigrette, and it's a hearty main course salad. It's over-the-top delicious and all you'll want is more of it!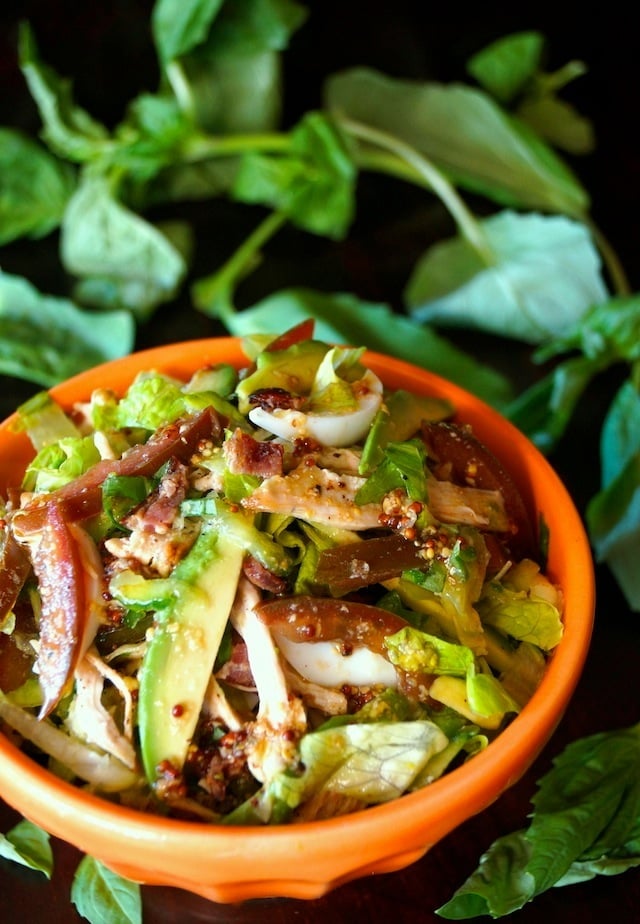 Brunoise, chiffonade, mince, rough chop, large dice, thin slices, and grated -- these are just a few of the many ways foods can be cut before they are added to recipes.
The entire vibe of a dish can depend on how the ingredients are cut. The size and shape of each ingredient can be as important as the cooking technique.
In addition to having very different mouth feels, some cuts create a rustic, casual vibe, while others a much more refined and elegant one.
Each one suits a different mood and craving.
Does the way you slice and dice really matter?
Well that all depends on what you're going for.
When I came up with this Shredded Chicken Cobb Salad , I was craving very diverse flavors, but ones that even with their differing textures, would all have a relatively similar mouth feel.
I wanted each bite to be smooth, comforting, soft, and able to easily absorb the delicious dressing.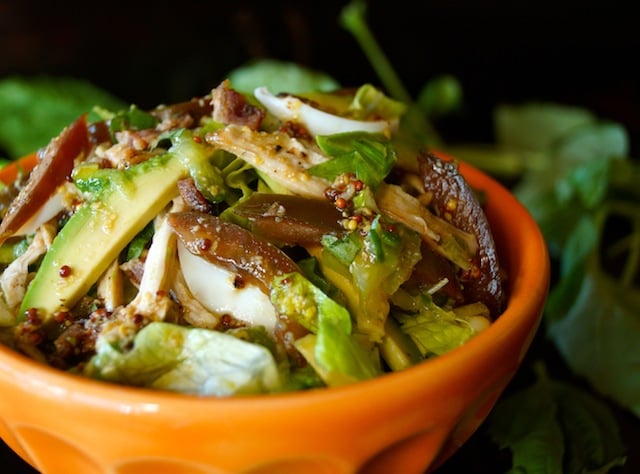 Between the variety of flavors and all of them shredded in one bite, with crunchy bacon, you will want seconds and thirds!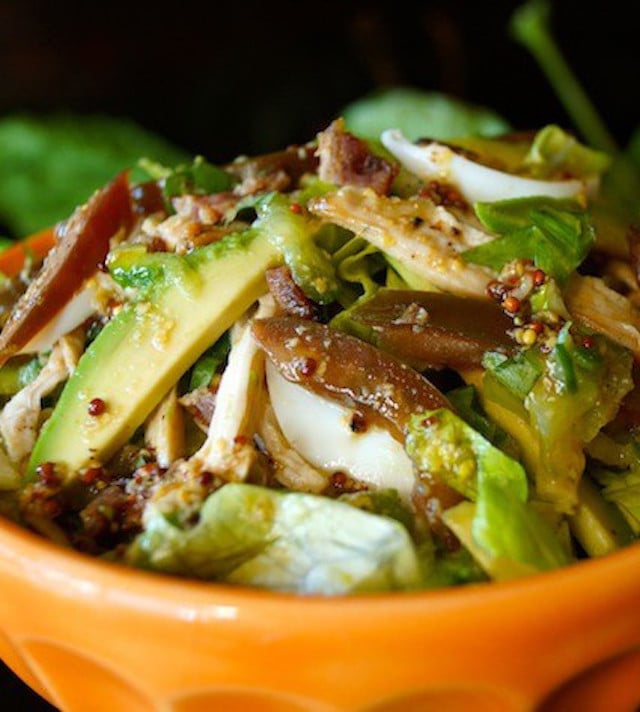 Enjoy every last bite of this scrumptious Shredded Chicken Cobb Salad with Citrus Vinaigrette!
More main course salad recipes:
Shredded Chicken Cobb Salad
This salad is a very hearty meal. You don't need anything else to go with it. It's over-the-top delicious and all you'll want is more of it!
Ingredients
For the salad
4

strips

bacon

1

(approximately ½-pound)

chicken breast,

boneless, skinless

2

heads

Romaine lettuce,

washed and dried, chopped into shreds

3

Persian cucumbers,

washed and dried, grated (squeeze out excess liquid with your hands after it's grated)

1½

cups

super thinly sliced, seeded tomato,

washed and dried

3

large

hard boiled eggs (Click here for How to Hard Boil Eggs),

yolks removed and super thinly sliced

¾

cup

cheddar cheese,

shredded

½

cup

yellow onion,

grated or super thinly sliced

¾

cup

loosely packed basil leaves,

washed and dried, cut into a chiffonade (roll up leaves and slice super thinly)
For the vinaigrette
⅓

cup

fresh orange juice

1

tablespoon

fresh lime juice

1

tablespoon

balsamic vinegar

1

tablespoon

whole grain mustard

1½

teaspoon

garlic,

minced

3

tablespoons

extra virgin olive oil

salt and freshly ground black pepper
Instructions
For the salad
Cook the bacon. Line a large plate with a double layer of paper towels. Set aside. Add the bacon to a medium-sized sauté pan and cook until it's crispy. When it's done, place the strips on the paper towel-lined plate to drain, and set aside. Do not clean the pan!

Cook the chicken. Remove any excess fat from the chicken breast and preheat the pan you cooked the bacon in. Use a meat mallet over a piece of plastic wrap to pound the thicker end of the chicken breast so that it becomes even in size. Then season both sides with salt and pepper and add it to the hot pan. Sauté just until it's cooked through, about 5 minutes per side. Set aside to cool.

Combine ingredients. In a large salad bowl, combine the Romaine with the cucumber, tomato, egg, cheese, onion, basil and avocado. Now add the bacon to the bowl, crumbling it into tiny pieces as you go. Then add the chicken, using your hands to shred it into thin, bite-sized pieces as you go.
For the vinaigrette
In a small bowl, combine the orange juice, lime juice, balsamic vinegar, mustard and garlic. Once it's blended, gradually whisk in the oil. Season generously to taste with salt and pepper. (Here's How to Season to Taste.)
Assemble
Drizzle the vinaigrette over the salad and gently toss until all of the ingredients are evenly mixed, and well coated with the dressing. Serve.
NOTES
Calorie count is only an estimate.
NUTRITION
Have you tried this recipe?
I'd love to see it on Instagram! Tag me at @cookingontheweekends or leave a comment & rating below.
Cooking On The Weekends is a participant in the Amazon Services LLC Associates Program, an affiliate advertising program designed to provide a means for sites to earn advertising fees by advertising and linking to Amazon.com.
Save
Save
Save