This Spiced Cranberry Sauce for the Holidays is sweet, tart, and warmed up with cinnamon, cardamom and cloves.  It's great for Thanksgiving and Christmas!
After I eat something sweet, I crave something salty.
After I eat something salty, I crave something sweet.  Does this happen to you?
And my favorite is to have sweet and salty all in one bite!
This is exactly why I think adding cranberry sauce to your holiday spread is such a brilliant idea.
(It's also exactly why I love salty desserts.)
Listen, I know you have dozens upon dozens of cranberry sauce recipes to choose from.  So why should you choose this one?  It's simple, really.  It's the spices!  Cinnamon, cardamom and cloves — these three spices are typically combined with other spices to make a chai.  This blend of spices adds warmth to almost anything it's added to, bringing it to another level.
These are leaves from the Liquid Amber tree next door to my house.  I'm so lucky the fall into my yard, reminding me of how pretty fall can be.
Savory gravy, stuffing and turkey is simply more delicious when a bit of  sweet spiced cranberry sauce has found its way onto my fork at the same time.
Not to mention how beautifully the vibrant red color will add to your table.  It will brighten up the entire spread of food.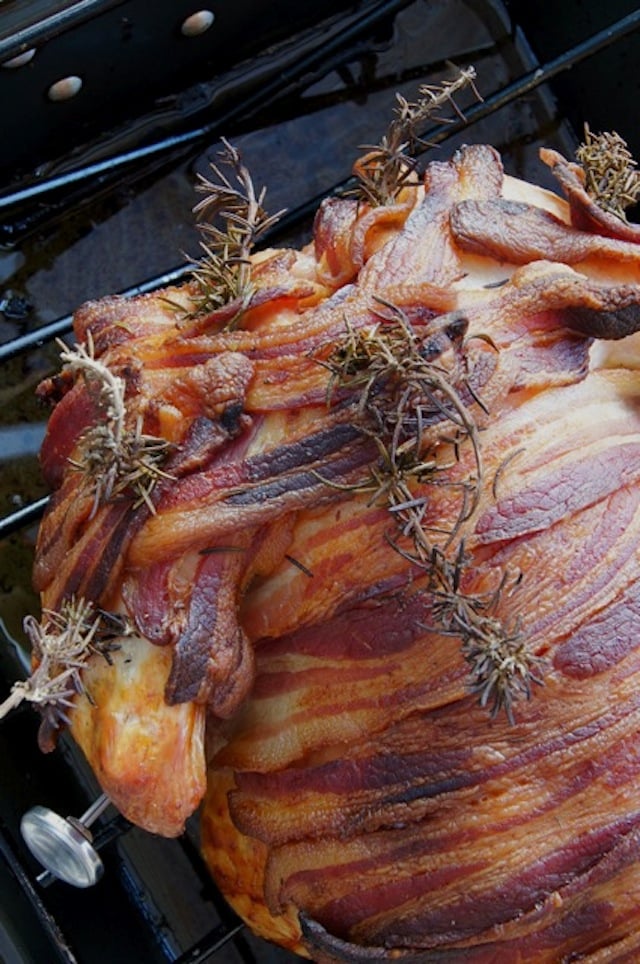 Hard to discuss the holiday's without sharing my favorite Thanksgiving Turkey recipe of all time.  Yep, that's the one, wrapped in crispy bacon! Imagine, if you will, a bite of this and the spiced cranberry sauce together.  Works for me.
Are you with me?  Do you crave sweet after salty?  Vice versa?  Both at once?
Thanksgiving, Christmas, whatever you're celebrating, this will add so well to everything else you're serving.
Enjoy every last bite!  Or combination of bites, right?
Spiced Cranberry Sauce Recipe
Ingredients
12

ounces

fresh cranberries

3/4

teaspoon

ground cinnamon

1/2

teaspoon

cloves

1/4

teaspoon

cardamom

1/3

cup

granulated sugar

3/4

cup

apple juice
Instructions
In a small saucepan, mix the cranberries with the cinnamon, cloves, cardamom and sugar.

Pour the apple juice over the cranberries and bring to a boil.

Turn the heat to low and simmer until the cranberries have broken and become soft, and the liquid has thickened. This should take about 15 minutes.

Serve warm or cold -- it's great both ways!
Save
Save
Save
Save