Spicy Quinoa Pesto Bites recipe are a healthy appetizer or hors d'oeuvre that's absolutely bursting with delicious, spicy flavors. They always draw a crowd!
As you know, if you've been following my recipes for a while, I always try to use the freshest, healthiest ingredients whenever possible.
I taste and experiment with new healthy foods all the time, but they must also be delicious for me to want to cook with them.
Fortunately hundreds of healthy foods are incredibly delicious -- and quinoa is absolutely no exception!  I love creating new and unique quinoa recipes.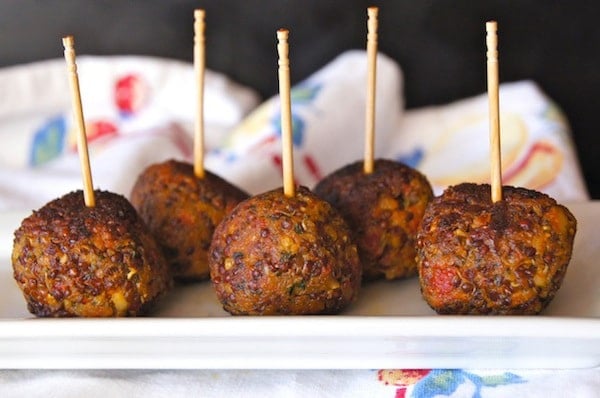 The main reason I use it is because I like it, and it's just an added bonus that it's packed with nutrition!
You'll have to take a little stroll over to the Wendy Polisi site for this recipe, where I'm happy to be sharing this recipe in a guest post.
The recipe is reminiscent of my Crispy Red Quinoa Burgers, though with a few different ingredients and with a lot more heat.
Super crispy on the outside — and just soft enough on the inside — these vegetarian Spicy Red Quinoa Pesto Bites are easy to make.
How to Serve Quinoa Pesto Bites
These pesto bites are delicious on their own, superb over pasta with a hearty tomato sauce (think spaghetti and meatballs), and make for a super tasty hors d'oeuvre that will wow your dinner party guests.
I hope you love these as much as I do!
If so, I'm thinking you won't want to stop at one "bite." You can either have dozens of these (a great idea!) or you could make burgers using the same recipe, just making them much larger and flattening them out a bit.
Enjoy!
More Delicious Quinoa Recipes
Save