Avocado Fries with Agave-Chipotle Yogurt Dip are the perfect, healthy snack, appetizer or  side dish. They fries are crispy on the outside and creamy on the inside — and the dip sweet, spicy and tart. Delicious!
Avocado is one of my favorite foods in the world.
Though it's a bit ironic that I'm loving these avocado fries.  You see, as a kid I hated it!  And I mean, hid-it-in-my-napkin-under-the-table kind of hate!
I'm not sure when exactly my palate accepted it, but I think it was when I was about ten-years-old and a neighbor served me guacamole salted to perfection and full of perfectly ripe, chopped heirloom tomatoes. Yes, that was it.
Now I truly adore avocados, and not only in their purest state (with a touch of sea salt), but I'm always interested in finding new ways to cook with them.  And this is a great way!  It's a fry of sorts.  Not a greasy, deep fried, fry — but, a nice creamy-crunchy fry that's super healthy! Remember the fat in an avocado is the good kind!  A touch of bread crumbs and olive oil is OK, too!
And they are oh-so-yummy with this non-fat Agave-Chipotle Yogurt Dip, as it's delightfully light and bursting with sweet and spicy flavors. This could be a beautiful, plated first course at your dinner party, or an incredible snack served family style!
Oh, one more thing.  I recently learned all about the California Avocado Commission (at Camp Blogaway, which I can't wait to tell you about — and I will soon). The best thing I took away from their presentation is how important it is to buy locally grown avocados!
You know what a bummer it is when you cut into an avocado and it's either fibrous or has dark spots?  That's from the long travel it often takes avocados to arrive at their final destination. California avocados are in season from about March through September. Go get em!
I hope you enjoy every one of your avocado fries!  And of course, the Agave-Chipotle Dip, too!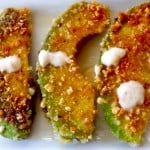 Avocado Fries with Agave-Chipotle Yogurt Dip
Ingredients
For the fries:
1/2

cup

Panko breadcrumbs

1/2

teaspoon

salt

Pepper

1

medium-sized avocado

firm but ripe

Olive oil to coat the pan
For the dip:
1/2

cup

non-fat plain yogurt

1

tablespoon

Agave nectar

1/2

teaspoon

orange juice

3/4

teaspoon

minced chipotles in adobo sauce

1/8

teaspoon

sea salt
Instructions
Mix the breadcrumbs with the salt and a bit of pepper. Pour the mixture on a flat plate and set aside. Cover a large plate with a paper towel and set it aside as well.

Cut the avocado in half lengthwise, peel, and then slice each half into approximately five long slices.

Coat a large skillet (cast iron is perfect) with the olive oil and place over high heat. As the pan heats up, place the avocado slices -- one or two at a time -- into the breadcrumbs. Gently press each slice into crumbs, to sure they stick to the avocado. Then, flip the slice over, and repeat.

Once your pan is hot, add the coated avocado slices, leaving a few inches between them. You should hear a sizzling sound when you place them in the pan -- if you don't, wait until the pan it hotter. It's important to wait for the sizzle, or the breadcrumbs won't brown properly. Cook until nicely browned, about 1 minute per side.

Remove the avocado slices from the pan and place on the paper towel-lined plate to drain off any excess oil.

For the dip, mix everything together in a small bowl. Voila!
Recipe Notes
For a gluten-free version, Kinnikinnick makes Panko-style breadcrumbs. They are available at Whole Foods.
While the combination of the sweet and spicy is divine in the dip, omit the chipotles if you're serving the kiddos! They'll love it!
Check out my step-by-step guide on
How To Cut An Avocado
to maximize its beauty and taste!
Save