The reason this is the Best Vegetarian Enchilada Recipe Ever is not only because of the delicious produce packed into the tortillas, but also because of the method in which the vegetables are cooked.
I'm home!  Did you notice I snuck out during the dessert party?
We went New York City and Woodstock.  
We were gone sometime between the Salted Caramel Chocolates and these Double Chocolate Almond Spice Cookies.
And I hope you loved both of these sweet treats. We had a fantastic vacation — I can't wait to tell you all about it next week!
For now though, I'm happy to share this oh-so-amazing vegetarian enchilada recipe with you!  I made these the weekend before we left for a family dinner.  And this really is the best vegetarian enchilada recipe ever!
These enchiladas make for one hearty, healthy, and super yummy meal.  Great for lunch or dinner — and you can crack an egg over it for breakfast, too!
I love to layer flavors as I sauté, and it's this process that makes the vegetables in these enchiladas so delicious.  The key is cooking each "layer" to perfection, before adding the next.  And by "perfection," I mean achieving a beautiful golden caramel color.
Oh, and if you wanted to serve an incredible sauce with them, this Smoky Poblano Enchilada Sauce is divine!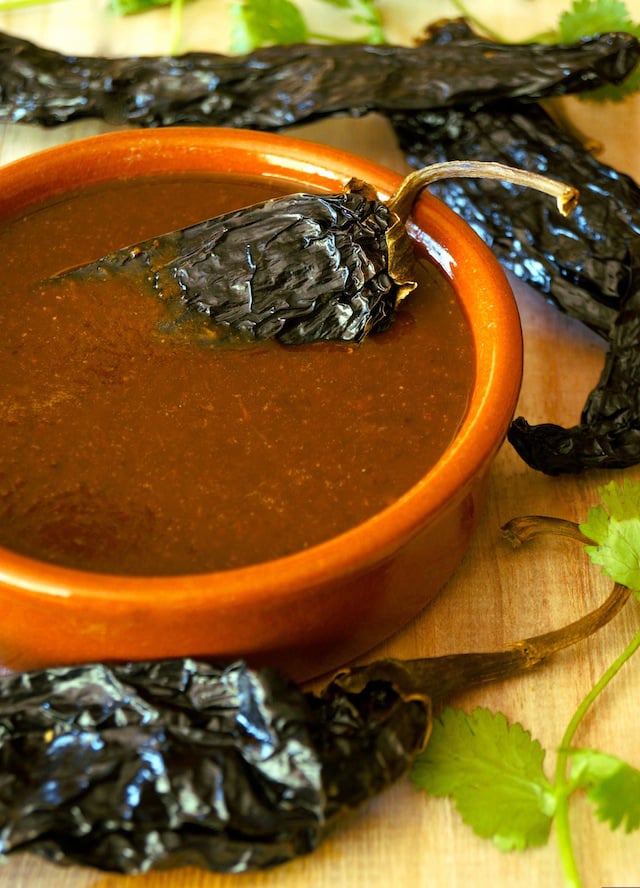 (This recipe doesn't require an additional sauce, but it can only add to the deliciousness.)
This is a true comfort food all around.
Enjoy!

Best Vegetarian Enchiladas Ever!
Ingredients
Olive oil for the pan
1 cup finely chopped red onion
1 tablespoon finely minced garlic
1 large, finely chopped red bell pepper
1 tablespoon finely chopped jalapeño pepper
2 ears fresh white corn, cut off the cob
⅓ cup dry vermouth
2 cups loosely packed, fresh spinach leaves
1 teaspoon ground cumin
juice of 1 lime
2 tablespoons roughly chopped, fresh cilantro
Salt and pepper to taste
3 cups enchilada sauce
2 cups shredded Mexican cheese blend (Sharp Cheddar, Monterey Jack is great)
8 small, corn or flour tortillas
Avocado slices to garnish
Chili flakes if desired
Instructions
Preheat the oven to 350 degrees F.
Place a large sauté pan over medium-high heat and coat it with the olive oil.
Add the onion and cook until it's soft and beginning to brown, about 5 minutes. Then add the garlic, red pepper, and jalapeño pepper. Continue to cook over medium-high heat, stirring periodically until everything is soft and beginning to brown, another 5 minutes or so. Now add the corn and cook for just a couple of minutes.
Turn off the heat and deglaze the pan with the vermouth. Turn the heat to medium and cook off the vermouth almost completely -- this should take about 2 minutes. Stir in the cumin, lime juice, and cilantro. Cook for another few minutes just to wilt the spinach.
Pour about 1 cup of the enchilada sauce into a rectangular baking dish, approximately 9 X 13 X 2-inches. Then one at a time, assemble the enchiladas. Dredge a tortilla into the enchilada sauce, coating both sides. Then add about ⅓ cup of the vegetable mixture to the center of the tortilla and sprinkle it with about 1 tablespoon of the cheese. Roll the tortilla and place it to one end of the dish, with the seam side down. Repeat this process with the other 7 tortillas. Add the remaining enchilada sauce and cheese evenly over the top of the rolled enchiladas.
Place uncovered in the oven until the cheese is melted and the tortillas have softened a bit, about 10 to 15 minutes.
Serve with freshly sliced avocados and -- for a bit of extra heat -- sprinkle with chili flakes.
Notes
Using the corn tortillas makes this a perfect gluten-free meal!

Of course, if you have all the time in the world, you could make your own enchilada sauce (which we'll do one day), but I love Traditional Red, Mild La Victoria Red Enchilada Sauce. It's delicious and available at almost every grocery store.
Save
Save
Save
Save
Save
Save
Save
Save
Save