With ground pecans, brown butter and chocolate in the cookie dough, these Praline Chocolate Chip Cookies are a mouthful of heaven!  Bite-sized, they're perfect to bring to a party, or to much on for a delightful, sweet snack.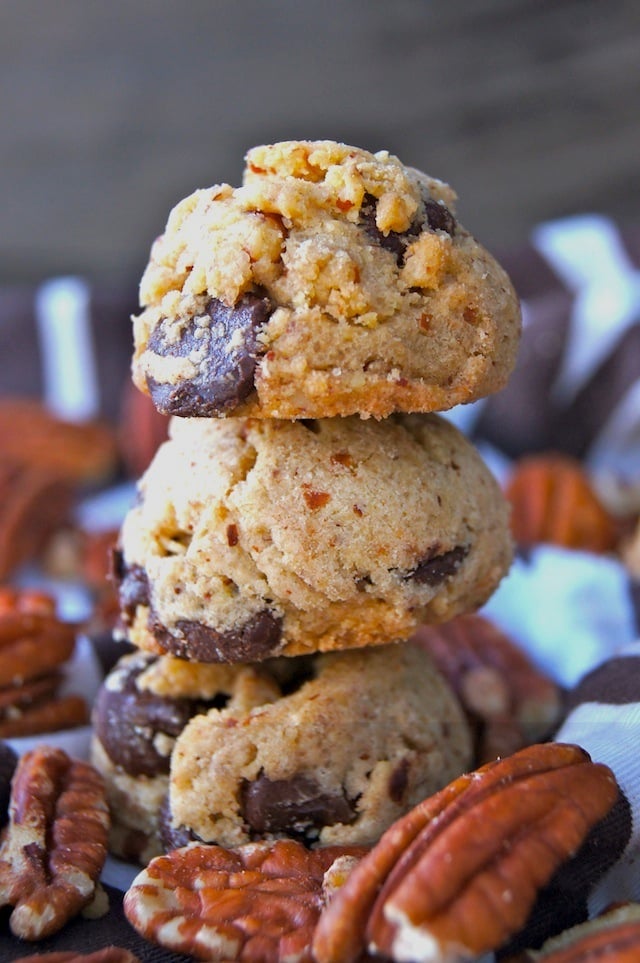 When I started Cooking On The Weekends a few years ago, I had no idea that not only would I be continuing my career in an area I'm passionate about, but that I would also gain a whole community of new friends.
I've made foodie friends not only around the globe, but am also fortunate enough to be a part of a local group, Food Bloggers Los Angeles.  Run by Erika of In Erika's Kitchen, Dorothy of Shockingly Delicious and Patti of Worth The Whisk, this group of foodies has become something I truly love being a part of.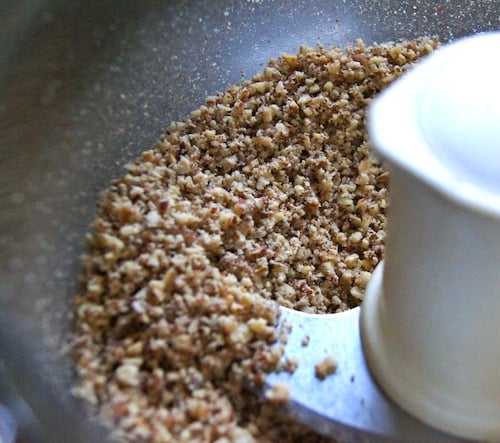 After missing a handful of our monthly meetings in a row, yesterday at our annual Cookie and Cookbook Swap, it was as if no time had passed.
As much as I loved trying everyone's creative cookie recipes, I so enjoyed seeing my fellow LA food bloggers.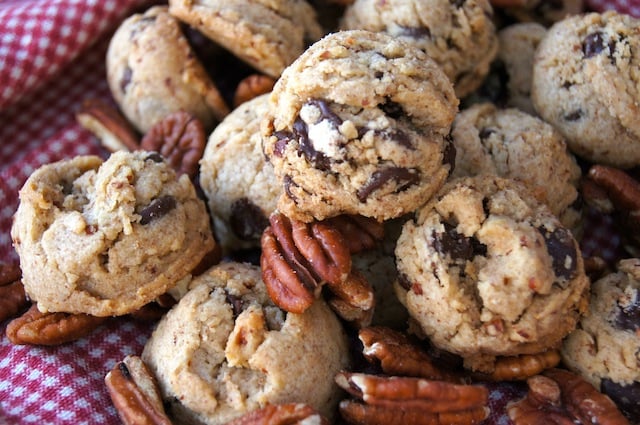 You know how I've shared that my husband jokes that I'm often consumed with "the blog and the dog?" Well with these folks I can go on and on about the blog, and when the lovely Louise of Jeeze Louise is around, I can also go on and on about the dog!
(I stick to going on and on about my boys with  my husband — something I'm also quite good at.)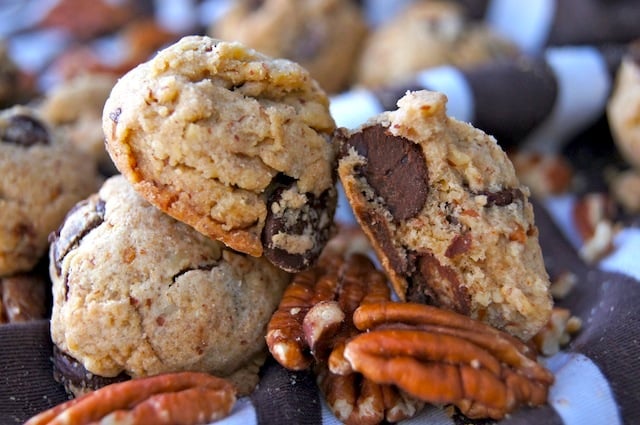 I made these super rich, flavorful and delicious Brown Butter Pecan Praline Chocolate Chip Cookies for yesterday's event.  I love how they turned out!  If you're heading to any holiday cookie exchanges, or simply want to eat yummy cookies, I highly recommend these!
You can check out all of the cookie recipes from the LA food bloggers at the bottom of this post.
Brown Butter Praline Chocolate Chip Cookie Recipe
Please note that the prep time does not include making the brown butter, which takes 20 minutes, and can be made up to 4 days ahead of time.
Here's how to make it
. Makes about 6 1/2 dozen.
Ingredients
1 1/2

cups

whole pecans

2 1/2

cups

all-purpose flour

3/4

teaspoon

baking soda

1

cup

brown butter

softened (Here's How to Make Brown Butter.)

1

cup

granulated sugar

3/4

cup

packed golden brown sugar

1

teaspoon

sea salt

1

tablespoon

vanilla extract

2

large eggs

2

cups

semisweet chocolate chips
Instructions
Place a rack in the center and upper third of the oven and preheat to 350 degrees F.

Line two baking sheets with parchment paper, and spread an even layer of the pecans on one of them. When the oven is preheated, toast the pecans until they are becoming a bit browned and are very aromatic. Remove from the oven, place in a small bowl and set aside to cool.

In a medium-sized mixing bowl, combine the flour and baking soda. Set aside.

In a large mixing bowl, combine the brown butter with the sugars, salt and vanilla. Mix for about 2 minutes with a large wooden spoon, an electric hand mixer or in a stand mixer, fitted with a paddle attachment.

Add the eggs and mix until it's a smooth batter.

Now add the dry ingredients and mix just until it's incorporated. Set aside.

Add the cooled, toasted pecans to a food processor fitted with the blade attachment and blend until they are finely ground.

Fold the ground pecans and chocolate chips into the batter.

Use a small cookie scoop or spoon to shape balls of dough onto the prepared baking sheets -- they should be about a tablespoon each.

Bake in the preheated 350 degree F oven just until they are becoming golden along the edges, about 10 minutes. They should still appear doughy and will be soft. Remove from the oven, and allow the cookies to cool on the pan for a few minutes, then carefully transfer them to a to a cooling rack.

Eat!
Food Bloggers LA 2013 Cookie Exchange Recipes
Save
Save
Save