This dish is the perfect example of what recipes on Cooking On The Weekends are all about — it's creative and comforting food for casual entertaining.  (That's my tagline — see it up in the top right?) 🙂
This recipe is the result of throwing a handful of delicious ingredients — in a specific order — together in one pan.  With varying degrees of heat throughout the cooking process, within about 30 minutes an incredibly scrumptious meal will be ready.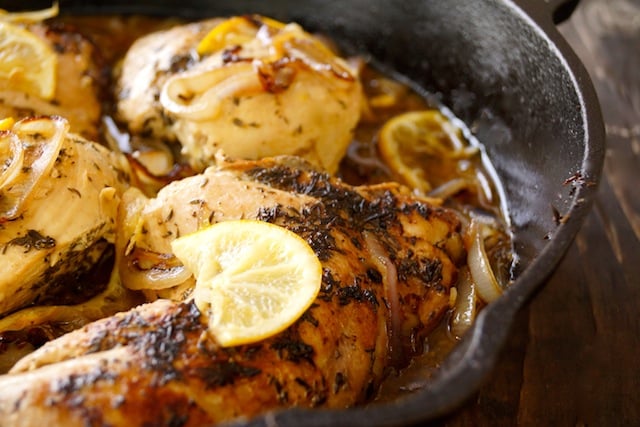 You won't believe how easy it is!  Would be so delicious with Roasted Garlic Basil Brown Rice.
(Oh, and it's pretty too!)
Skillet Braised Chicken Recipe with Cognac Caramelized Lemon-Shallot-Sauce
Ingredients
2 tablespoons olive oil
2 tablespoons unsalted butter, divided
approximately ¾ cup thinly sliced shallots (about 2 large shallots)
1 teaspoon minced garlic
2 teaspoons dried thyme
1 (approximately 3¾-pound) whole, cut-up chicken, skin-off, bone-in
½ cup chicken stock
¼ cup cognac
2 tablespoons fresh Meyer lemon juice
1 medium-sized Meyer lemon, washed and very thinly sliced
sea salt and freshly ground black pepper
Instructions
Add the oil and 1 tablespoon of the butter to an extra large skillet - ideally cast iron. Place it over medium heat and add the shallots and garlic. Sauté until the shallots are soft and beginning to brown.
Add the thyme, stir, and let it become aromatic -- about 30 seconds.
Season both sides of the chicken pieces with salt and pepper. Turn the heat to high and add it to the skillet. Brown both sides of the chicken and then turn the heat to low-medium. (You're not cooking the chicken through here, just browning the surface.)
In a small dish, mix the chicken stock, cognac and lemon juice together and then evenly pour it over the chicken.
Add the lemon slices around, on top and below the chicken.
Cover the pan, reduce the heat to low and braise just until the chicken is cooked through, about 20 minutes. (Cooking times will vary slightly, so check it periodically.)
Add the remaining tablespoon of butter and let it melt into the sauce. Season to taste with salt and pepper and serve! (Here's How to Season to Taste.)