This raw watermelon "pizza" is a beautiful, refreshing, and super delicious summer dish!  The finger limes put it over the top!
I grew up in a family with many artists.
My grandfather was a painter and made beautiful jewelry, and my grandmother used to sew the most darling dolls and little teddy bears. My grandfather's paintings are hung throughout my house and I still wear earrings he made. Some of my grandmother's sweet bears are on a bookshelf in my son's room.
My aunt is an amazing painter and my cousin is a renown photographer.  My father is also a photographer, and my mom was an incredible house designer and interior decorator. Living in my parents' house is like living in a work of art. Really.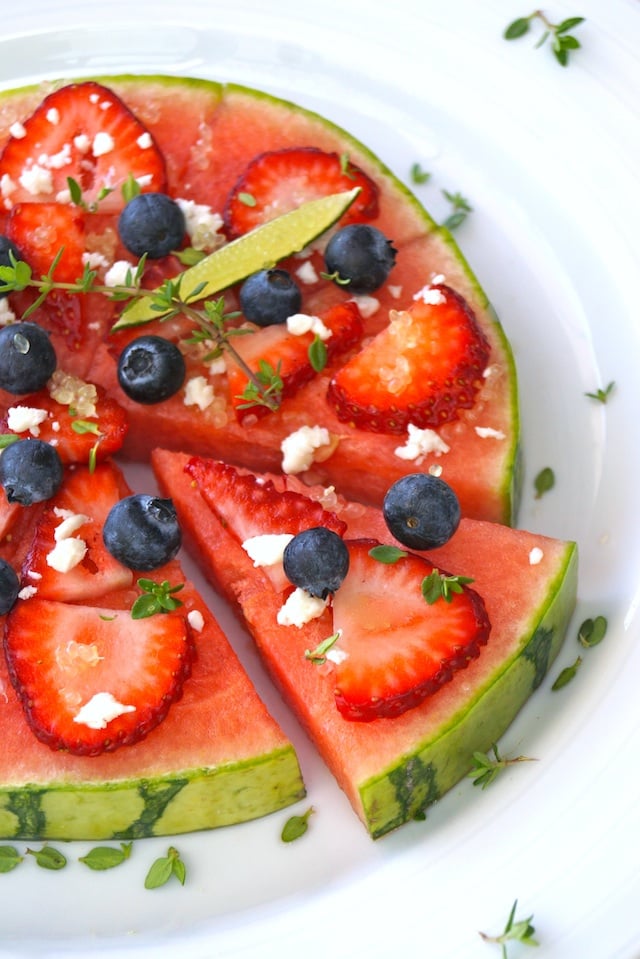 I took a photography class in high school, and and my dad taught me everything he knew in the awesome darkroom he made at our house.
It never occurred to me that one day, I'd combine that knowledge with my love of cooking.
I didn't really feel like an artist myself though, until one day when my painter aunt said I'd found my art medium — food.  I'll never forget that moment, because it made me feel special, and it somehow validated my work.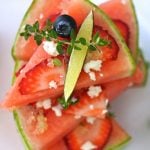 Watermelon Pizza Recipe
Ingredients
1

approximately 1-inch slice of a mini, seedless watermelon (about 5-inch diameter)

2

finger limes

see notes

2

small strawberries

washed, dried & thinly sliced

about 1 dozen blueberries

washed & dried

about 1 teaspoon crumbles Panela

Cotija or Feta cheese

a few sprigs fresh thyme

washed and dried

freshly ground black pepper
Instructions
Cut the watermelon into 6 slices -- like a pie -- and place it on a large plate.

Cut one of the finger limes in half and gently squeeze both halves evenly over the watermelon slices.

Then arrange the strawberries and blueberries on top, any way you'd like to.

Sprinkle with the cheese and garnish with the thyme.

Cut the remaining finger lime in half and gently squeeze both halves evenly over all of the ingredients.

Finish with a sprinkling of freshly ground black pepper and serve!
Recipe Notes
You can get finger limes
here
or in the specialty produce department of some markets, and its their crunch that elevates this dish -- however, you can also squeeze fresh lime juice over it (about 1 teaspoon over the watermelon, and 1 teaspoon over the other ingredients).
Save
Save