Kimchi Ramen Recipe with Egg is hot, spicy, and full of deep flavors. In just 15 minutes you can have this main course hearty soup ready to warm you up on a fall or winter night.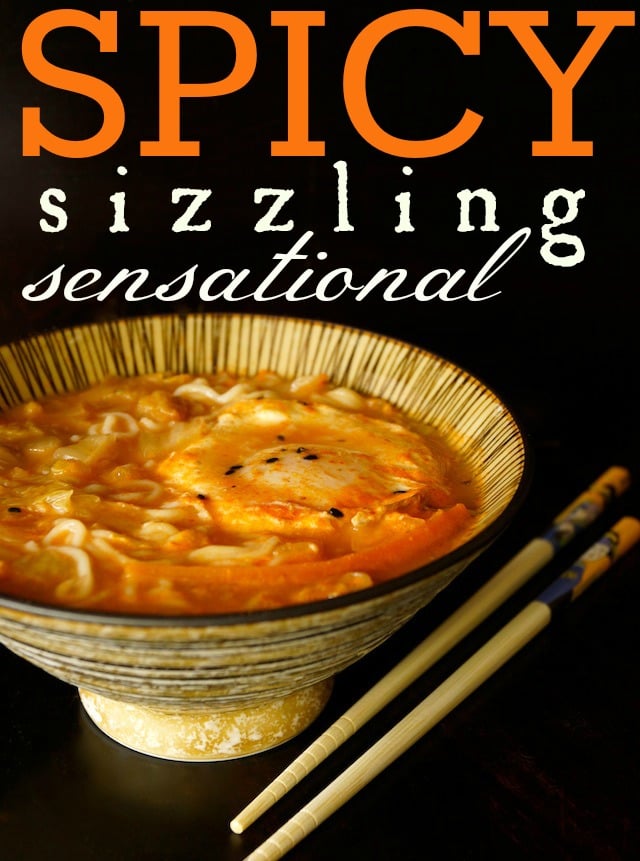 Kimchi Ramen with Egg is my all time favorite bowl of comfort!
Disclaimer: While I've had amazing versions of this in Korean restaurants, my recipe is far from authentic. Delicious yes, authentic, no.
And guess what? With prepared kimchi, from start to finish, this kimchi ramen recipe takes fifteen minutes!
While a small portion works for a first course, I especially love it as a hearty main course. If you serve it as a first course, it's perfect followed by Asian Pear Marinated Flank Steak. Now that's a meal!
What is Kimchi?
A staple in Korean cuisine, Kimchi is a fermented vegetable dish.
There are hundreds of varieties and in the United States we're most familiar with one made from salted napa cabbage and spices.
Kimchi is typically combined with other vegetables like radish, onion, and garlic.
Kimchi can be described as having sour, spicy and umami flavors.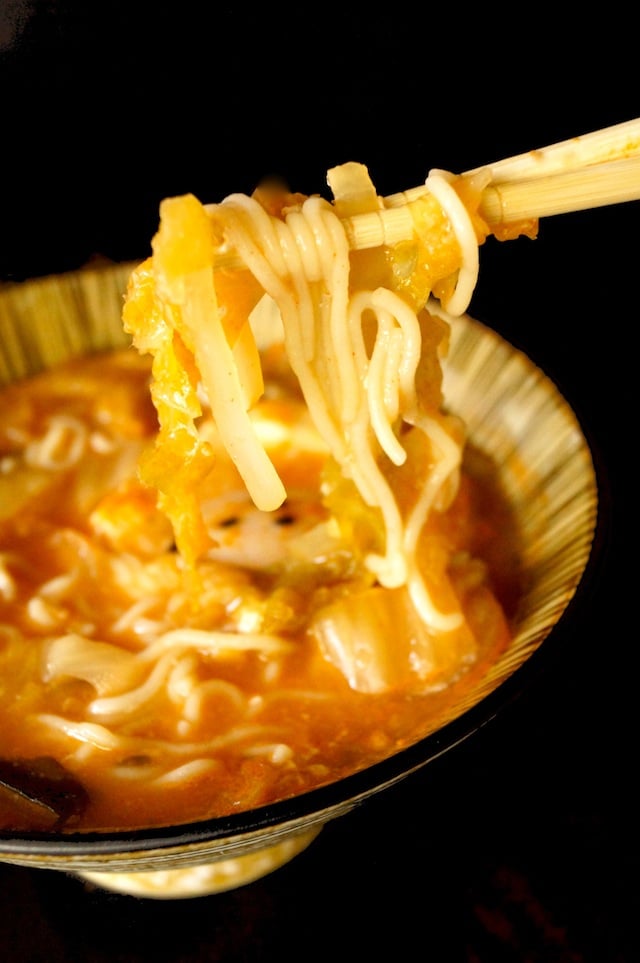 What's in this recipe?
water
dry ramen noodles

egg
togarashi -Togarashi is a Japanese spice blend that typically includes red chili pepper, black pepper, sesame seeds, dried mandarin orange peel, green nori seaweed flakes, ginger, and poppy seeds. A sprinkling of Togarashi adds great heat.
kimchi (I used

this one

, which includes: salt, cabbage, daikon, carrot, onion, garlic, dried red pepper and ginger.) You can also buy a prepared kimchi.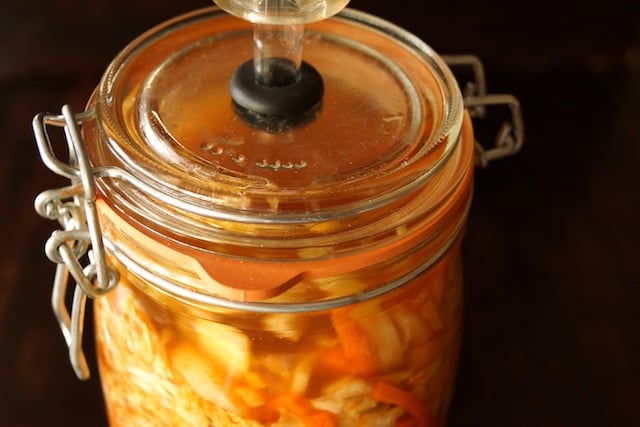 Recipe Tips and Substitutions
I think it's really fun to make homemade kimchi (listed above). That said, it has to ferment for a couple of weeks, so you'd have to have it at the ready. If you're not up for that (totally get it!), not to worry, there's a very easy fix. Buy a jar of your favorite

prepared kimchi

.
Gluten-free? No problem -- you can use

gluten-free ramen noodles

.
Make Kimchi Ramen with Egg when you want delicious warming comfort in a bowl.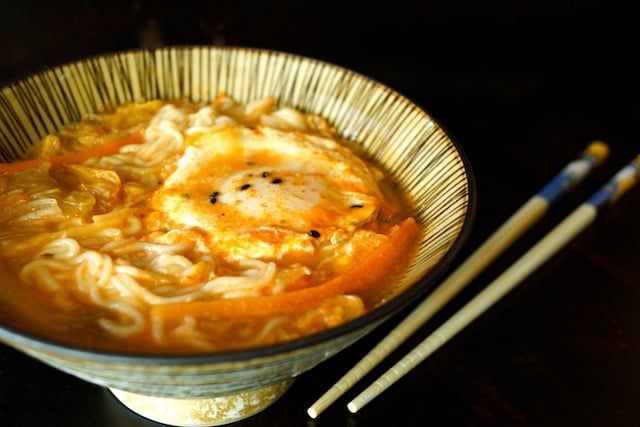 More recipes with kimchi:
Kimchi Fried Rice with Bacon
Kimchi Sandwich with Steak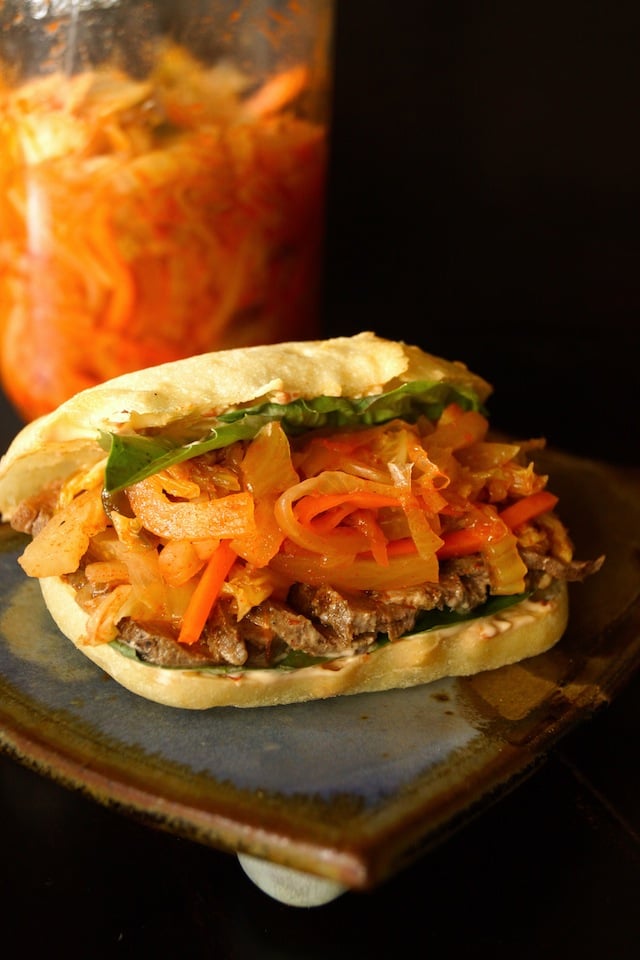 I hope you love this Ramen Kimchi with Egg as much as we do!
Oh, and if you live in LA or NYC, this restaurant has my favorite ramen.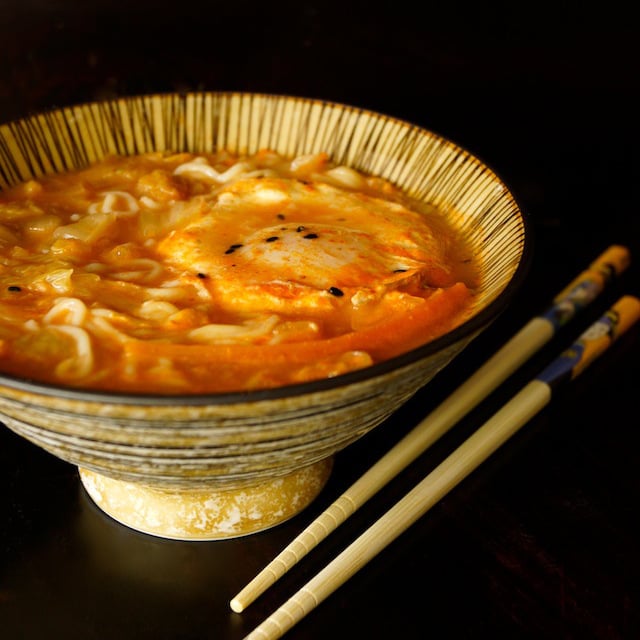 Kimchi Ramen with Egg
This Kimchi Ramen Recipe with Egg is hot, spicy, and full of deep flavors.
Instructions
Cook the ramen with the kimchi. In a large soup pot, bring the water to a boil. Add the ramen cakes, reduce the heat to a simmer, and cook until they're soft, but slightly undercooked -- about 2 minutes. Add the kimchi and brining liquid, and stir to blend.

Add the eggs. Keeping the heat on low, crack the eggs into broth, a good few inches apart. Cover the pot with a fitted lid to poach the eggs -- this should take 3 to 4 minutes.

Serve and garnish. Use a ladle to add the the soup to two large serving bowls, spooning the egg on top last. Garnish with a sprinkling of Togarashi and serve!
NOTES
You can find ramen cakes in most Asian markets, but you can also use Top Ramen (really). Just discard the flavor packet.
Calorie count is only an estimate.
NUTRITION
Have you tried this recipe?
I'd love to see it on Instagram! Tag me at @cookingontheweekends or leave a comment & rating below.
Cooking On The Weekends is a participant in the Amazon Services LLC Associates Program, an affiliate advertising program designed to provide a means for sites to earn advertising fees by advertising and linking to Amazon.com