Balsamic-Herb Cranberry Roasted Squash is an Thanksgiving side dish, that's lovely for the holiday season! It's full of beautiful, sweet and savory, fall and winter flavors.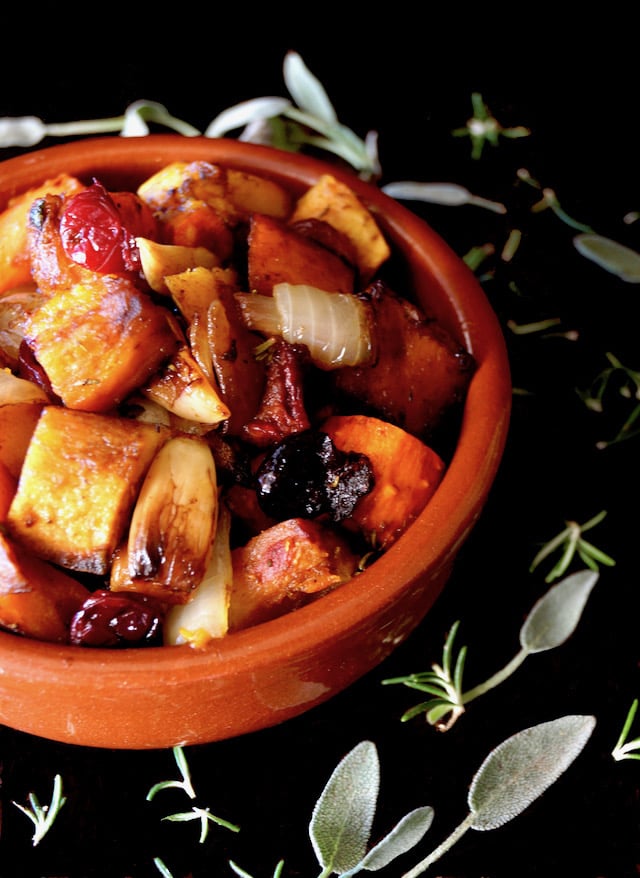 I think I might have actually closed my eyes after the first bite went in my mouth. "It's SO good!" That was my first thought when I tasted this delicious recipe.
It's like fall on a sheet pan. It's seasonal first because of the warm colors, second because of the earthy flavors, and third because of the soft textures. A very warm and comforting recipe.
Thus, a perfect Thanksgiving side dish.
Balsamic-Herb Cranberry Roasted Squash began when I bought a lot of extra produce for a job I did last week that involved all kinds of fall and winter squash. In fact as I was working, seeing what was getting used, and what wasn't, I was already cooking up this new recipe in my mind.
Here's some of what I started my job with . . .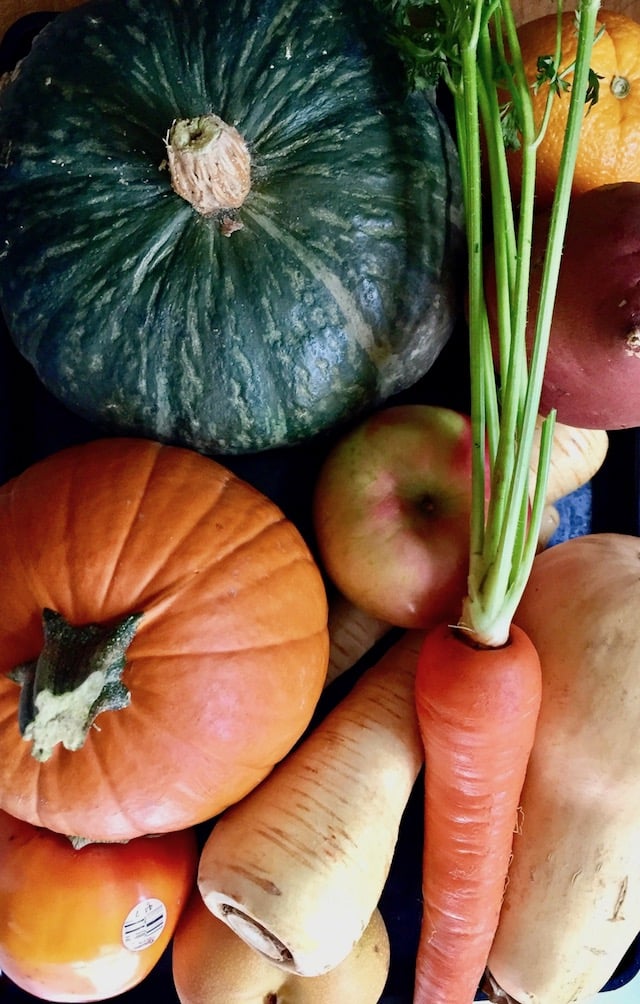 I was left with a few of the carrots, half a Kabocha squash, two Acorn squash, fresh cranberries and an orange. Naturally, I added onion, garlic and a few fresh herbs, which all created a beautiful spread of ingredients.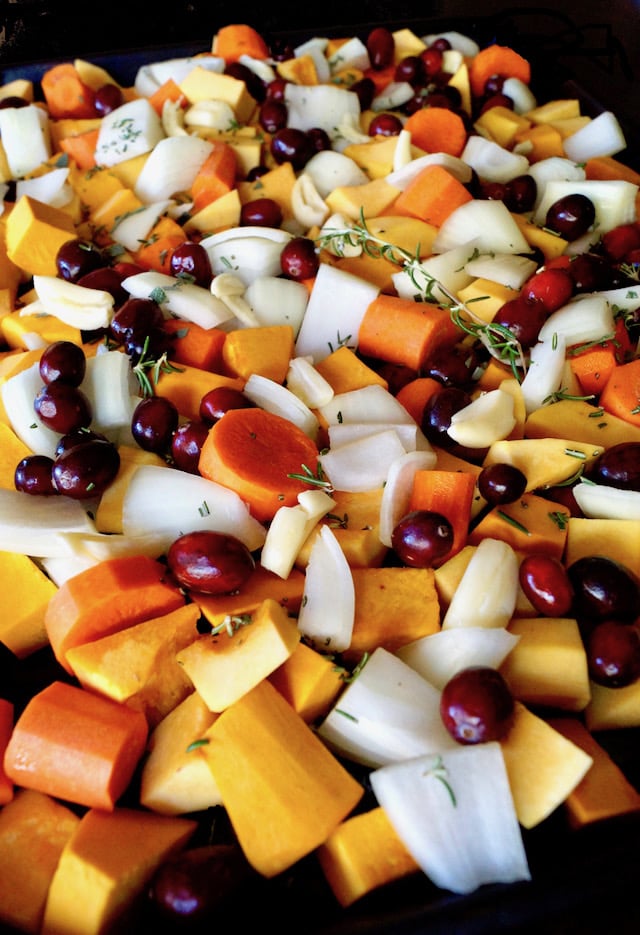 I served this with rice and roasted chicken and my whole family loved it.  And I'm definitely going to make it for Thanksgiving this year.  Just imagine a bite with a bit of Bacon Roasted Thanksgiving Turkey on your fork!
Can you use Other Winter Squash?
You can use pretty much use any fall or winter squash you want.
I used Kabocha and Acorn, but Butternut, Pumpkin and Delicate would also be fantastic.
If you have one favorite you can use just one — though, while they are all similar in flavor and texture, the differences are enough that using a few different varieties makes for a more interesting dish.
If Acorn squash is a favorite of yours, Pecan-Crusted Acorn Squash with Crispy Sage Leaves also screams Thanksgiving.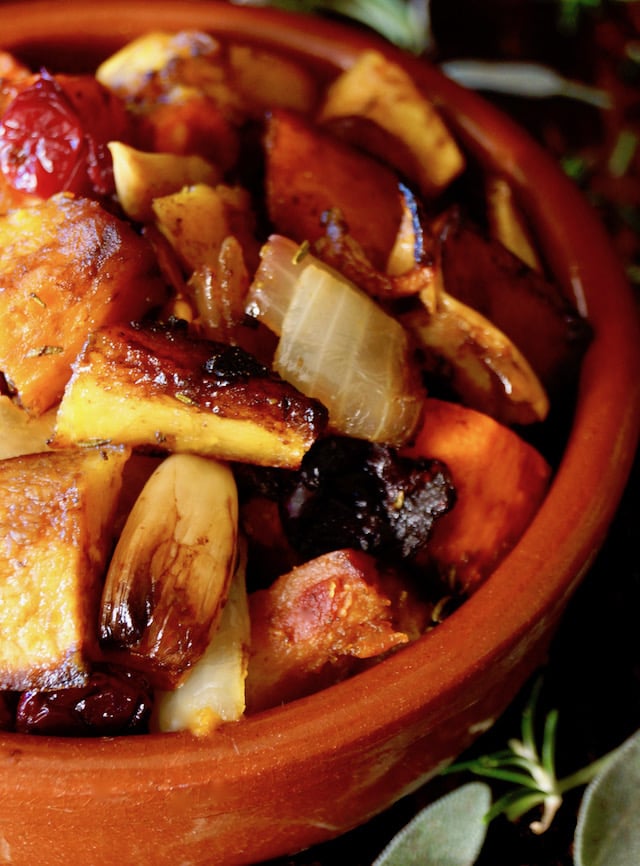 Cutting the squash will take a little bit of time, though it's a really easy recipe to put together. And if you're making it for a holiday gathering, it can be made a day ahead of time. (Just heat it in a 375 degree F oven before serving.)
Enjoy this wonderfully delicious Balsamic-Herb Cranberry Roasted Squash! Thanksgiving sides with squash are always a hit!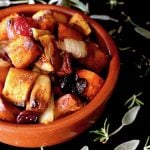 Balsamic-Herb Cranberry Roasted Squash Recipe
A side dish, that's lovely for the holiday season! It's full of beautiful, sweet and savory, fall and winter flavors.
Keyword:
great for Thanksgiving, vegetarian Thanksgiving recipes
Ingredients
olive oil

4

pounds

orange squash

Acorn, Kabocha, Delicate, Butternut or Pumpkin, or combination there of — peeled, seeded and cut into 1-inch pieces

1/2

pound

carrots

peeled and cut into 1-inch pieces

2

cups

yellow onion

cut into a very large dice

1 1/2

cups

fresh cranberries

12

small to medium sized

garlic cloves,

peeled and smashed with root ends trimmed

1

tablespoon

fresh rosemary,

washed and dried, finely chopped

1

tablespoon

fresh sage,

washed and dried, finely chopped

1/4

cup

balsamic vinegar

3

tablespoons

fresh orange juice

3

tablespoons

unsalted butter,

cut into small pieces

salt and freshly ground black pepper
Instructions
Preheat the oven to 475 degrees F and adjust a rack to the center.

Add the squash, carrots, onions, cranberries and garlic to a sheet pan. Toss with just enough olive oil to lightly coat all of the ingredients, and sprinkle with the rosemary, sage and salt and pepper. Toss again and then arrange everything in as close to a single layer as possible (there will be some overlap). Place in the preheated 475 degree F oven and roast for 20 minutes. At this point it should be sizzling and just starting to caramelize.

Remove the sheet pan from the oven and reduce the heat to 400 degrees F.

Drizzle evenly with the balsamic vinegar and orange juice and add drop the pieces of butter throughout. Gently mix together, sprinkle with a little more salt and pepper and return to the now 400 degree F oven, and roast until everything is very nicely caramelized, about another 20 minutes.

Serve!
Save
Save
Save
Save
Save
Save
Save
Save
Save
Save
Save
Save
Save
Save
Save
Save
Save
Save
Save
Save
Save
Save
Save
Save
Save
Save
Save
Save
Save
Save
Save