These top Fuyu persimmon recipes include everything from noodle salads and spiced breads to roasted pork and baked brie. Though there are many persimmon varieties, I'm highlighting Fuyus today.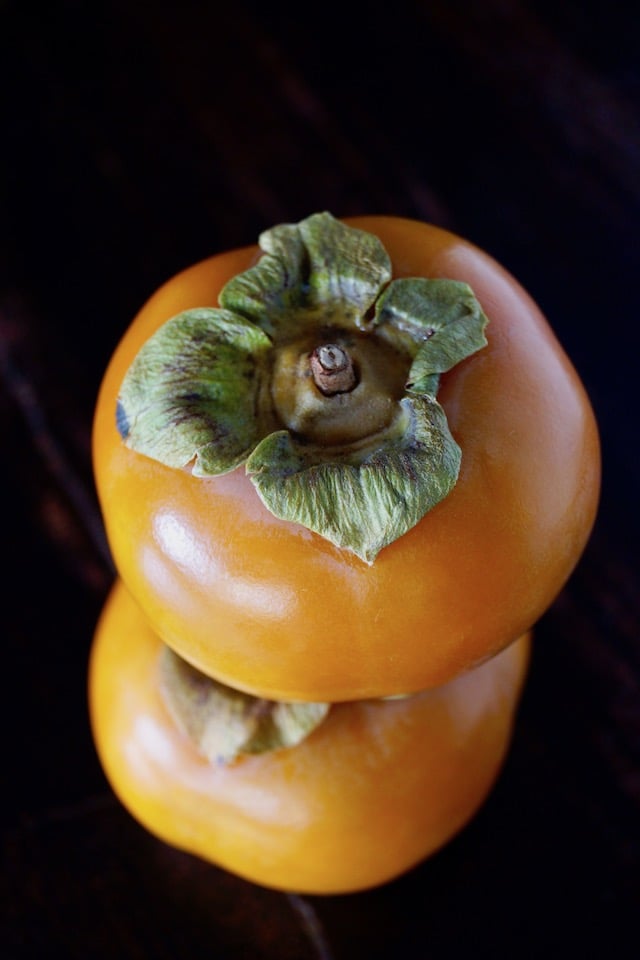 Though my focus today are the Top Fuyu Persimmon Recipes, we'll first explore a couple other persimmon varieties.
I've worked with a few of them: Hachiya, Cinnamon and Fuyu. I love all of them, and they have different qualities.
Differences in Persimmon Varieties
Hachiya Persimmon. Native to China and Japan, this persimmon has a slightly elongated shape, and needs to be completely ripe when eaten because they are very astringent. If they're at all firm, they will leave an unpleasant feel in your mouth. When they're ripe they're delicious and super soft — so soft that you might even think they're over-ripe.
Hachiyas are often used in baked goods and are fabulous mixed into yogurt, over ice cream (my favorite), or even eaten right out of the skin.
Cinnamon Persimmons. These are often called Percinnamons, are native to China and Japan also, and get their name from their lightly speckled flesh. This variety can be likened to both the Fuyu and Hachiya combined with a sprinkling of cinnamon. Their shape is somewhere between elongated and squat and round.
Cinnamon persimmons are non-astringent and great when they're both, slightly firm or a bit soft. They're super delicious to eat on their own or in salads. I find them to be fairly interchangeable with Fuyus.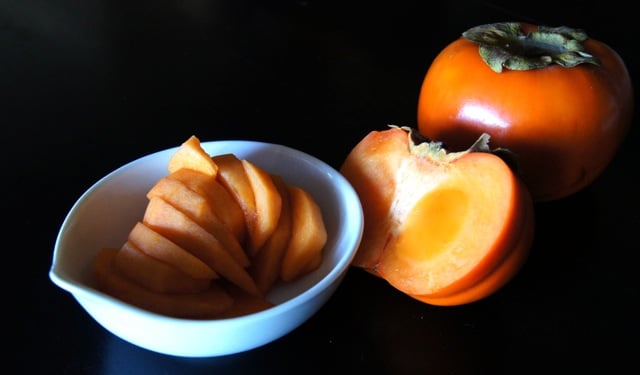 And now, the star of the show — the Fuyu! (This show, about the top Fuyu persimmon recipes on Cooking On The Weekends, that is.)
Fuyu Persimmons. This variety is also native to Japan and China, are another non-astringent variety. They're sweet, delicious and ripe when they're firm. They have a squat, round shape.
Fuyus are wonderful for all sorts of cooking, baking, and eating out of hand, like an apple! Of all the persimmon varieties, I seem to use this one the most.
All three of these persimmon varieties are an orange or orange-red color, and are beautiful!
Below are my top Fuyu Persimmon recipes, and in most of them, Cinnamon Persimmons can also be used.
Fuyu Persimmon Recipes
I love serving this first recipe on Thanksgiving.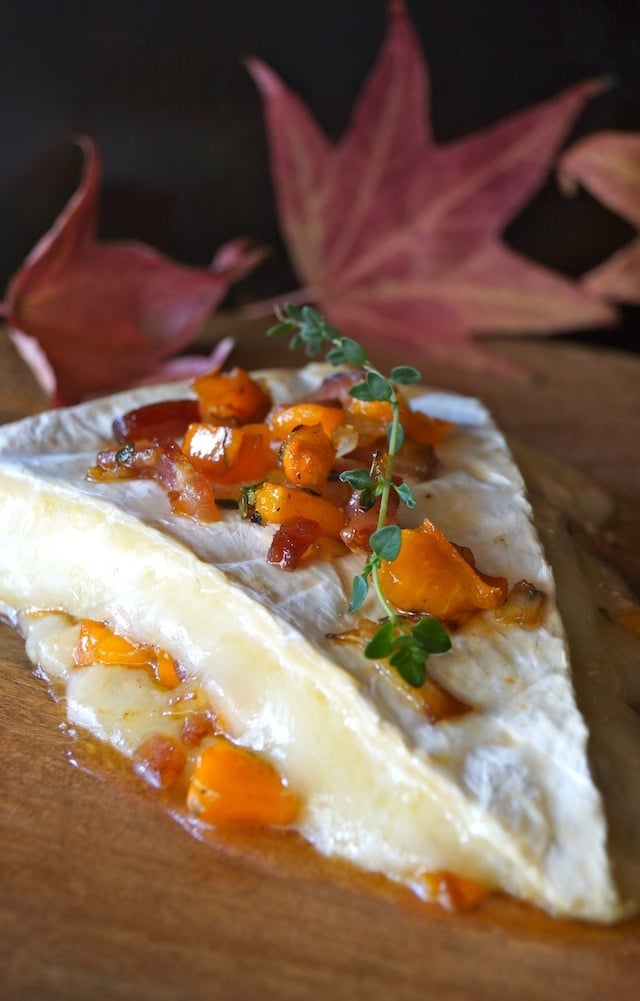 This next recipe is a lovely side and can definitely hold its own as a main course.
Persimmon-Grape Udon Salad with Miso-Ginger Dressing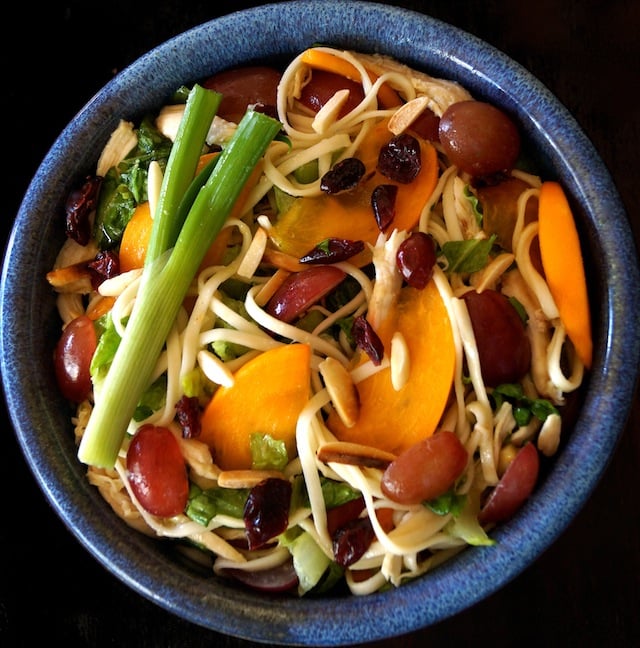 Now here's a recipe that is divine for breakfast, brunch or a snack, and definitely with coffee or tea.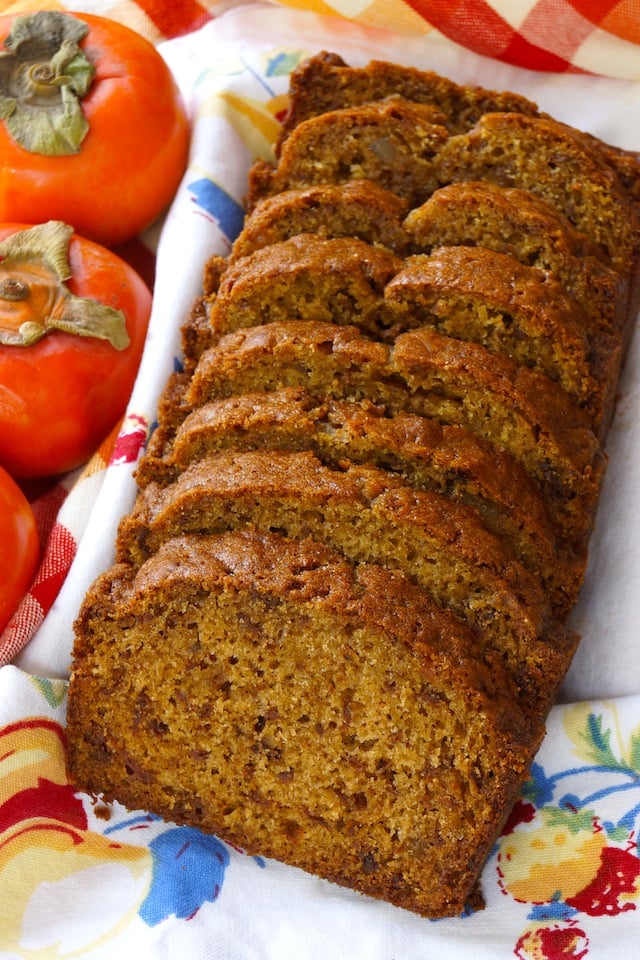 This one we made recently for a family dinner and it was huge hit.
Persimmon Prosciutto Pork Tenderloin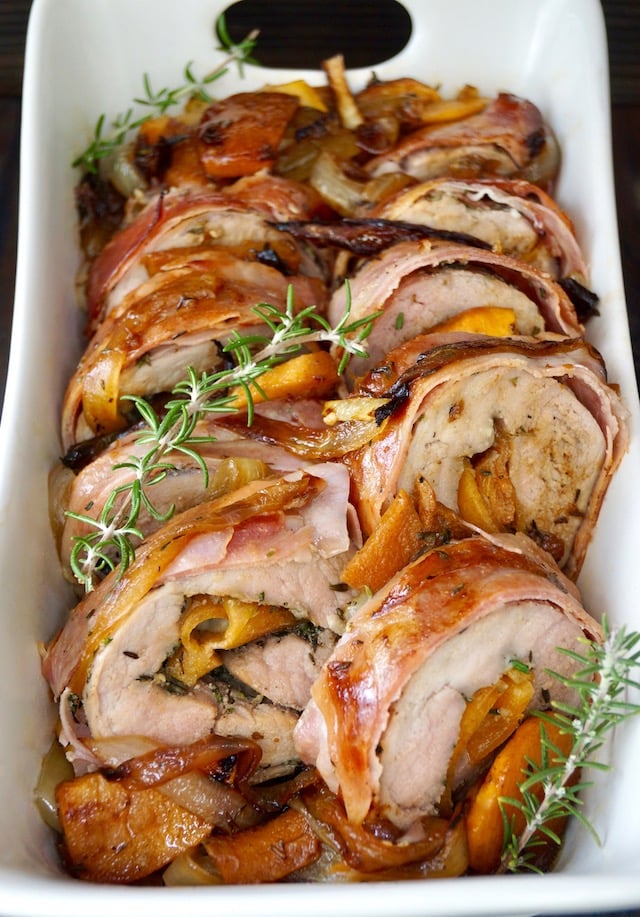 And another delightful, beautiful winter salad.
Winter Persimmon Salad with Honey Glazed Pistachios and Blue Cheese
Oh, and an extra Fuyu persimmon treat from my friend Dorothy at Shockingly Delicious — you must go check out how beautiful her Persimmon Tart is!
So I hope you've learned a bit about some of the different persimmon varieties and that you try at least one of my top Fuyu persimmon recipes. Enjoy!