Rosemary Garlic Crusted Pork Chops are everything you want in a hearty, flavor-packed meat course.  Super aromatic, crispy on the outside, and ucculent on the inside, you'll keep going back for more!
Today I will be your "drop-off chef."  That is, I will cook a dinner at my place and then drop it off at yours.
Well okay, fine, I really wish I could, but actually I'm just going to be your virtual drop-off chef.
You see, I'm on a little holiday with my boys!
I'm relaxing, and eating delicious food, I'm sure — I'm sure it's inspiring all sorts of new culinary creations in my mind.  I'll tell you all about it when I return, but for now I'm soaking up some family time.
So here's what I'm dropping off . . . .
Rosemary-Garlic Crusted Pork Chops. I made these super scrumptious crusted pork chops for my parents last week. It was a real drop-off — in person!  And it was served with my Mom's freshly made Ginger Applesauce.  What a dreamy combination!
I love these pork chops because although they only take a short time to prepare, they're super flavorful, rich, juicy and tender — sounds like comfort food to me!  Oh, and on top of it, should you decide to make them  for guests, you'll be a big hit!
These pork chops and the Ginger Applesauce (below) served together are a huge crowd pleaser.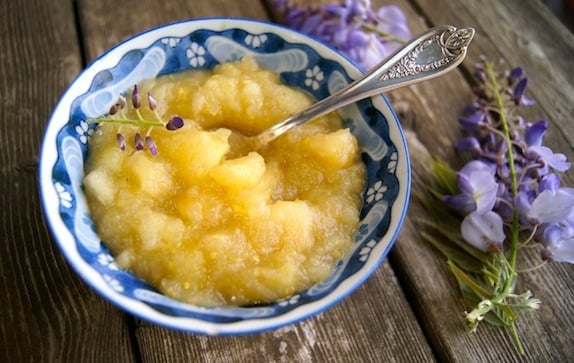 So start peeling the apples and thinking about inviting a few friends over to share a meal this weekend!
(I really do wish I could have made it for you in person!  Maybe one day . . .)
Enjoy every last bite of your Rosemary-Garlic Crusted Pork Chops!
Timeline for Rosemary-Garlic Crusted Pork Chops:
20 minutes ahead: Chop the garlic and rosemary.  Make the crust and sear the chops.
10 minutes ahead: Place the chops in the oven.
Rosemary Garlic Crusted Pork Chops Recipe
Ingredients
2

tablespoons

very finely minced garlic

2

teaspoons

finely grated Parmesan cheese

1-1/2

teaspoons

finely chopped

fresh rosemary

Olive oil for the pan

2

approximately 8-ounce pork chops, bone-in, about 1/2 to 1-inch thick

Sea salt and freshly ground black pepper
Instructions
Preheat the oven to 375 degrees F.

In a small mixing bowl, combine the garlic, Parmesan and rosemary. Season it with a bit of salt and set aside.

Season both sides of the chops with salt and pepper.

Coat the bottom of a medium-sized, oven safe skillet (cast iron is perfect), with olive oil. Place it over medium-high heat.

Then use a flat-bottomed, small spatula, or your hands to spread half of the garlic mixture on one side of each pork chop. It should be a smooth, even layer that coats the entire surface.

Place the chops, garlic side up, in the pan. If you don't hear a sizzle, the pan is not hot enough yet. Wait for the sizzle!

Sear the chops to brown them, about 2 minutes. Then use a heat resistant pastry brush or a small spoon, to drizzle olive oil from the bottom of the pan on top of the garlic crust.

Place the entire pan in the preheated oven and cook just until the chops are cooked through, about 6 to 8 minutes. The internal temperature should be close to 145 degrees F.

If for some reason the garlic crust hasn't become golden brown by the time the pork is cooked, place the pan under the broiler for about 30 seconds or so.

Let the chops rest for at least 10 minutes, covered with foil, before serving.
Save
Save
Save