Fresh fruit is a beautiful touch on minty avocado toast. Oh yes, it's the perfect summer appetizer!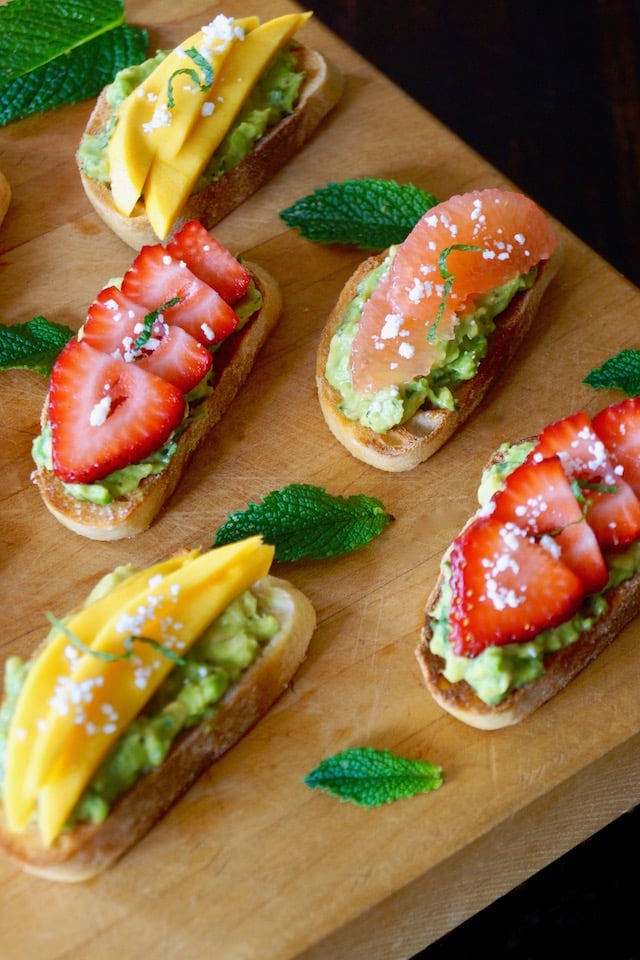 You know who loves avocado toast?
Um. . . . everybody!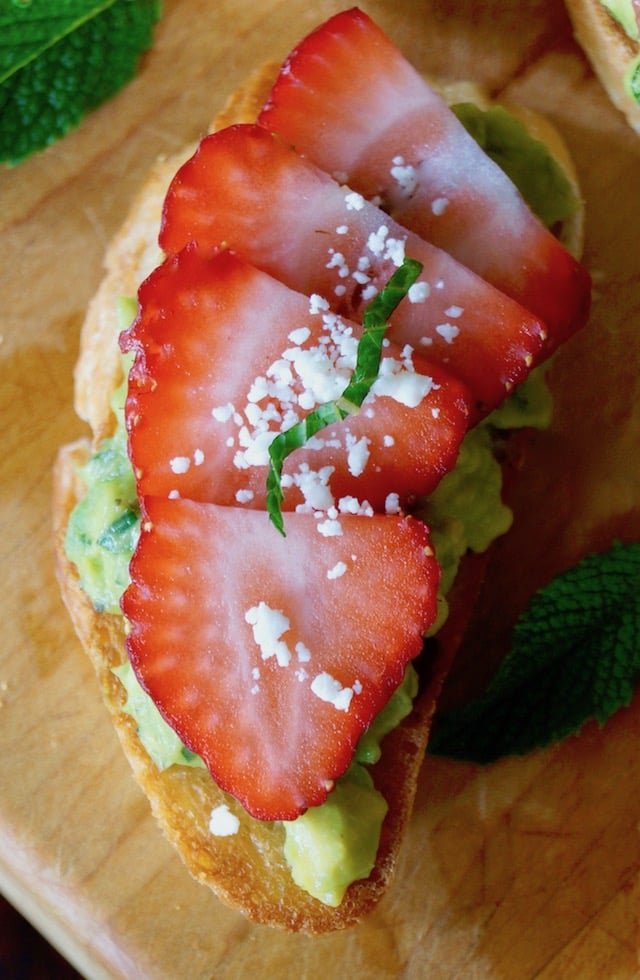 And this bright, stunning, fruity version is so much fun for summer!
You can use your favorite fruit.  I think these three are especially delicious with the minty avocado, but you can also papaya, sliced grapes, oranges, and the list goes on.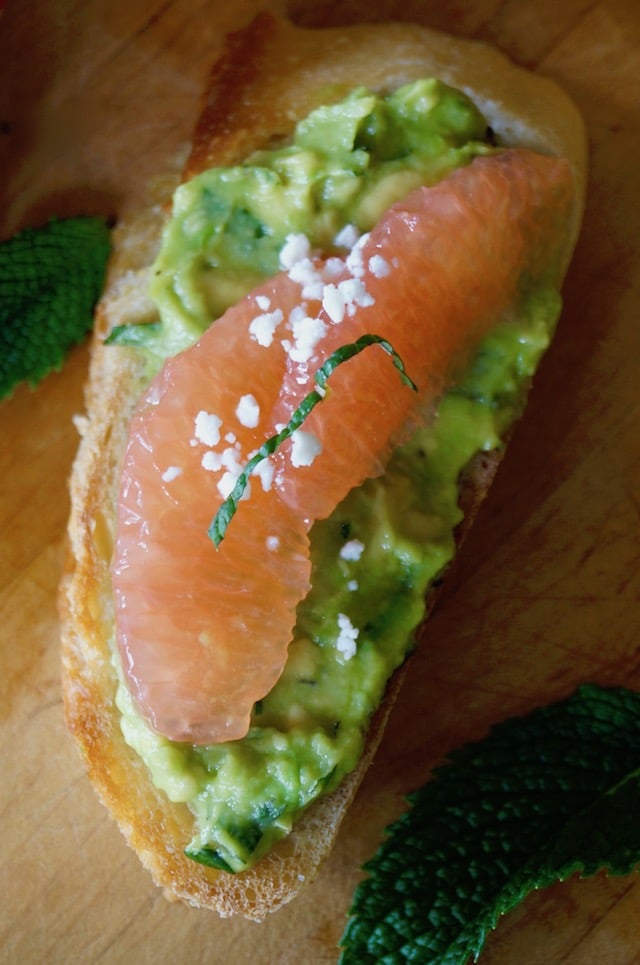 Strawberries, mango and and grapefruit are always so delicious with avocado, and the slightly salty flavor from the Feta is the perfect finish to these beauties.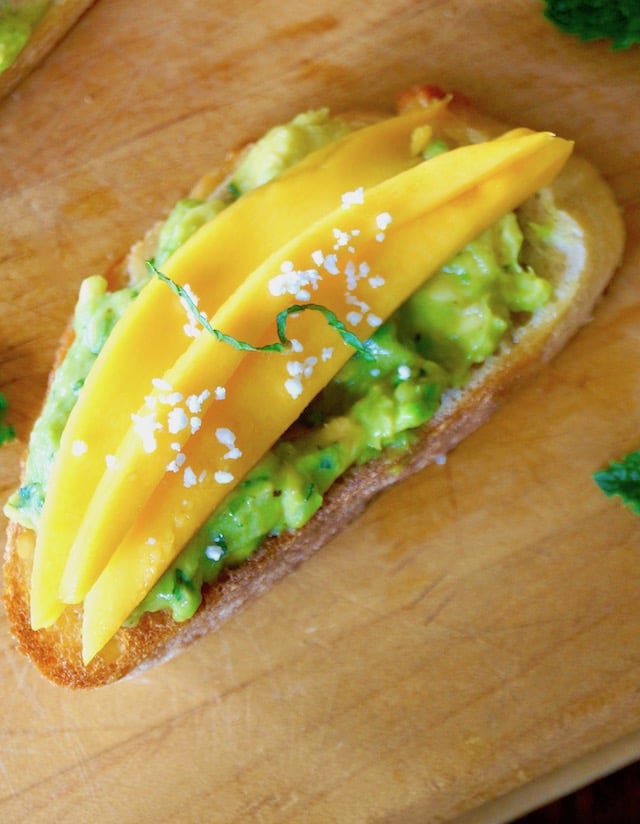 And if you want a bit less hoopla, you can skip the fruit all together.
They're still super tasty and oh-so-pretty!
You can throw this together inside of 20 minutes and you will be a star at the party you bring them to.  (Or at your own dinner table!)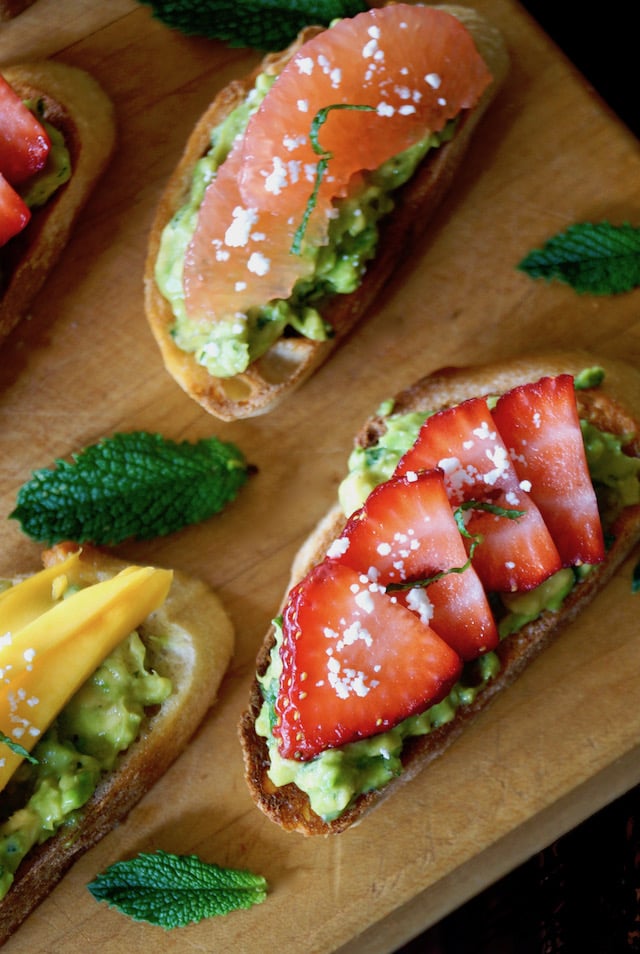 I know everybody might not love avocado toast, but I adore it, and it sounded good. 😉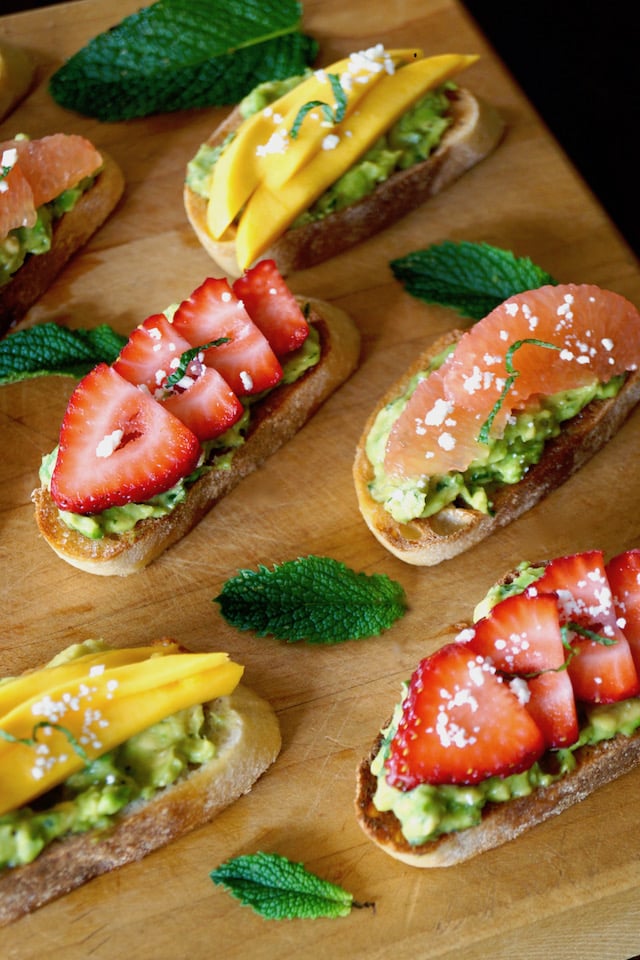 Minty Avocado Toast Recipe: Three Ways
Ingredients
1 cup mashed avocado (about 1 large avocado)
1 tablespoon plus 1 teaspoon (washed & dried) finely chopped fresh mint
1 teaspoon freshly squeezed lemon juice
salt, pepper & granulated sugar to taste (Here's How to Season to Taste)
1 dozen ¼ to ½-inch slices of a thin French baguette (about 3-inch diameter)
about 1 tablespoon olive oil
1 clove garlic, peeled
strawberries, mango and/or grapefruit (see instruction no. 2)
about 1 teaspoon finely crumbled Feta cheese
Instructions
Add the mashed avocado to a small mixing bowl. Mix in the mint and lemon juice. Season to taste with salt, pepper and sugar. (Here's How to Season to Taste.). Set aside.
For the strawberries: about 4 medium-sized strawberries per 4 toasts, sliced thinly. For the mango: about ¼ mango per 4 toasts, sliced thinly. (Here's How to Cut a Mango.) For the grapefruit: about 4 segments per 4 toasts, sliced in half). (Here's How to Cut Citrus.). Set the fruit aside.
Place the baguette slices on a baking sheet and drizzle them with the olive oil. Place the baking sheet under the broiler just until the edges are golden, about 1 minute. Then firmly rub the garlic clove on each slice.
Once they've cooled, divide the minted avocado among the baguette slices, and use a small spreader to smooth the surface. Arrange the fruit on top of each one, followed by a light sprinkling of the Feta.
Serve!
Save
Save
Save
Save
Save