Pistachio-Mint Crusted Rack of Lamb is a wildly delicious blend of flavors that will totally wow your guests! Using Aussie lamb, this is a gorgeous dish for any spring occasion, it would be the star at Easter!
I'm grateful to True Aussie Beef and Lamb for sponsoring this post. I only write about and cook with brands I believe in. To find out where to buy Aussie Lamb near you visit True Aussie Beef and Lamb.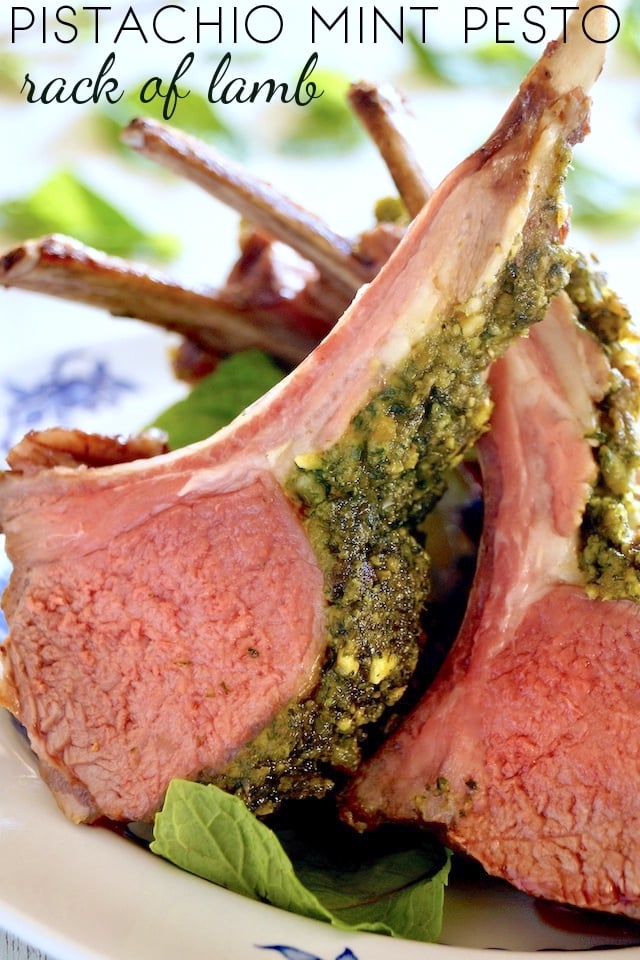 I was especially excited about serving this Pistachio-Mint Crusted Aussie Rack of Lamb at the event I recently hosted and catered for True Aussie Beef and Lamb.
It presented so beautifully and the combination of flavors was out of this world.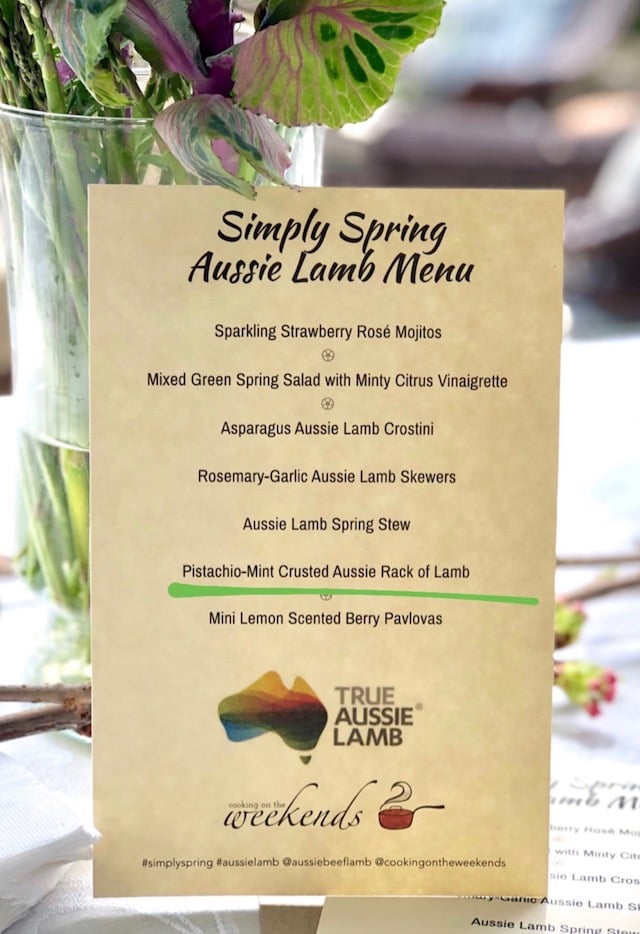 It seems mint and lamb have always been served together. We usually see mint jelly with lamb, and that's how my mom always served it. 🙂
In this recipe, I've made a pesto with fresh mint, pistachios, Parmesan and olive oil. It forms a lovely crust and eliminates any need for a sauce.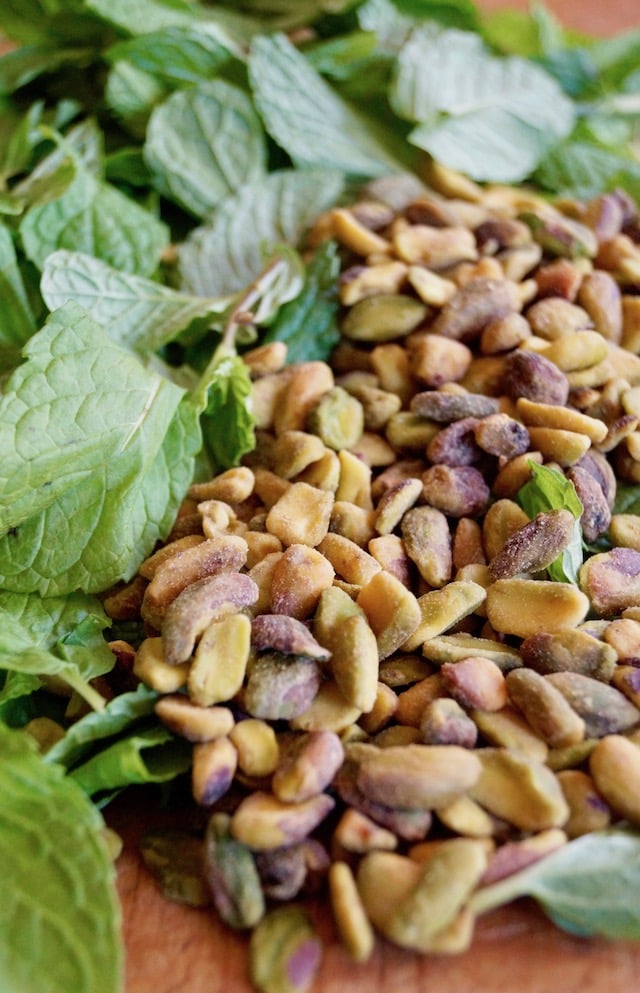 Why is mint traditionally served with lamb?
There's not a solid answer for this — but, this theory makes the most sense to me . . .
In medieval times, when local and seasonal eating was the norm, whatever herbs, fruits or vegetables happened to be ripe on the farm when certain meats were available, is what would be eaten together.
It just so happened that mint was available when lamb was being served, and our taste buds became accustomed to these flavors together.
And why not? It's delicious!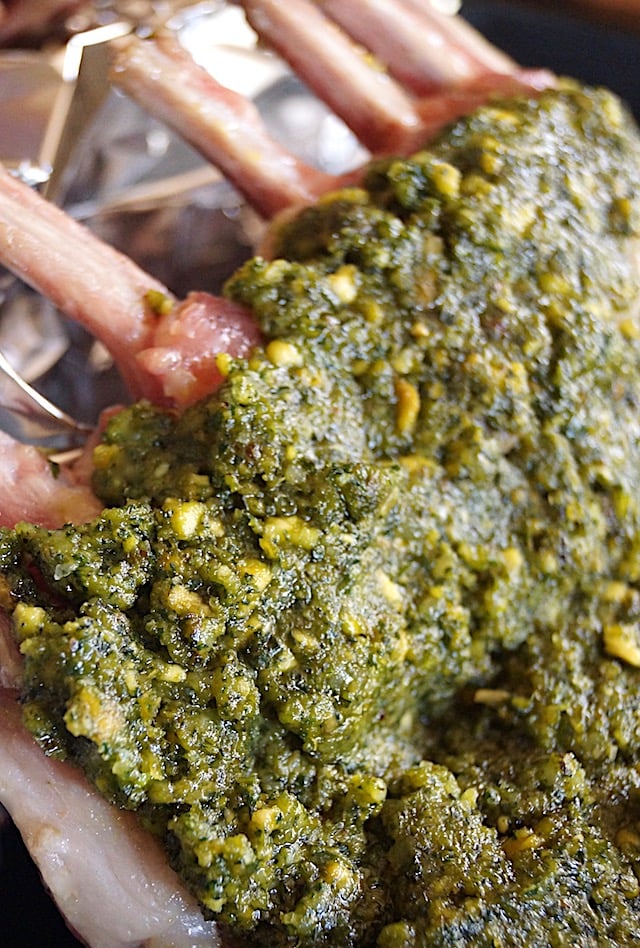 What is a Frenched rack of lamb?
First, a rack of lamb is a section of ribs, usually eight chops, in one piece.
A Frenched rack of lamb is one that's had the meat, fat and membranes that connect the individual rib bones, removed. This gives it a clean look for an elegant presentation.
It's easy to learn to do this at home, but you can also find packaged Aussie lamb racks in stores that have already been Frenched.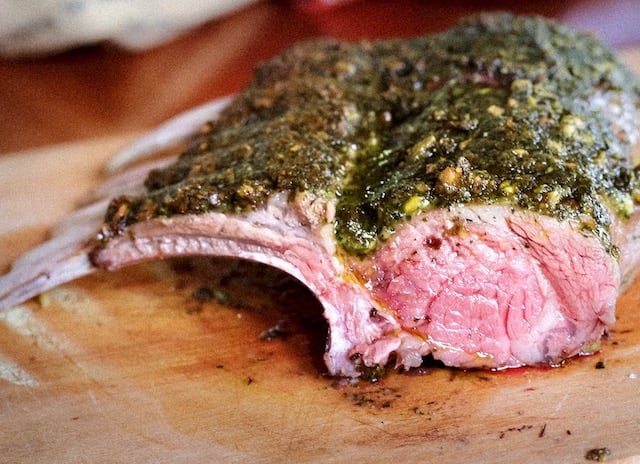 photo credit: Merry Graham / amerryrecipe.com
Australian Lamb
As I said when we made the Asparagus Aussie Lamb Crostini a few days ago, Aussie Lamb is incredible -- the quality and flavor is exceptional.
The wide open spaces in Australia allow producers to have a natural approach to ranching that enables animals to roam freely and without stress. Since the lamb is free-range and feeds on abundant pasturelands, its flavor is mild and it's naturally lean and tender.
Aussie Lamb is a totally pure product of its environment, free of artificial additives and hormone growth promotants. It's a healthy choice because it's lean, high in protein, and naturally contains thirteen essential nutrients, including Iron, Zinc, Omega-3 and B vitamins.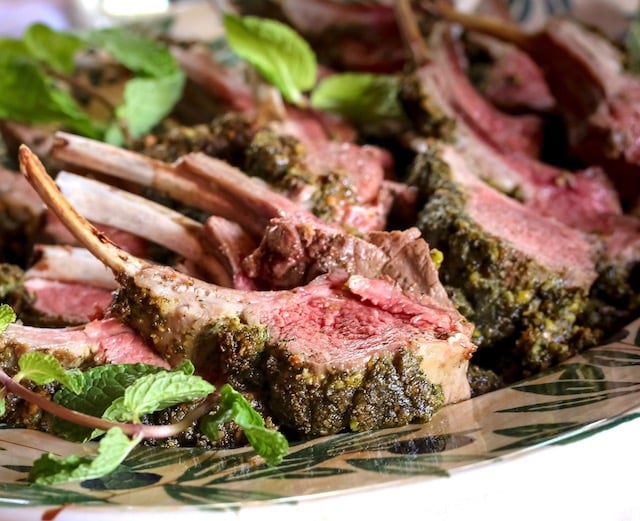 photo credit:Merry Graham / amerryrecipe.com
How to Make it
Pistachio-Mint Crusted Rack of Lamb is an impressive recipe it's easy to make! There are 4 steps . . .
Make the Pistachio-Mint Pesto. Everything gets blended together in a food processor.
Sear. The racks of lamb are seasoned with salt and pepper, and placed in a very hot pan with olive oil, for just a couple of minutes.
Assemble. The pesto is spread onto the racks of lamb.
Roast. The pesto-coated racks are roasted until their internal temperature is about 130°F.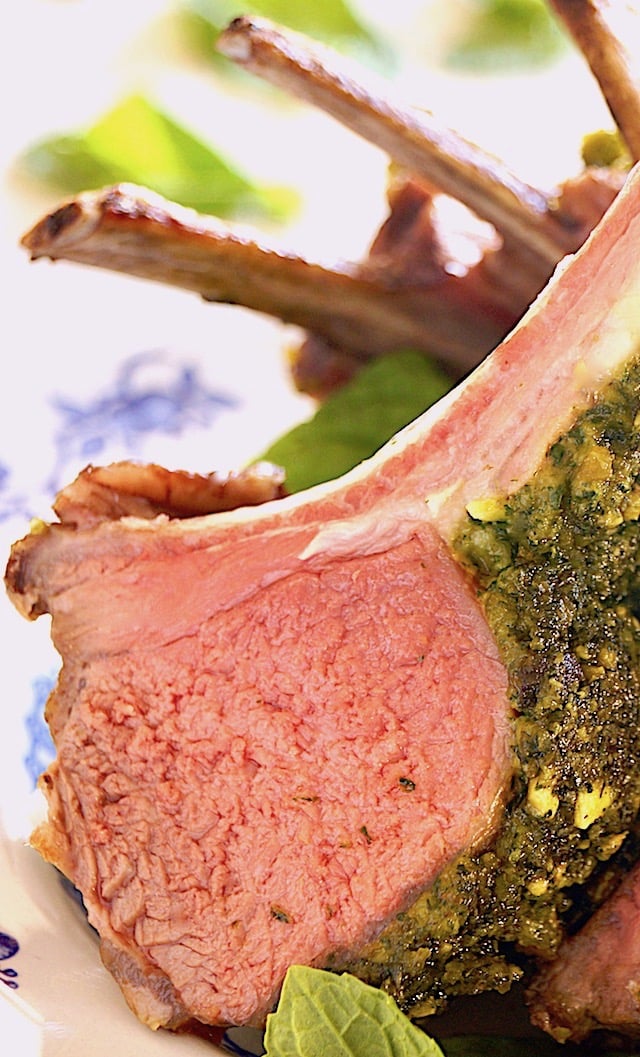 What to Serve With it
Ideas . . .
This would be a gorgeous centerpiece for any spring occasion and would be especially lovely for Easter Sunday.

Enjoy!
More of our favorite recipes with lamb: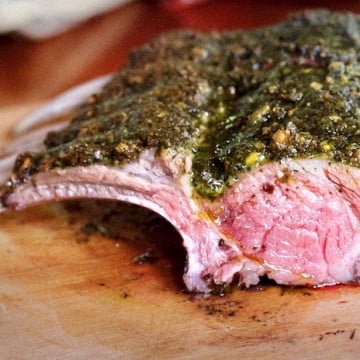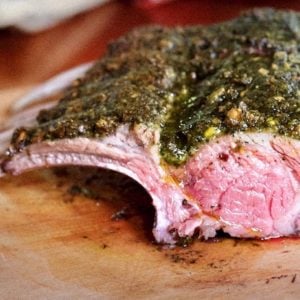 Pistachio-Mint Crusted Aussie Rack of Lamb
This recipe has a blend of flavors that will keep both you and your guests coming back for more and more! It's a gorgeous centerpiece for any spring occasion and would be the star of your Easter table!
Ingredients
2

cups

packed mint leaves (about 3 bunches),

washed and dried

⅓

cup

Parmesan cheese,

grated

⅓

cup

pistachios,

toasted (see notes)

3

tablespoons

extra virgin olive oil, plus some for the pan

2

Aussie racks of lamb,

trimmed and Frenched
Instructions
In a food processor, with the blade attachment, make the pesto by blending the mint with the Parmesan, and toasted pistachios. Then gradually blend in the olive oil. Season to taste with salt, pepper and sugar. (Here's How to Season to Taste.) Set aside.

Coat a large sauté pan with olive oil and place it over high heat. Season the lamb racks generously with salt and pepper and sear in the pan once it's hot. You should hear a sizzling sound when the meat hits the pan — if you don't hear a sizzle, wait for it until the pan is hot enough! Brown both sides of each rack, about 1 minute per side.

Divide the pesto among the two racks of lamb, and use a small off-set spatula to spread it evenly.

Place crumpled foil in the middle of a roasting pan large enough to comfortably hold the racks. Add the racks, with the bones up, leaning on the foil. Roast them until rare to medium rare. Use a meat thermometer to check them; the internal temperature should be 125°F to 130°F, about 25 minutes.

Allow the racks to rest for at least 10 minutes and then slice into chops. Do this by holding the rack with the bones pointing up. Then slide the knife between each chop, resting the blade against the bone.
NOTES
To toast the pistachios, place them on a baking sheet and into in a preheated 375°F oven just until they're aromatic and look a bit wet. (This means the oils are coming to the surface.) This should take about 5 minutes.
NUTRITION
Have you tried this recipe?
I'd love to see it on Instagram! Tag me at @cookingontheweekends or leave a comment & rating below.
Cooking On The Weekends is a participant in the Amazon Services LLC Associates Program, an affiliate advertising program designed to provide a means for sites to earn advertising fees by advertising and linking to Amazon.com.