This Blackberry Balsamic Vinaigrette recipe will enhance any salad it touches, and it's also a fantastic marinade for poultry. It's sweet, tart, packed with nutrients, and it's incredibly delicious!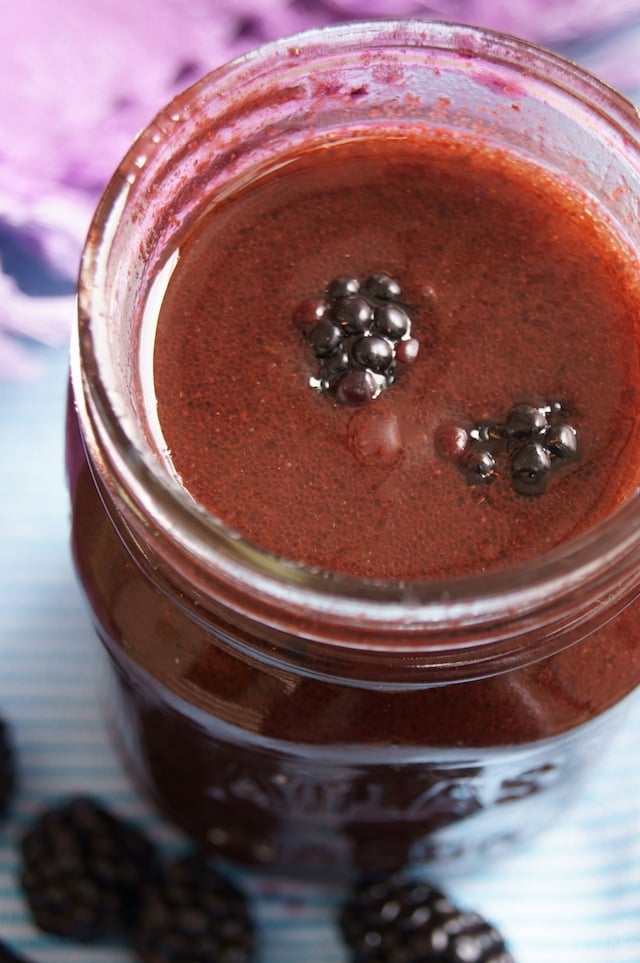 If you know me well -- or if you've spent five minutes with me -- you know how much I love divine chocolates, scrumptious cookies, and simply over-the-top decadent desserts.
While I do partake in delicious sweets almost daily -- okay fine, daily -- I make sure to fill the rest of my diet with lots of nutrient rich foods.
This is easy to do, especially because so many of them are incredibly delicious.
And yes, this Blackberry Balsamic Vinaigrette (or dressing), is the perfect example.
Look at these beautiful baby blackberries.

Are blackberries good for you?
Yes they are!
Did you know that blackberries are the number one most nutrient dense fruits? On the planet!?
According to Melissa's 50 Best Plants on the Planet, they are indeed number one!
Blackberries are packed with vitamin C. One serving contains 100 grams! That's 35 percent of an individual's recommended daily allowance.
They're also packed with vitamin K, and are high in fiber and manganese.
Blackberries also contain high levels of antioxidants, and are said to help with brain functioning.

Inspiration
When I learned how nutrient dense blackberries are, I was inspired to eat them and cook with them more than ever.
This Blackberry Balsamic Vinaigrette recipe is a win-win! Delicious and healthy.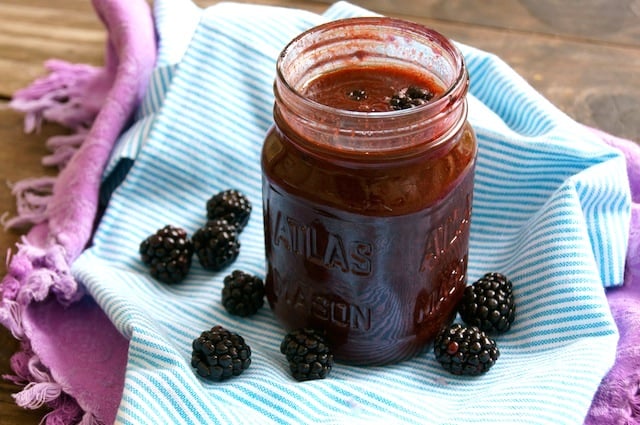 Uses for Blackberry Balsamic Vinaigrette
This vinaigrette is incredibly tasty and will make any salad addictive!
And guess what? It's also delicious to marinate chicken in. We're talking, really, really delicious!
You might even find yourself filling a small bowl with it, and dipping veggies into it, or a nice toasty piece of crusty bread.
However you use it, I hope you love it!
Blackberry Balsamic Vinaigrette Recipe
This recipe will enhance any salad it touches, and it's also a fantastic marinade for chicken.Makes about 2 cups /  serving size: about 1 tablespoon
Instructions
Add the everything except the oil to a small saucepan and place it over low heat. Stirring a bit, cook just to dissolve the sugar and warm the mixture, about 3 minutes.

Remove the pan from the heat and use the back of a fork to macerate the blackberries. (I like keeping them partially intact.)

Gradually whisk in the oil and blend until it's completely emulsified.
NUTRITION
Have you tried this recipe?
I'd love to see it on Instagram! Tag me at @cookingontheweekends or leave a comment & rating below.
Save
Save