Can you imagine having this beautiful Salami-Provolone Stuffed Pork Loin for the holidays? It's a festive, show stopping main course that's full with delicious flavors.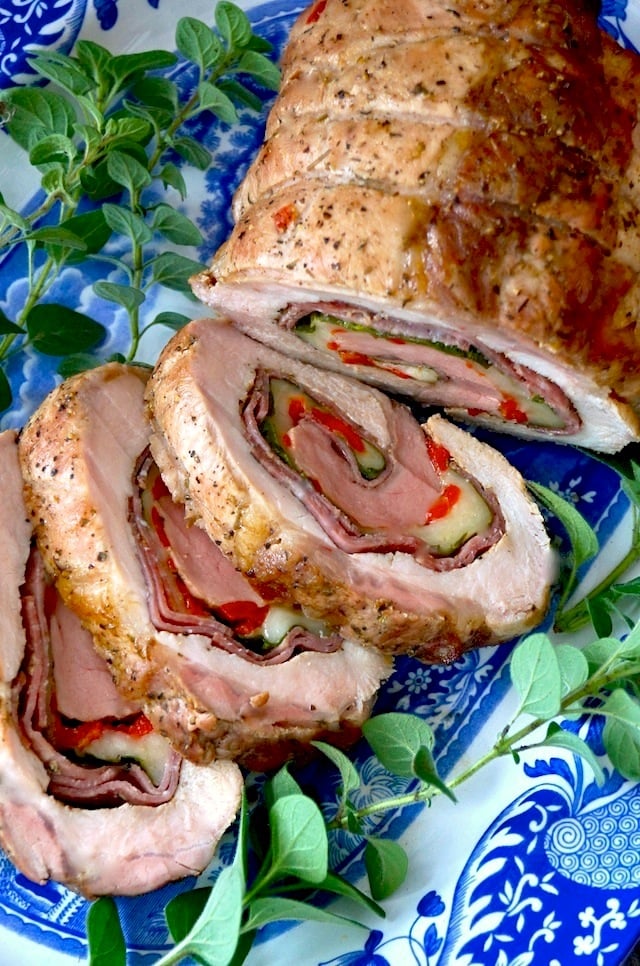 After having a fabulous turkey for Thanksgiving, I always welcome a main course like this Salami-Provolone Stuffed Pork Loin recipe for the other holidays.
Inspiration
I had the pleasure of meeting the lovely and talented Sara Moulton at Melissa's Produce.
I was so happy to get a copy of Sara's book, Home Cooking 101: How to Make Everything Taste Better, and to watch her do an awesome cooking demonstration. I have been a Sara Moulton fan for a long time. I remember loving her show, Cooking Live, which she hosted from 1997 to 2002.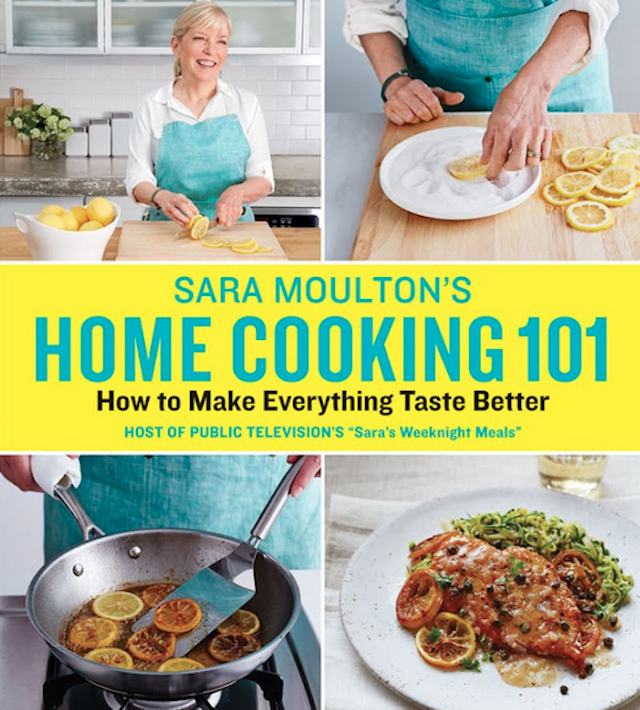 Sara would cook her recipes while taking questions from callers during the live show. If you ask me, she was way ahead of her time. Think about Facebook live cooking demos where people are commenting and asking questions -- Sara was figuring this out 20 years ago.
Sara is one of the most accomplished people in the food industry -- In an article in the New York Times, she was described as "One of the nation's most enduring recipe writers and cooking teachers . . . and a dean of food television and magazines."
Sara says that for decades her mission has remained the same — "to help the home cook get a tasty dinner on the table every night." Don't you love that!?
Quotes I loved from Sara:
Use salt!
Use your hands!
Learn to use all of your senses to help you cook.
Do away with Mise en Place! In other words, you do not have to have everything in place and measured out before you cook. Just make sure you have all of the ingredients!
Season your salads!
(Sara talks about all of these in detail in the book.)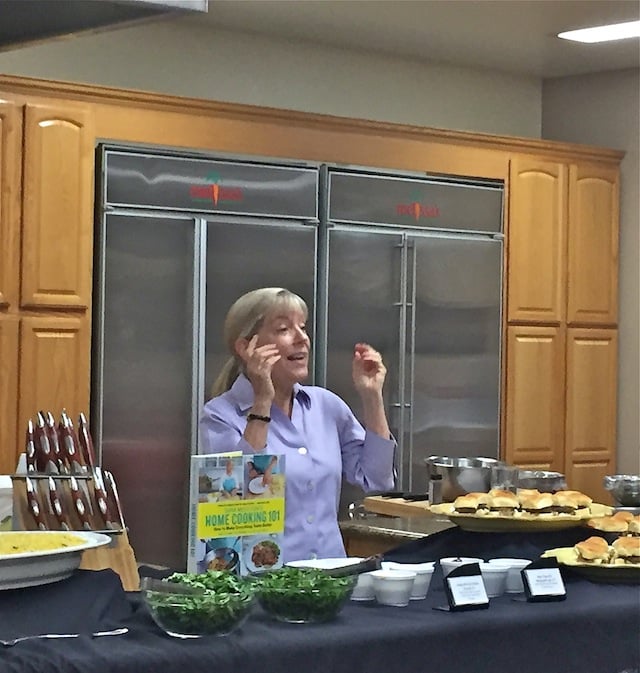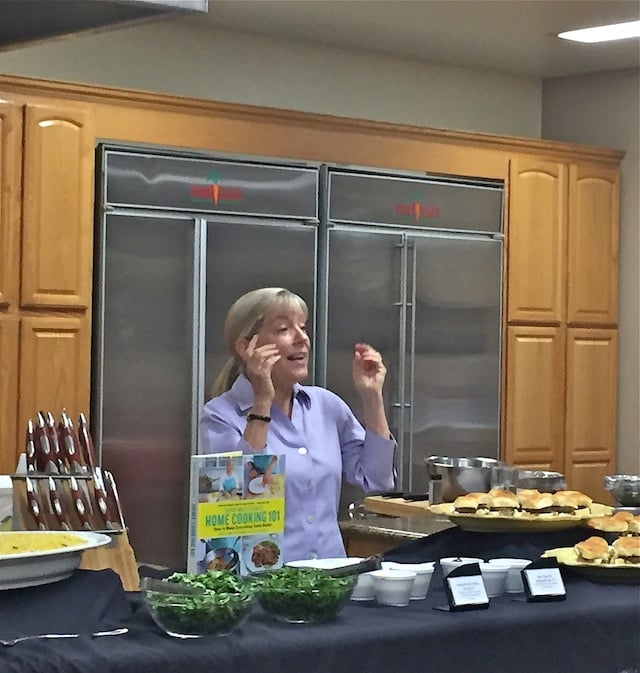 Sara Moulton is simply a delight -- from her easy, delicious recipes to her fun personality!
I highly recommend Sara's, Home Cooking 101: How to Make Everything Taste Better. This is a book you'll turn to again and again. It's "not just a collection of wonderful recipes, it's also a teaching manual aimed at the home cook. Each recipe specifically demonstrates a tip or method that can make you a better and more confident cook."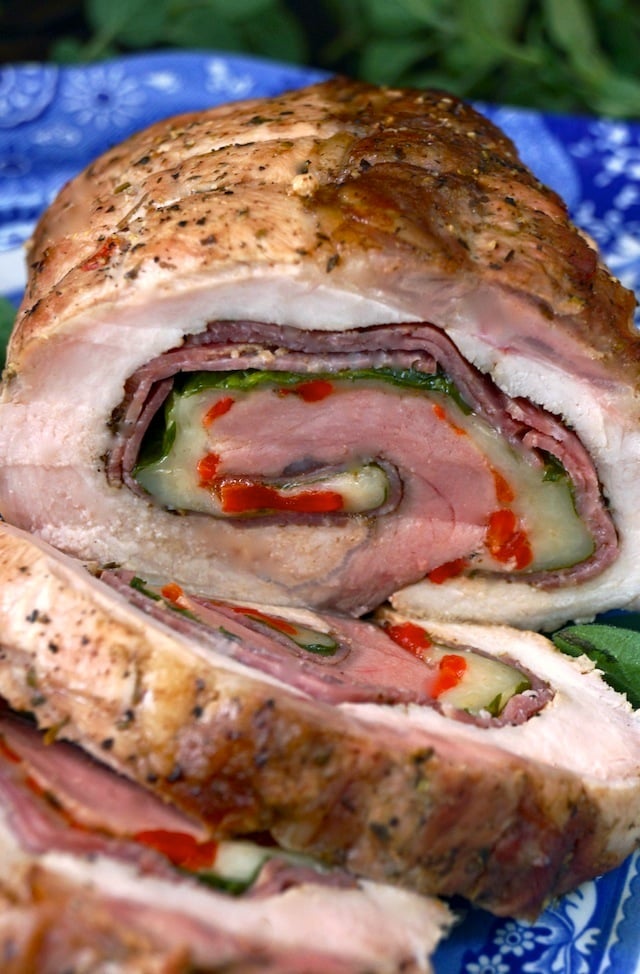 My Salami-Provolone Stuffed Pork Loin recipe is a slight variation on Sara's recipe (pg. 258). I added spinach and roasted peppers, and changed the marinade based on the ingredients I had on hand.
I immediately thought of Salami-Provolone Stuffed Pork Loin recipe for the holidays. The colorful ingredients make it fun and festive.

Here's a photographic preview of the recipe, which is just below.
The result looks fancy and beautiful, though the process is quite easy.
How to Make Stuffed Pork Loin with Salami and Provolone
(The above came tied, as they often do. When this is the case, you must remove the twine before you begin the next step.)
Butterfly the pork loin.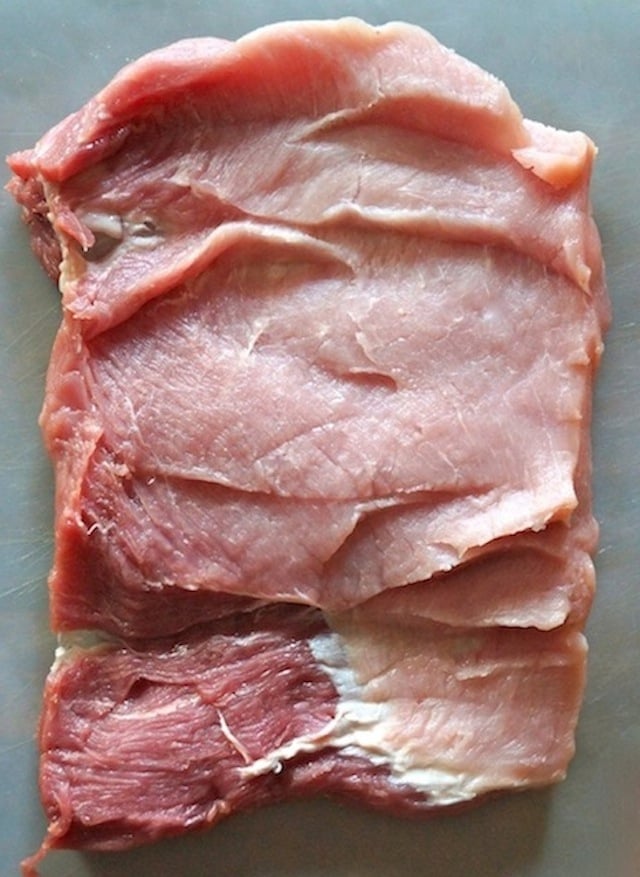 Layer the salami.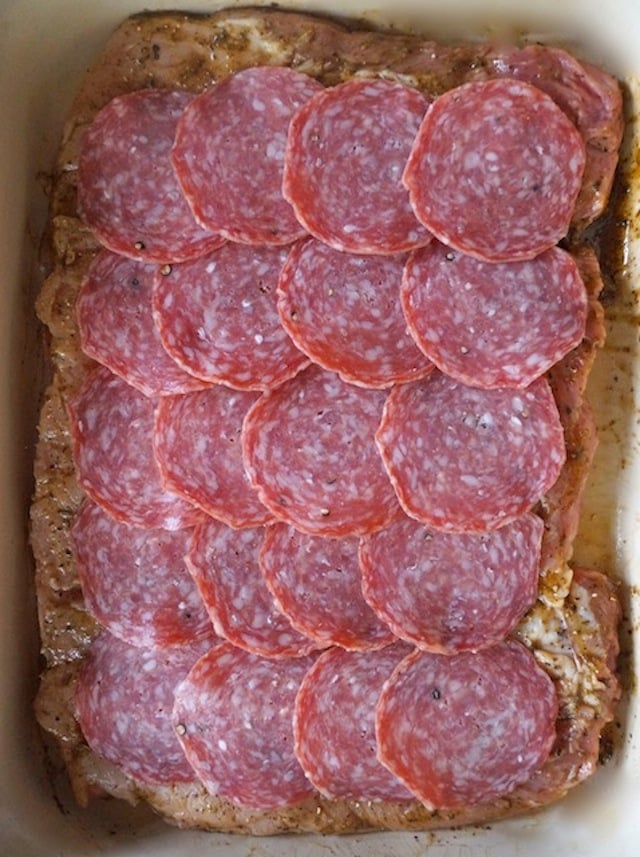 Layer the spinach.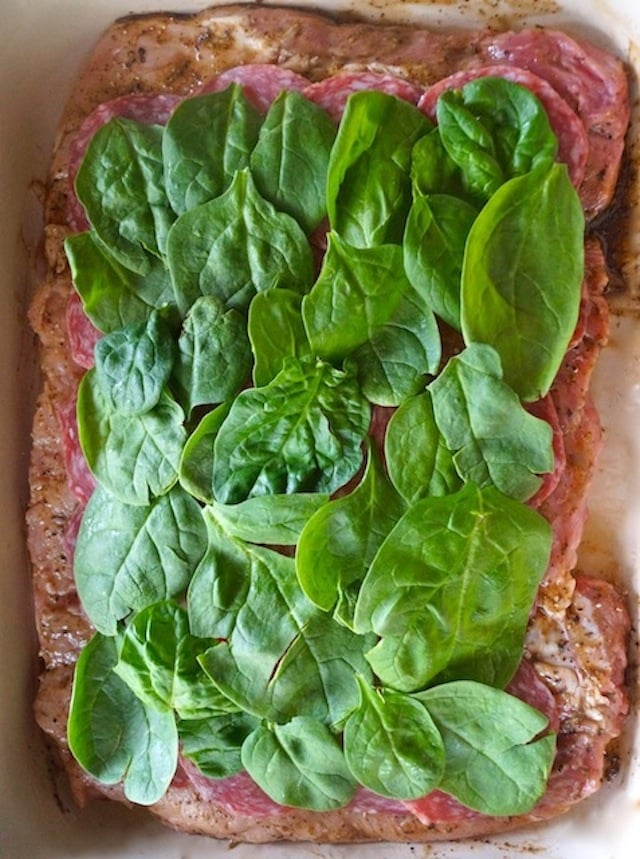 Layer the Provolone.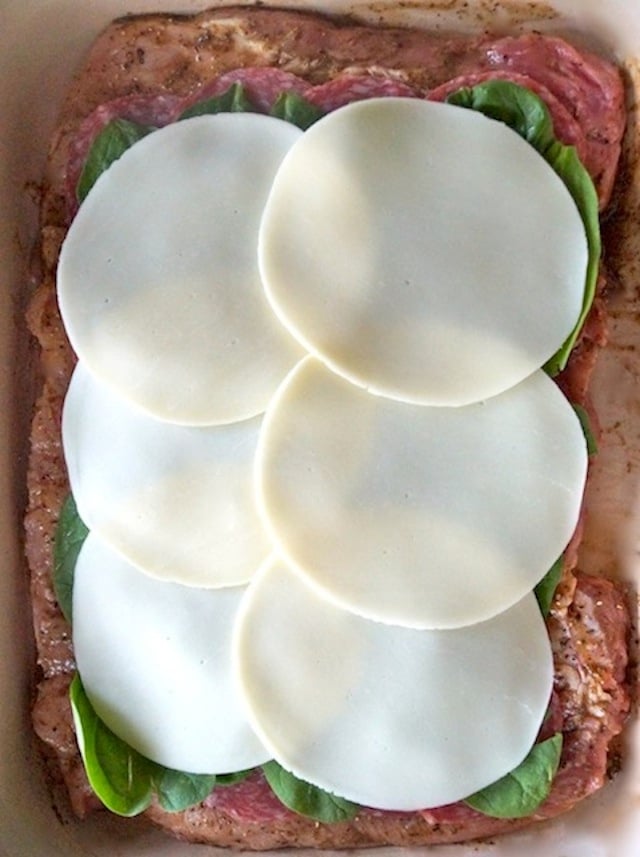 Layer the roasted peppers.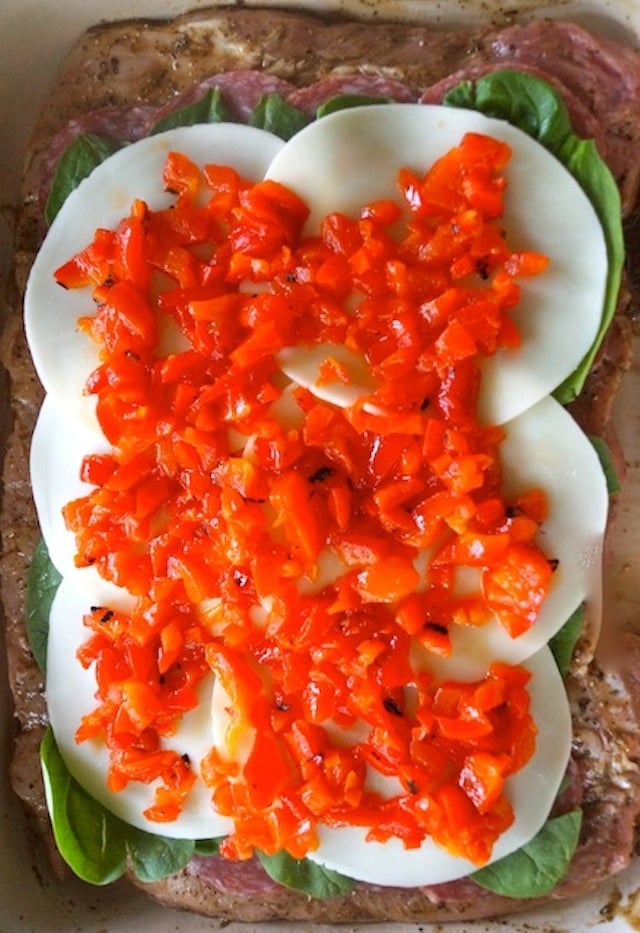 Roll and tie the stuffed pork loin.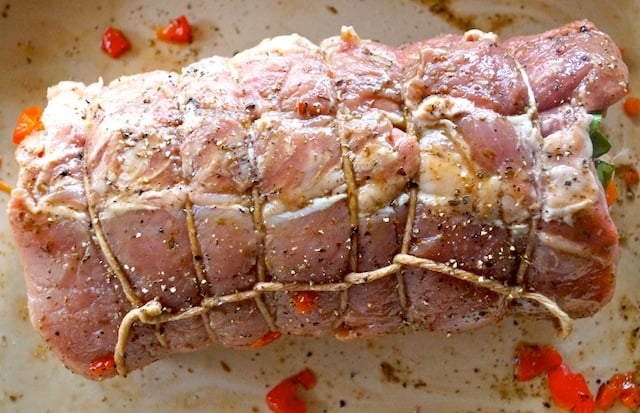 More pork recipes you will love:
There are many stuffed pork loin recipes out there, and this one with salami and provolone is my favorite. For the holidays, or on any other occasion.
Enjoy!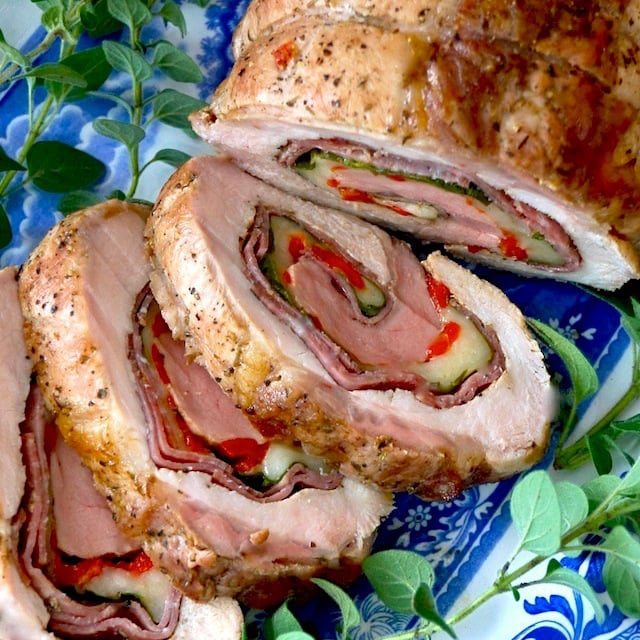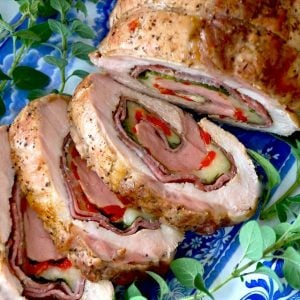 Salami-Provolone Stuffed Pork Loin Recipe
Can you imagine this beautiful Salami-Provolone Stuffed Pork Loin Recipe for the holidays? It's a show stopping main course that's full with delicious flavors.*The active prep time is 30 minutes, the marinating time is overnight, and cooking time is about 35 minutes.
Ingredients
1

tablespoon

garlic,

minced

1

tablespoon

fresh oregano,

washed and dried, finely chopped

2

teaspoons

dried thyme

1¼

teaspoon

salt

1¼

teaspoon

freshly ground black pepper

¼

cup

extra virgin olive oil

2¼

pound

pork loin roast,

center-cut, boneless

4

ounces

salami,

thinly sliced

1

cup

loosely packed spinach leaves,

washed and dried & stems removed

4

ounces

provolone,

thinly sliced
Instructions
In a small bowl, combine the garlic, oregano, thyme, salt, pepper and olive oil. Set aside.

If your pork loin came tied, remove the twine. Then on a clean, dry surface, use a boning knife to trim the pork of some of the excess fat -- Sara recommends leaving about ¼ inch, if possible. Next, use a Chef's knife to butterfly the pork loin in a roll cut. (See images above recipe.)

Sprinkle the butterflied pork very lightly with water, and then place a piece of plastic wrap on top. Use a smooth meat pounder or the bottom of your smallest sauté pan to pound the pork until it's ½ to 1 inch thick.

Mix the marinade and pour about half of it in the bottom of a 9 X 13 inch baking dish. Place the butterflied, pounded pork on top, and then drizzle the rest of the marinade over it. Use your hands to rub the marinade into the pork, being sure it's completely coated on both sides. Cover with plastic wrap and place in the refrigerator overnight.

Preheat the oven to 450°F and remove the pork from the fridge.

Place the pork, fat side down (cut side up), on a clean, dry surface, with the short end facing you. Arrange the salami in an even layer, leaving about a 1 inch border at the short end furthest from you. Add the spinach in an even layer, followed by the provolone slices, and topped with the peppers. (See pictures above the recipe.)

Now, starting with the end closest to you, roll up the pork, as tightly as possible. With the seam side down, use butcher's twine to tie the pork.

Return the now stuffed pork to the baking dish and place it in the 450°F oven and roast for 15 minutes. Then reduce the heat to 325°F, and roast until the internal temperature is 140°F, about 20 minutes.

Remove from the oven and let it rest, covered loosely with foil, for at least 25 minutes, before slicing.
NOTES
You can of course buy jarred, roasted peppers if you'd like. To do it yourself,

here's how

.
Calorie count is only an estimate.
NUTRITION
Have you tried this recipe?
I'd love to see it on Instagram! Tag me at @cookingontheweekends or leave a comment & rating below.
Cooking On The Weekends is a participant in the Amazon Services LLC Associates Program, an affiliate advertising program designed to provide a means for sites to earn advertising fees by advertising and linking to Amazon.com.