Saffron Basmati Rice Recipe with Dill is aromatic, pretty and utterly delicious. This a fantastic compliment to almost anything . . . meats, fish, vegetables, you name it! And it will brighten the table with its stunning, vibrant color.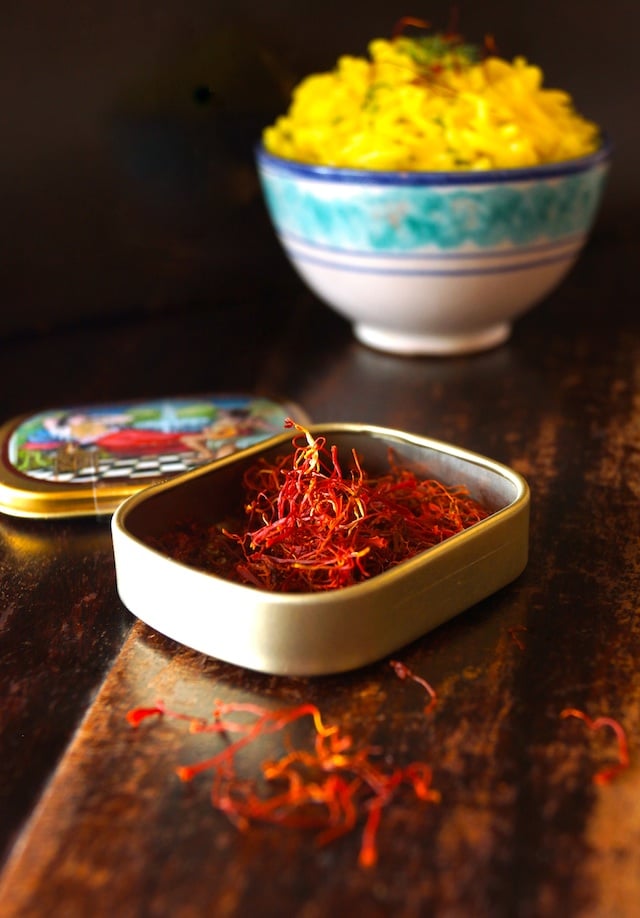 Saffron.
It's red, it's gold, it's oh so beautiful.
It's profoundly delicious.
What is Saffron?
It's the most expensive spice in the world. In the world! And for very good reasons.
Saffron threads are the stamens of the Crocus flower, which is native to the Mediterranean and western Asia. (The stamen is the pollen-producing reproductive organ of a flower.)
The Crocus flower is a very high-maintenance flower that only blooms for one week of the year and only produces about three stamens each.
The stamens must be very carefully hand picked, and it takes about 80,000 flowers to produce 1-pound of saffron!
When the stunning red threads are hit with liquid, they immediately turn a deep, rich golden color.

The intense gold color, is said to be an indication that the saffron has medicinal qualities, like powerful antioxidants that can protect the body.
Saffron Basmati Rice brightens any plate with it's color and flavor.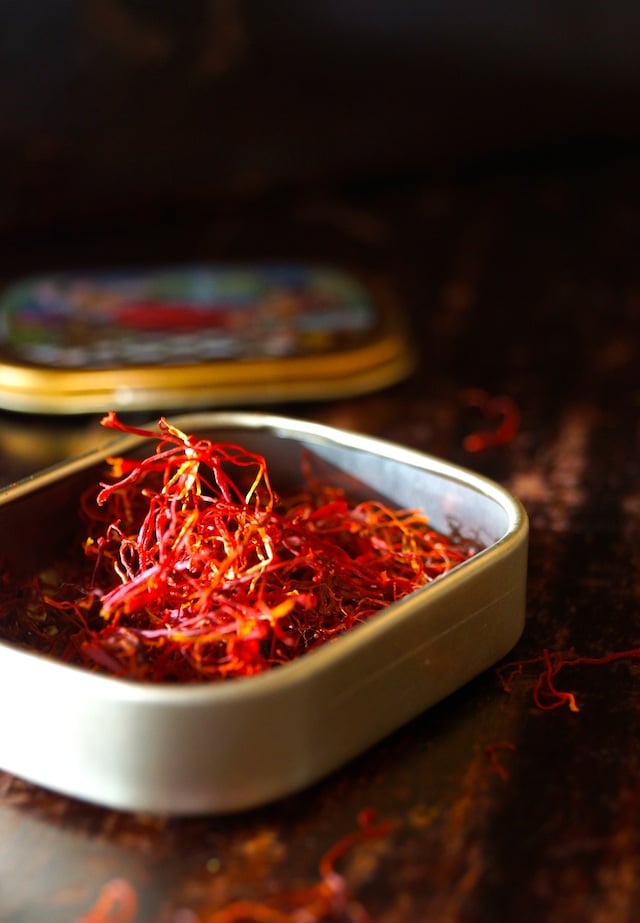 What Does Saffron Taste Like?
The flavor of saffron can be described as floral, buttery and earthy.
A little will go a long way to color and flavor a dish it's added to.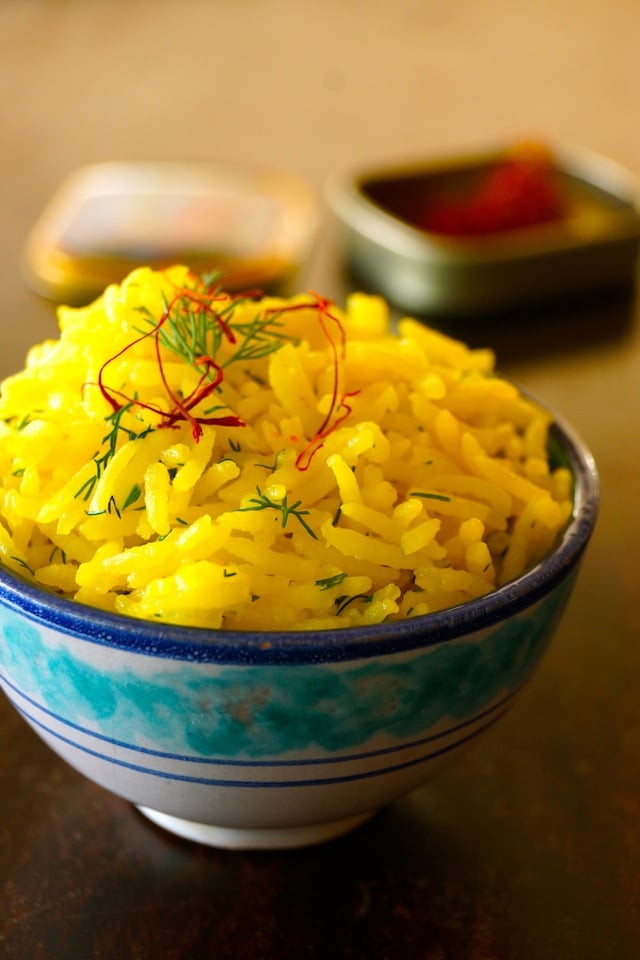 Remember when we made Spicy Turmeric-Coconut Rice? The color of the turmeric is similar to that of the saffron — though the flavor is quite different. Try them both for fun.
What to serve with Saffron Basmati Rice:
Here is the saffron I've been using — it's from Spain. And here's a great article on the colorful History of Saffron.
I hop you enjoy this oh-so-beautiful and delicious Saffron Basmati Rice recipe!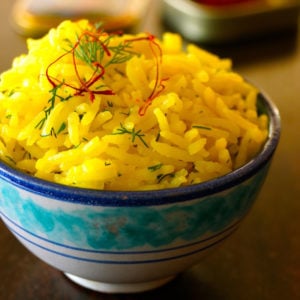 Saffron Basmati Rice Recipe with Fresh Dill
Aromatic, pretty and utterly delicious, this Saffron Basmati Rice Recipe with Fresh Dill is a fantastic compliment to almost anything . . . meats, fish, vegetables, you name it!
Ingredients
1

pinch

saffron threads

2

cups

water

1

cup

basmati rice

1 1/4

teaspoon

salt

1

tablespoon

tablespoon olive oil

1/4

cup

fresh dill,

washed and dried, roughly chopped
Instructions
Add the pinch of saffron threads to a mortar. Use the pestle to grind the spice until it's a powder. This should only take a few seconds, and will yield less than 1/8 teaspoon, which is all you need.

Add about 2 tablespoons of the water to the mortar and then pour this, along with the remaining water into a medium-sized soup pot. Bring it to a very gentle simmer and then turn off the heat. Let it steep for at least 15 minutes.

Now pour the rice into a fine mesh strainer and rinse it thoroughly, and then add it to the pot, along with the salt and olive oil.

Gently stir and then bring to a boil. Immediately turn the heat to low, cover the pot, and cook just until all of the liquid has been absorbed, about 15 minutes.

Fold in the dill and serve.
Have you tried this recipe?
I'd love to see it on Instagram! Tag me at @cookingontheweekends or leave a comment & rating below.
Cooking On The Weekends is a participant in the Amazon Services LLC Associates Program, an affiliate advertising program designed to provide a means for sites to earn advertising fees by advertising and linking to Amazon.com.