Ahh, it's Friday.  Friday Flowers, no less!  Don't know about you, but pretty flowers and good food are just what I need.  My boys are back in school this week, and I think the transition away from summer has exhausted me — more than them!  (I'll tell you, having a batch of the Café Con Leche Cookies around has been quite helpful!)
I'm so looking forward to the weekend — some cooking, relaxing, friends, family. . . I'm ready.  (Did I mention relaxing?)
Making this delicious steak will be great.  There's nothing quite like a perfectly cooked, perfectly seasoned steak.  It's simple, quick and delicious.  And needless to say, I'll also be making my Kale Chip-Quinoa Salad.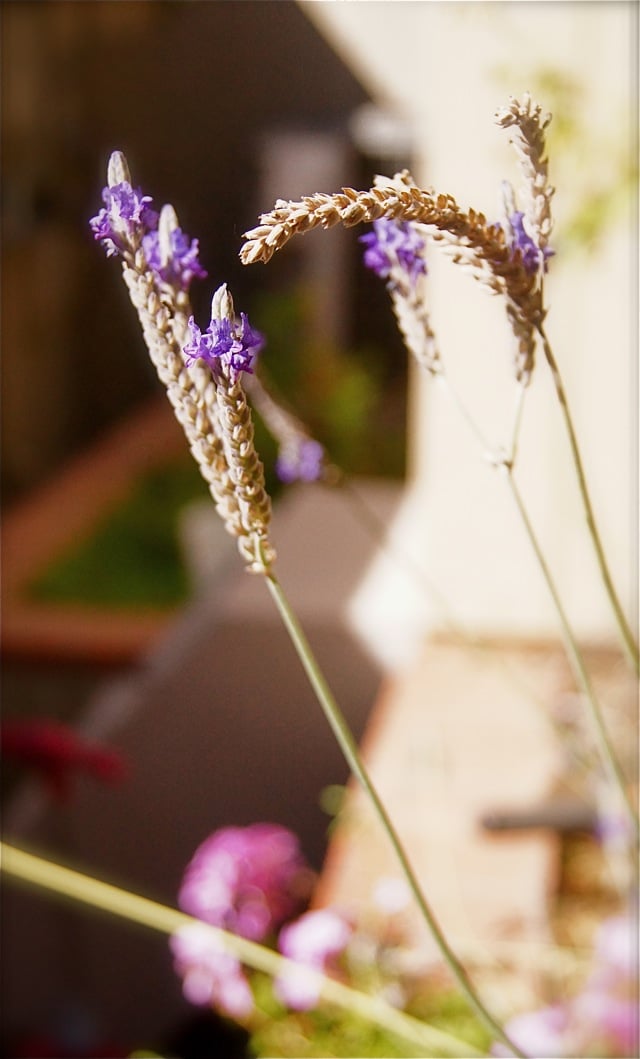 I know this is no endless lavender field in the South of France, but hey, it's what I've got growing in my backyard — and I love it.  And not just to look at.  It's quite flavorful and it's lovely with rosemary and meat.
Lavender Rosemary Grilled Rib-Eye Steak
Ingredients
1

teaspoon

finely chopped

fresh lavender

1

teaspoon

finely chopped

fresh rosemary

1/4

teaspoon

coarse sea salt

1

3/4-pound rib-eye steak

Freshly ground black pepper

olive oil
Instructions
In a tiny bowl, or on your cutting board, combine the herbs with the salt.

Preheat a stove-top grill or your BBQ. While the pan is heating, generously season both sides of the steak with the herb mixture, using all of it. Crack a bit of black pepper and drizzle both sides with olive oil. Place the steak on the preheated grill -- you should hear a sizzling sound right away. If you don't, your pan's not hot enough yet. Wait until it's very hot and listen for the sizzle! (Try not to move the steak during the first couple minutes of cooking. This will allow it to form a nice, brown crust.)

Keep the heat at medium and cook the steak to the desired doneness. For medium-rare, cook for about 3 minutes per side.

Remove the steak from the pan, place it on a plate, and cover with foil. Let it rest for at least 10 minutes before slicing.
Wondering what Friday Flower's is all about?
Save
Save