It's the beginning of February, right?  Well, I don't know about you, but I'm already seeing signs of Spring!
Yesterday in and around Los Angeles, I saw several stone fruit trees beginning to bloom!  (Most of the trees blooming this early are ornamental ones, which are those that don't produce fruit.  Stone fruits include plums, peaches, apricots, cherries, and more.)
I'll welcome the sight of these beautiful blossoming branches anytime!
Stone fruit flowers are simply gorgeous — as is this Citrus Carpaccio!  And I love pairing these Spring flowers with a Winter dish!
I'd love to paint a room in my house with these stunning, vibrant colors!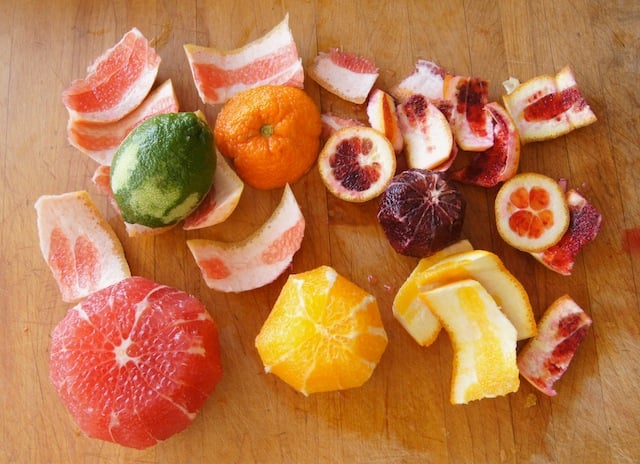 This Citrus Carpaccio dish is perfect with, say, Pad Thai with Spicy Lime-Peanut Sauce, or Spicy Cilantro Shrimp!  A great combination for your weekend entertaining!
P.S. Have you visited my Friday Flowers gallery lately?
Winter Citrus Carpaccio
Ingredients
2

tablespoons

Yuzu juice

Zest of 1/2 lime

1

teaspoon

granulated sugar

1/2

of a small jalapeño

super thinly sliced in rings

1

Ruby Grapefruit

1

Naval orange

1

blood orange

A few basil leaves
Instructions
In a very small sauté pan, over low-medium heat, warm the Yuzu juice with the lime zest and sugar. Cook just to dissolve the sugar, about 30 seconds. Add the thinly sliced jalapeño and let this come to room temperature while you prepare the fruit.

To prepare the fruit, use a paring knife to cut about 1/2-inch off the top and bottom of the citrus.

Remove the skin by setting the fruit down on one of the flat surfaces and use the knife, moving downwards into the fruit and cutting only slightly into the flesh.

Then cut very thin round slices and cut those in half. (Save the remaining parts of the grapefruits and juice them -- simply to have on hand!)

Arrange the fruit with the basil leaves in a circular pattern on two plates, and drizzle each serving with the Yuzu-Jalapeño sauce.
Recipe Notes
Yuzu is a citrus fruit and plant from East Asia.  The fruit looks like a small grapefruit with slightly uneven skin and can be either yellow or green depending on the degree of ripeness. They're very aromatic and have a sweet n' sour flavor, with overtones of Mandarin orange.

Carpaccio traditionally refers to very thin slices of raw beef fillet. I just think Citrus Carpaccio sounds cool, and it refers to the thin slices.
Timeline:
20 minutes ahead: Make the sauce and prepare the fruit.
This is best served immediately after preparing it!