This quick and easy vegetarian, sweet potato side dish is perfect for fall and lovely for Thanksgiving!  It's creamy, rich and packed with warm flavors.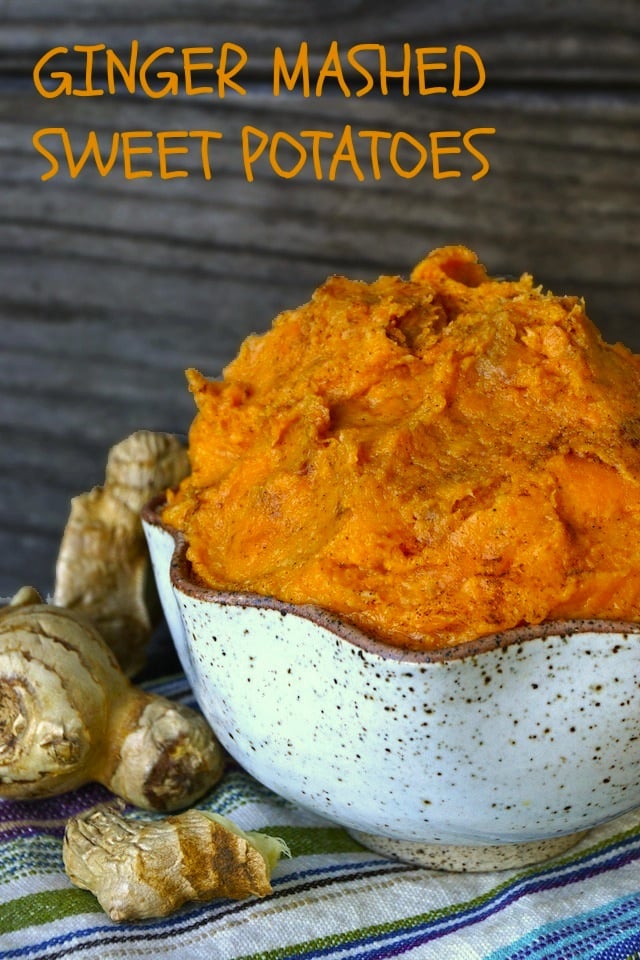 If you've been following my recipes and blog for a while, you know my passions in life are family and food, and that most of my days are composed of creating recipes, photography, my two boys, my parents, etc.
Here's something you probably don't know. . . .
I love rock climbing!  Here's a picture of me a couple of weeks ago in Joshua Tree climbing on Stone Head.  Yep, that's me!  
I hadn't been for over 10 years and I absolutely can't wait for the next time!  And why did I decided to share this with you?  I think it's cool, that's why! 😉
(And how gorgeous is Joshua Tree!?)
Of course I must touch on this scrumptious side dish, too.  It's exactly that — scrumptious!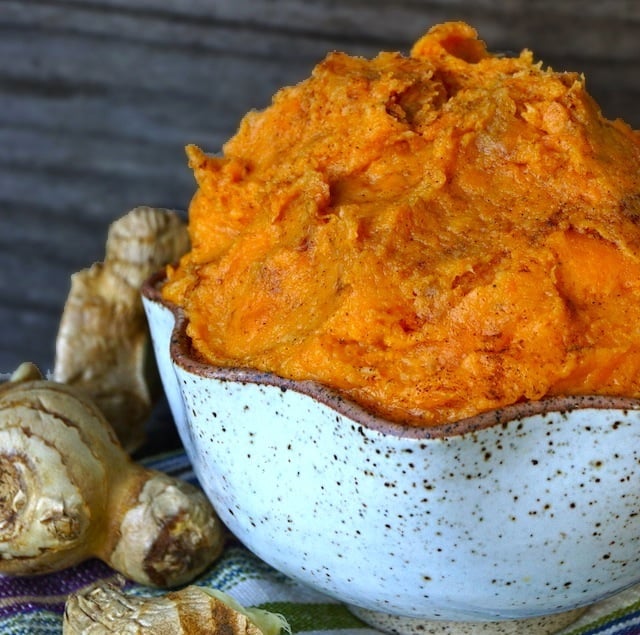 It's almost like a savory sweet potato pie filling that's absolutely perfect with chicken or turkey.  Thanksgiving is right around the corner, after all.
So there you have it, a new Valentina fact, and a delicious recipe. 

Quick and Easy Ginger Mashed Sweet Potatoes Recipe
Ingredients
3 pounds sweet potatoes
6 tablespoons unsalted butter
2 tablespoons plus 2 teaspoons freshly grated ginger pulp (see notes)
2 teaspoons brown sugar
½ teaspoon ground cinnamon
6 tablespoons heavy cream
sea salt and freshly ground black pepper to taste (Here's How to Season to Taste.)
Instructions
Peel the sweet potatoes, and then cut them into bite-sized pieces, about 2-inch cubes.
Put a large steamer into a large pot with the water level just below it. Over high heat, bring the water to a boil and then add sweet potatoes to the rack. Turn the heat to low, cover, and steam until the sweet potatoes are very tender, about 15 minutes. (You can stick a fork into one of the pieces to see how tender they are -- it should easily slide right out when they're done.)
Add the sweet potatoes -- along with the butter, ginger, brown sugar, and cinnamon -- to a large mixing bowl and use a very large fork or potato masher to mash them. They can be as smooth or as chunky as you'd like -- mine are mostly smooth with a few chunks. (This must be done while they're still hot, so that the butter melts in nicely.)
Now mix in the cream and season to taste with salt and pepper. (Here's How to Season to Taste.)
Notes
To get the ginger pulp, use a super fine grater, like a
microplane grater
, to grate the ginger. If you don't have one, chop it as finely as possible, until it's juicy.