This Persimmon Bacon Baked Brie Appetizer recipe is warm, smoky, sweet and over-the-top delicious! There's nothing quite like baked brie with fruit, and it's the most scrumptious holiday appetizer your guests could hope for!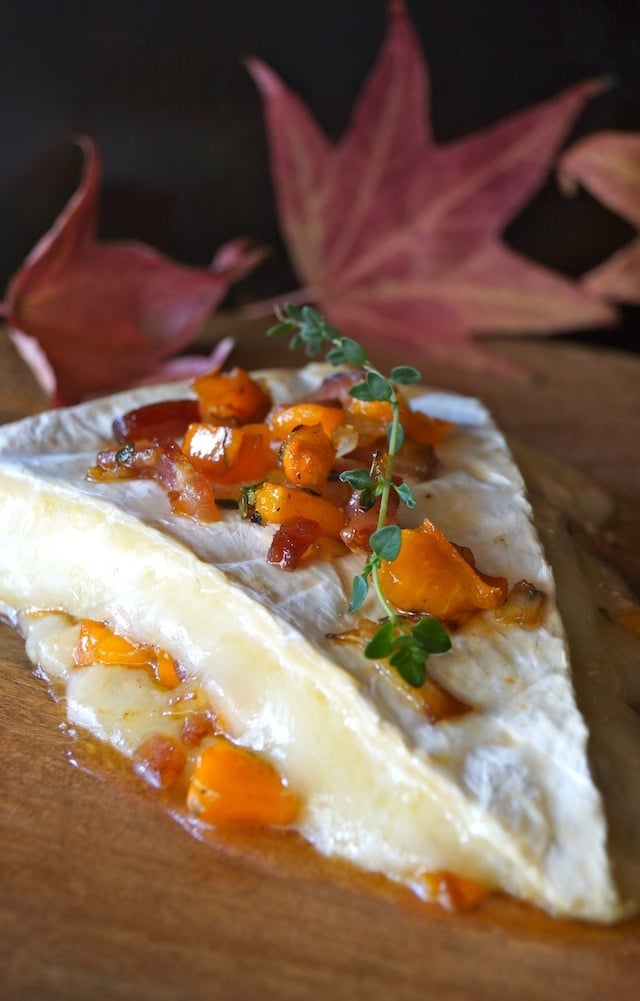 This is a show stopper, my friends! Your Thanksgiving and/or Christmas guests will be wowed before they even sit down to the main course. Believe me, I've seen it happen. In fact, guests are typically thrilled to see baked brie with fruit — it's almost always a crowd pleaser!
Sweet persimmons put the already amazing bacon baked brie appetizer over-the-top!
Just look at these stunning ingredients . . . how could they not result in perfection?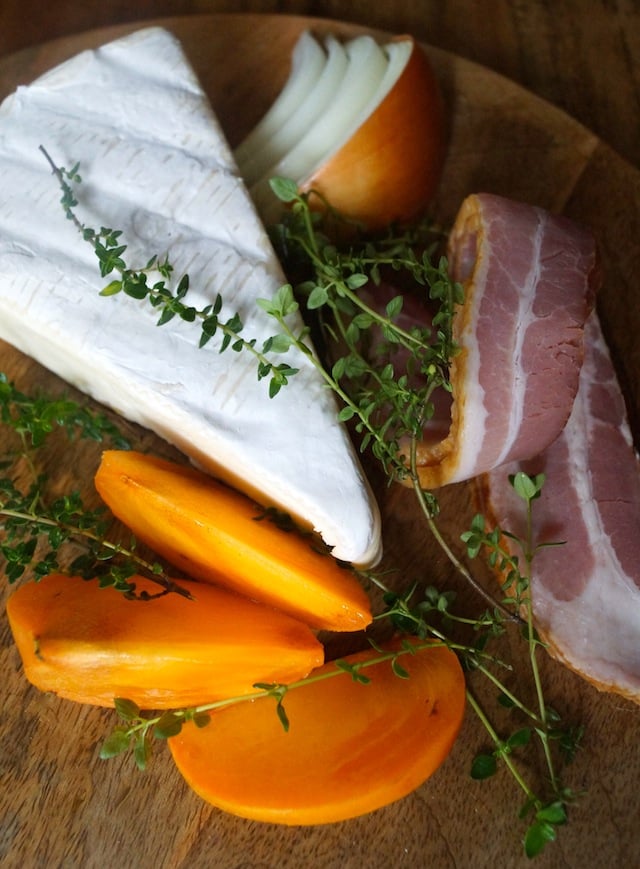 Oozing, warm brie cheese, blended with the smoky flavor of bacon and sweet onion and persimmon — all laced with the scent of cinnamon — oh my!
Right out of the oven, this can be spread over thin slices of a baguette, and the baking time is only seven minutes. If you happen to let it go too long, no worries! It'll then be like a dip, which is also fantastic — though not quite as lovely a presentation. 😉
What's in this Persimmon Bacon Baked Brie Appetizer recipe?
Get ready for your mouth to water!
applewood smoked bacon
Cinnamon persimmons
onion
fresh thyme
ground cinnamon
honey
brie
Right!?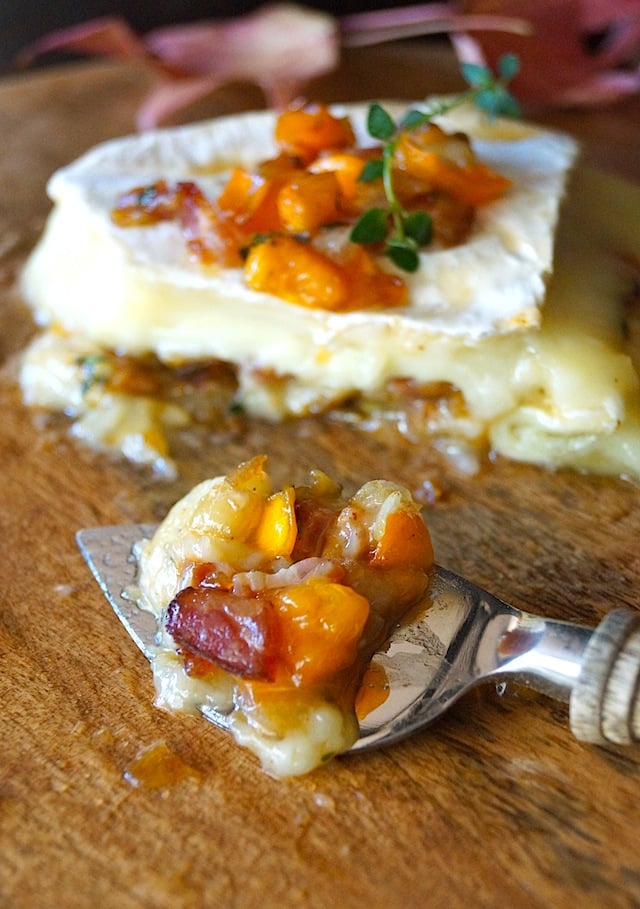 What are Cinnamon Persimmons?
Cinnamon persimmons are native to China and Japan and get their name from their speckled flesh. This variety can be likened to both the Fuyu and Hachiya combined with a sprinkling of cinnamon. I love it!
Cinnamon persimmons are great when they're both, slightly firm or soft. They're also super delicious to eat on their own or in salads.
Can you use other persimmons in this recipe?
Yes you can. Second best would be the Fuyu variety.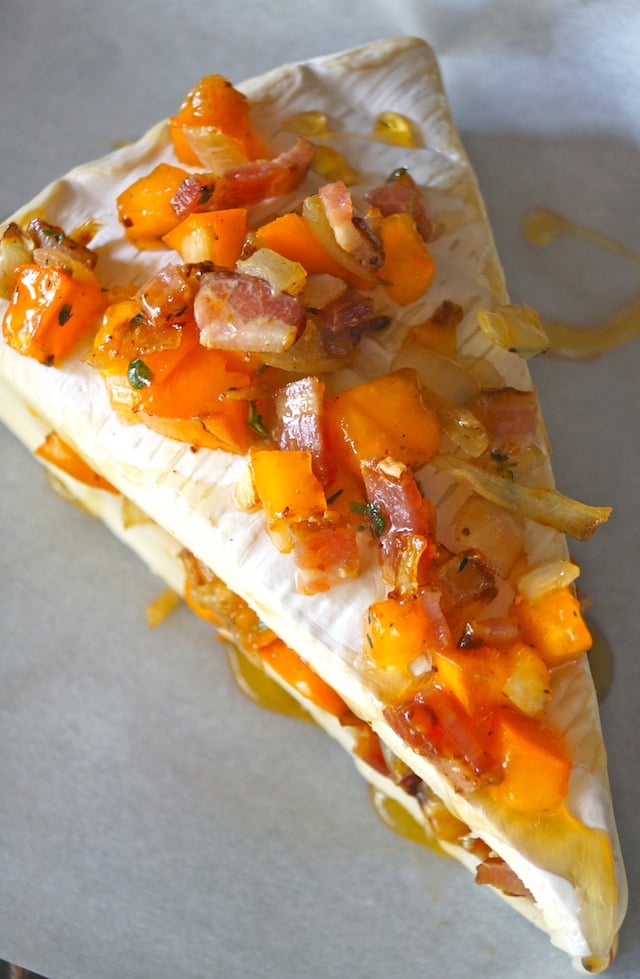 If I were you, I'd seriously consider serving baked brie with fruit anytime this fall or winter, if not on Thanksgiving! You'll be a star! (In my humble opinion, of course!)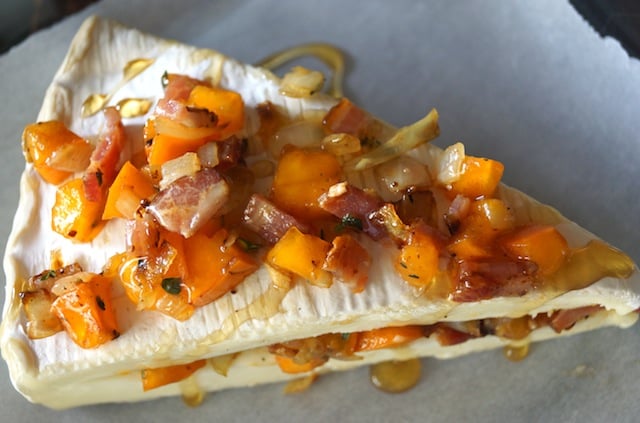 This is not a sponsored post. Thank you to Melissa's produce for the Cinnamon persimmon samples!
Enjoy every bite of this Persimmon Bacon Baked Brie Appetizer.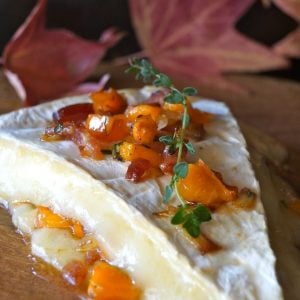 Cinnamon Persimmon Bacon Baked Brie Recipe
This recipe is warm, smoky, sweet and over-the-top delicious! There's nothing quite like baked brie with fruit, and it's the most scrumptious holiday appetizer your guests could hope for!
Ingredients
Instructions
Preheat the oven to 350°F, adjust a rack to the center and line a sheet pan with parchment paper.

Add the bacon strips to a medium-sized sauté pan and place it over medium heat. Cook until it's golden and crispy, a few minutes per side. Set it aside on a double layer of paper towels to drain.

Add the onion to the pan. (If there isn't a thin layer of bacon grease in the pan, add a bit of olive oil.) Sauté, stirring frequently, until the onions are soft and golden, about 10 minutes.

Add the thyme and cook until it's aromatic, about 30 seconds. Turn the heat to low-medium and mix in the persimmons.

Crumble or finely chop the bacon and add it to the pan. Add the cinnamon and season to taste with salt and pepper, stir and let it cool to room temperature. (Here's

How to Season to Taste

.)

Slice the brie in half horizontally from the tip to the rind, being sure not to cut all the way through, and place it on the parchment lined baking sheet.

Gently lift the top half of the brie and add about 1/2 to 3/4 of the persimmon mixture, in an even layer. Then add the rest on top.

Drizzle with the honey and place in the preheated 350°F oven just until the cheese begins to melt, 5 to 7 minutes.

Serve with crackers or a sliced, toasted baguette.
Have you tried this recipe?
I'd love to see it on Instagram! Tag me at @cookingontheweekends or leave a comment & rating below.
Cooking On The Weekends is a participant in the Amazon Services LLC Associates Program, an affiliate advertising program designed to provide a means for sites to earn advertising fees by advertising and linking to Amazon.com.