I made these adorable, delicious hors d'oeuvres for the very first party I ever catered, way back in 1995. (Oh my!)  And I think these may have been on the menu of every party I catered there after.  They are always a crowd pleaser!  They're light, refreshing, pretty, and packed with flavor — and all in one bite!
Back in my catering days, before my husband and kids, making hundreds of these at once wasn't a big deal.  I barely keep my head above water some days now, with the kids' busy schedule, so making a few dozen is often a big deal.  I simply break it down and it's fun and easy — and so worth the effort!  Just look at 'em!  You might want to break it down, too — so party day is relaxing!   You can make the dill spread up to 3 days ahead, prepare the cucumbers the night before, and assemble the canapés up to about 8 hours ahead.  Just keep all the components chilled until you serve. Voilà!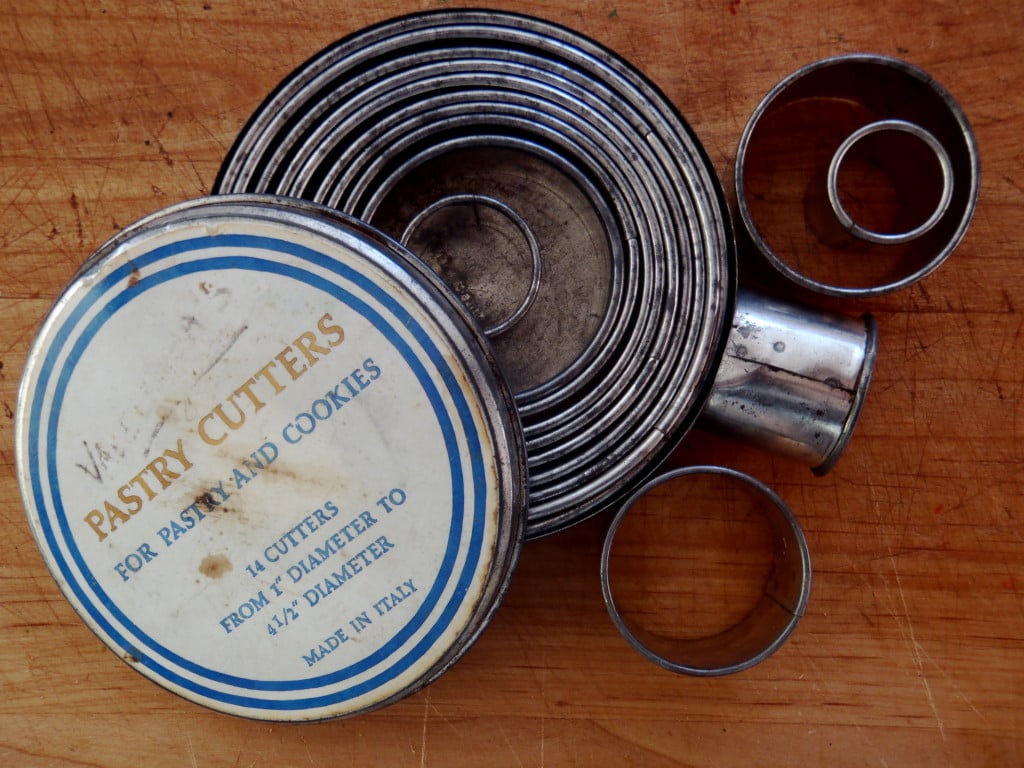 These round cutters are a must for this recipe, and they are one of those kitchen items I couldn't live without!  You can get them here —  exactly where I did for that first catering gig!
Recipe
Makes about 3 dozen
Total Prep Time: about 1 hour
2 English cucumbers (a bit larger than 1-3/4-inch diameter)
1 (8-ounce) package cream cheese, softened
4 tablespoons unsalted butter, softened
1 tablespoon Dijon mustard
1 tablespoon lemon juice
1 bunch fresh dill (about 1-ounce)
Salt and cayenne pepper to taste
9 slices whole grain or white bread
To prepare the cucumbers, slice each one into approximately 18 slices — about 1/4 to  1/2-inches wide — and place them flat on a cutting surface. Using a 1-3/4-inch round cutter, cut the skin off each cucumber slice.
Then, using a 1-inch round cutter, cut a hole in the middle of each slice to remove the seeds and create a space for the dill mixture later.
Wrap the prepared cucumbers in plastic wrap and refrigerate them until you are ready to assemble the canapés. Cover a baking sheet with parchment paper and set aside.  Remove 4 sprigs of dill and set them aside in the refrigerator for the garnish.
To make the dill spread, use a food processor to blend the cheese with the butter, mustard, lemon juice, and the remaining dill.  Blend until the dill is very finely chopped and the mixture is very smooth.  Season generously to taste with salt and cayenne pepper. Blend the mixture one last time to be sure all of the ingredients are incorporated.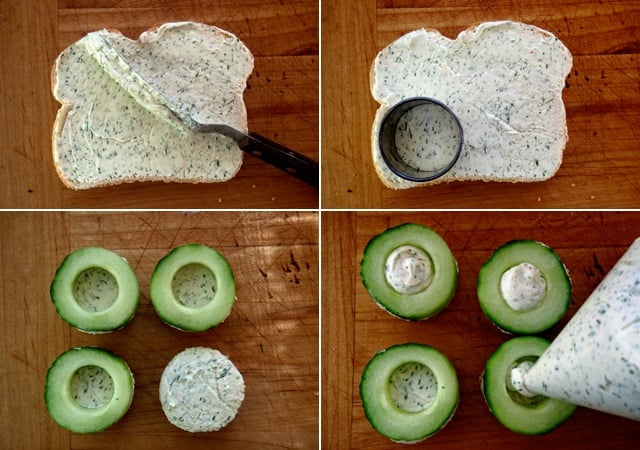 To assemble the canapés, use a small, off-set spatula to spread a thin, even layer of the dill spread onto one surface of each slice of bread.  Place the remaining dill spread in a zip-lock bag and cut a tiny bit off of one of its bottom corners. Set aside, keeping the bag at room temperature.  Using the same 1-3/4-inch round cutter that you used for the cucumbers, cut about 4 rounds out of each slice of dill-spread-covered bread, placing them on the parchment-covered baking sheet.  You might need to gently press the center of each round with your finger to release it from the cutter. Place one cucumber slice on each round of bread.  Then use the zip-lock bag with the remaining dill spread to fill each hole in the cucumber slices.  To smooth the top, use a bit of water on your fingertip.  For the garnish, use the dill you set aside — break off  tiny sprigs and add them to the center of each canapé.  Keep chilled until ready to use.
Notes:
If  you don't have a food processor, simply blend all of the ingredients in a medium mixing bowl with a spoon and finely chop the dill before you add it.