Friday night, while my two boys and I were having Mediterranean Marinated Flank Steak, my vegetarian husband had this yummy stir fry.
As I was about to chop the tofu into cubes for the stir fry, I saw my vegetable peeler out of the corner of my eye and got a magical idea.  Yes, I just referred to the way I was going to cut my tofu as magical.
It was!
Since I was using extra firm tofu, I knew I would be able "peel" thin strips, making a "noodle" of sorts.  In "super thin strip" form, the tofu can be added in the last few seconds of the cooking process.
The tofu strips will still soak up a ton of flavor, and they just might make you feel as though you're having a hearty pasta!  This is a fantastic vegetarian meal!
I sort of threw this together on the fly so the measurements can be "more or less" — they don't have to be exact. We're not making a cake here! In fact, add whatever veggies you like!
Here's another of my favorite tofu recipes and it's super quick and easy also — Ginger-Garlic Vegetable Baked Tofu.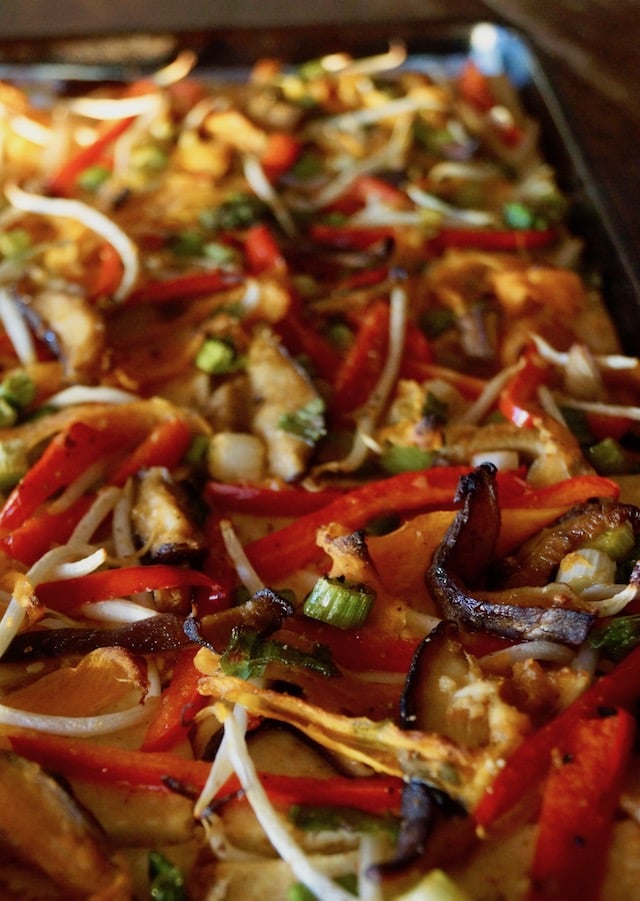 It has slightly different flavors but is equally as delicious!
I hope you give one or both of them a try.  Let me know how you like them.
Enjoy!
Vegetable Mint Stir Fry Recipe With Tofu "Noodles"
Ingredients
About 1/3 of a 1-pound block extra firm tofu

Grape seed oil

1/4

cup

thinly sliced brown onion

2

teaspoons

finely minced garlic

1/2

cup

grated carrots

1/2

cup

finely chopped broccoli

1/2

cup

thinly sliced red bell pepper

A handful of fresh mint leaves

A splash of orange juice

Tamari and sea salt to taste

Togarashi
Instructions
Use a vegetable peeler to make super thin "noodles" out of the tofu chunk. Set aside.


Coat the bottom of a large sauté pan with the oil. Add the onion and garlic and cook over medium-high heat until the onion is soft, about 3 minutes.

Add the carrots and broccoli and cook just until tender, about 5 minutes.

Then stir in the pepper, mint leaves, and the tofu "noodles." Add the orange juice and season to taste with Tamari and a bit of salt. Sprinkle with Togarashi and serve!
Recipe Notes
Grapeseed oil is very low in saturated fat, has a high burning point, and doesn't interfere with the other flavors. It's my first choice when I cook with Asian flavors. It's available in most markets.

Tamari is a type of Japanese soy sauce that's a bit darker and is slightly thicker than ordinary soy sauce. It's all we use at home since it's gluten-free (which it has to be for my 7-year-old son who has Celiac Disease). Regular soy sauce contains wheat.

Togarashi is the Japanese word for red chili peppers. It'll add some great heat!
Save
Save
Save