This Triple Chocolate Gluten-Free Biscotti Recipe creates a crisp, sweet and super chocolatey cookie.  They will dip perfectly into your morning and/or afternoon coffee.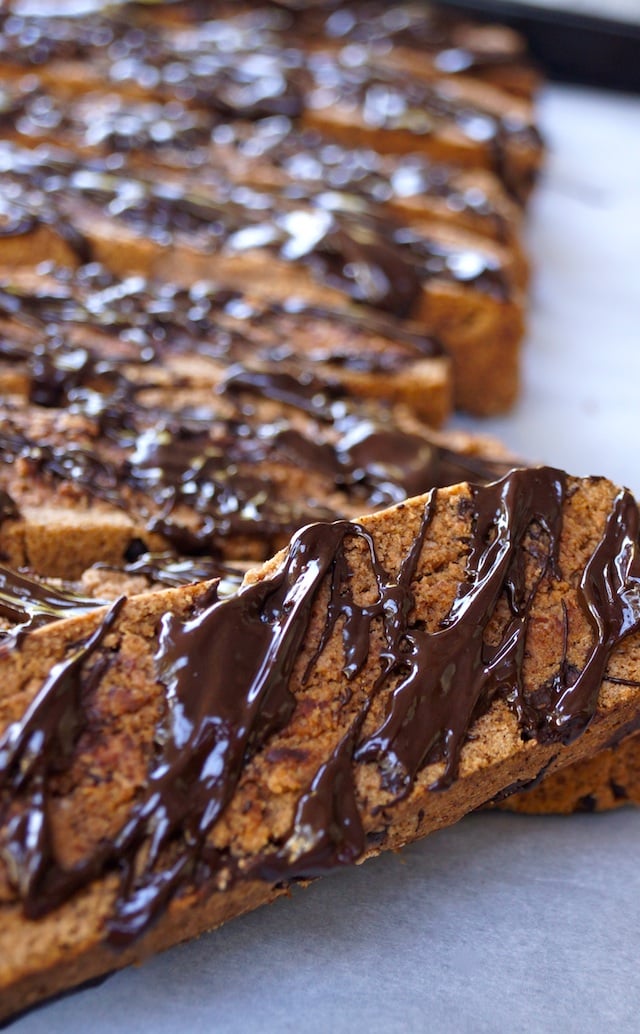 I was getting ready to make espresso biscotti, that I'd been imagining I'd be dunking in my coffee, when my 12-year-old son walked into the kitchen and asked me three questions in a row, without pause and full of excitement . . .
"What are you baking?  Gluten-free, right?  Lots of chocolate, right?"
(In case you missed it, my 12-year-old son has Celiac Disease and is therefore gluten-free.)
So like any good mom would, I silently let my gluten-full espresso-filled cookie plan go, and said, "I'm baking cookies, of course gluten-free, and they'll be packed with chocolate!"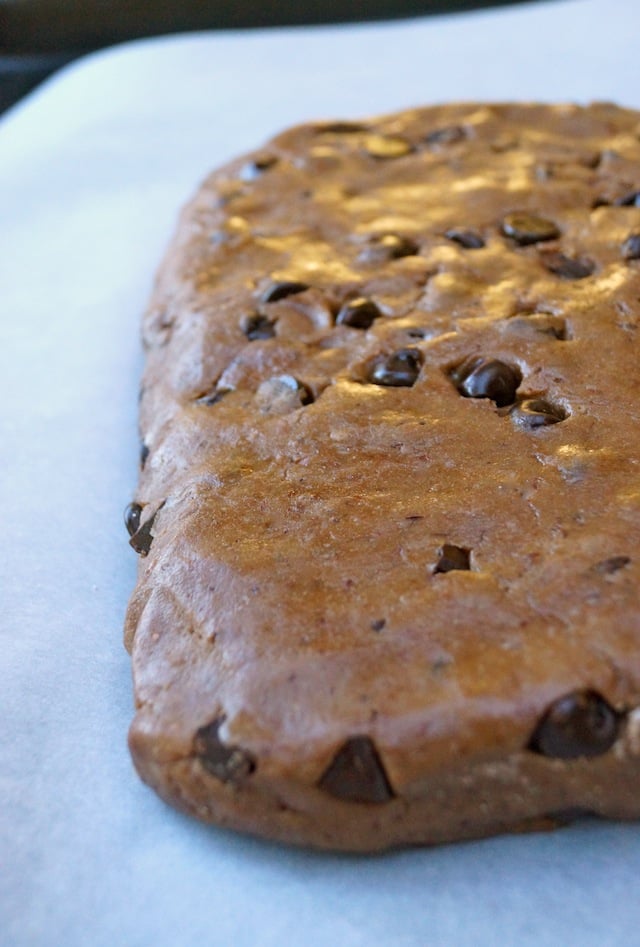 And in that moment this Triple Chocolate Gluten-Free Biscotti recipe was born.
I'd do anything for my kids after all, so making just about any delicious cookie is a pleasure!
Truth is, while I know he has to live with this, so getting used to it is a good thing, I really do love to include him when I bake. 
Even when I offer a gluten-free substitute for something others are eating a feel a little bit guilty.
I know, I shouldn't, but my kids' happiness is at the top of every list I have.
In this case, I am so happy this recipe took a gluten-free turn.  I think I'll be making this gluten-free biscotti recipe often.
Not only did my son love it, but everyone else did too!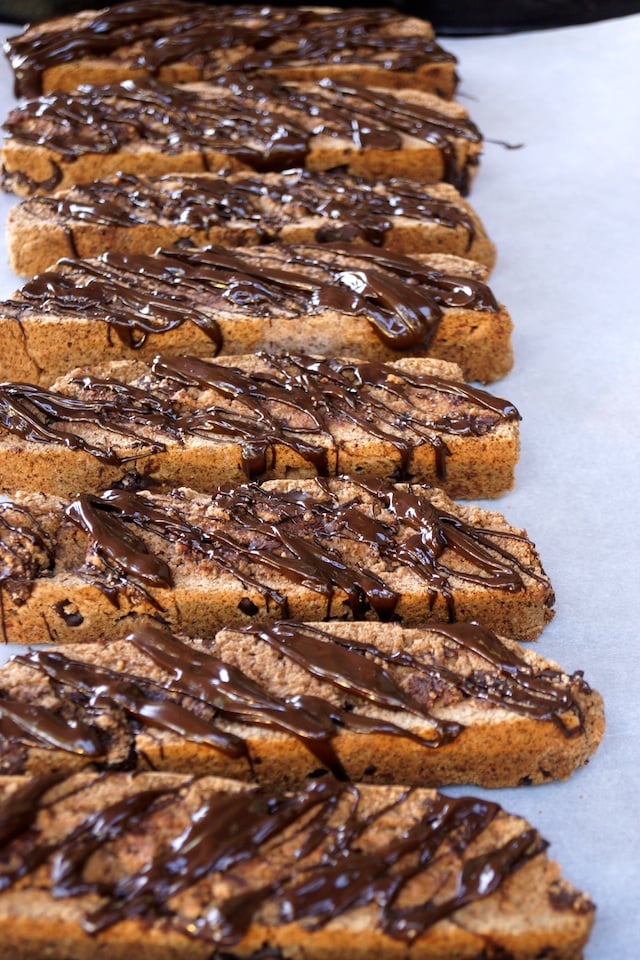 While I must admit, I'm still craving an espresso biscotti, I'm so happy to have had this change of course because this Triple Chocolate Gluten-Free Biscotti recipe is delectable!
And hey, they got dipped into my coffee.
Everyone wins!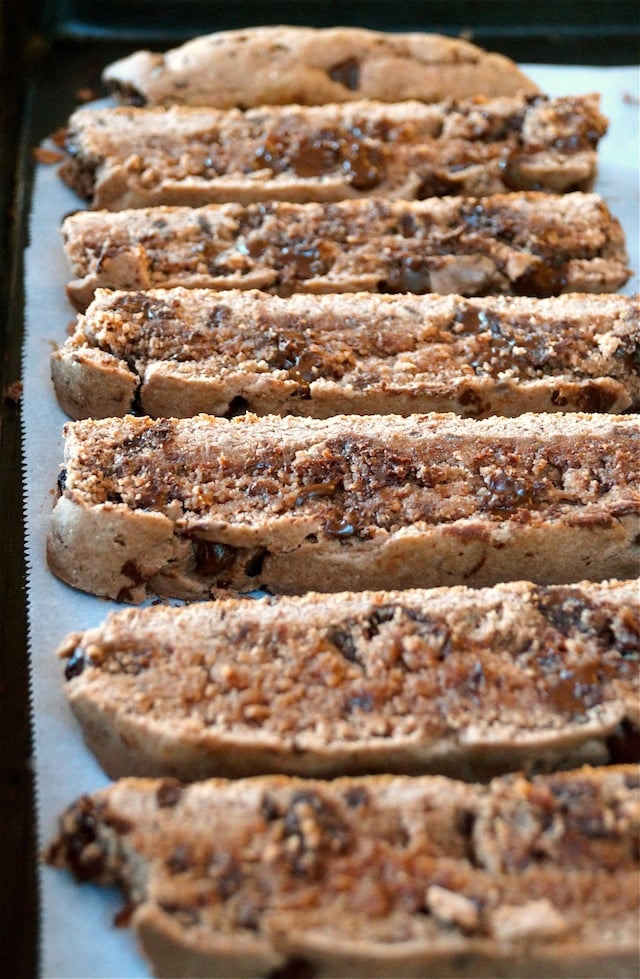 Four steps to making biscotti:
Make the dough.
Bake the dough in one large, relatively flat piece.
Slice the baked dough.
Bake the dough, now sliced, for a second time.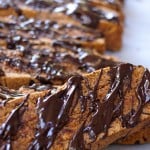 Triple Chocolate Gluten-Free Biscotti Recipe
Makes 1 dozen
Total Time
1
hour
15
minutes
Ingredients
2

cups

all-purpose gluten-free flour

I used Trader Joe's brand

1/2

cup

almond meal

2

tablespoons

cocoa powder

2

teaspoons

baking powder

1

teaspoon

xanthan gum

2

large eggs

3/4

cup

granulated sugar

1

tablespoon

vanilla

3/4

teaspoon

sea salt

1 1/2

cups

semisweet chocolate chips

divided
Instructions
Preheat the oven to 350 degrees F and adjust a rack to the center. Line a baking sheet with parchment paper and set aside.

In medium-sized mixing bowl, combine the flour, almond meal, cocoa powder, baking powder, and xanthan gum. Set aside.

In another medium-sized mixing bowl, gently whisk the eggs to blend them. Mix in the sugar, vanilla and salt.

Make a well in the center of the dry ingredients and pour in the egg mixture. Mix just until everything is evenly incorporated, and then fold in 1 cup of chocolate chips.

Shape the dough into one large rectangle, about 1-inch high and 4-inches wide.

Bake in the preheated oven until it looks dry, about 20 minutes.

Remove it from the oven, let it cool a bit on the baking sheet, and then turn the oven down to 275 degrees F.

Lift the parchment off the baking sheet and use a serrated bread knife to cut the biscotti into slices horizontally, about 1-inch thick.

Line the baking sheet with a new sheet of parchment paper and place each cookie on top.

Return the baking sheet to the now 275 degree F oven and bake until the biscotti are very dry and becoming golden, about 20 minutes per side. (They can easily be flipped over half way through the cooking time with a small off-set spatula.)

Let them cool on the baking sheet.

Melt the remaining 1/2 cup of chocolate in a microwave or in a double boiler on the stove-top.

Use a teaspoon to drizzle the melted chocolate over the biscotti. Let the chocolate set at room temperature, about 45 minutes. (To speed this up, you can quickly refrigerate them on the baking sheet.)
Recipe Notes
These cookies can be stored for up to 4 days in a tightly sealed container in a cool, dark place -- or for up to 3 weeks, in a tightly sealed container in the freezer.
Save
Save