This Grape and Plum Salsa recipe is vibrant as it's full of stunning colors and fresh flavors. It's delicious with chips and over grilled chicken, meat or fish. Salsas with plums are an unexpected explosion of fresh, sweet flavor!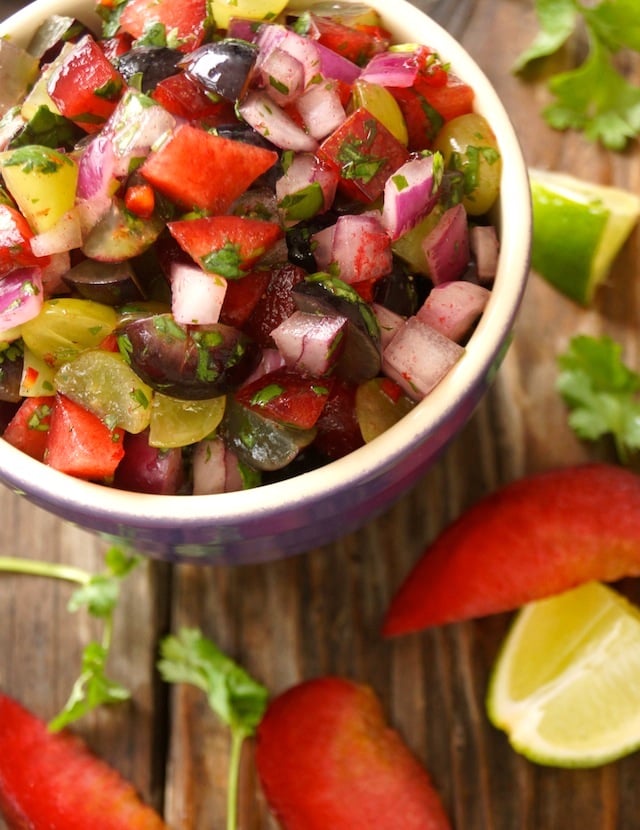 Do you have a signature dish? Or a signature cookie or drink?
This recipe is my signature summer salsa. Everyone loves it!
Inspiration for Grape and Plum Salsa Recipe
The colors of the fruits are what inspired the ingredient list — I think they're so beautiful (and delicious!) together.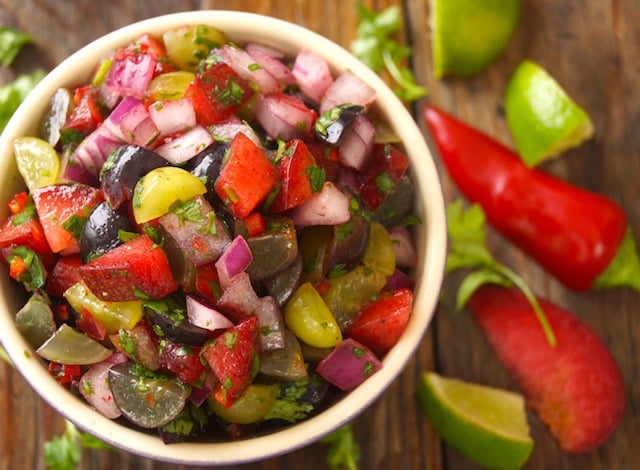 What's in this recipe?
black grapes
green grapes
red plums
red onion
lime juice
jalapeño pepper
cilantro
salt, pepper
Now, imagine all of those beautiful, bright ingredients super finely chopped, mixed and on a lightly salted, slightly warm tortilla chip. Perfection.
Uses for This Summer Salsa
Here are a few super delicious ideas . . .
with chips, of course
on grilled chicken or fish
to spice up grilled steak
mixed into a light pasta or dish

Substitutions in this Grape Plum Salsa
While the recipe includes black and green grapes, you can use any seedless variety you like.
I think the bright red plums are gorgeous, but again, use any plums you like.
Not into cilantro? Use basil.
I'm hoping to serve this Grape and Plum Summer Salsa recipe many times every summer, and as long as I can get the seasonal ingredients — making calling it my signature summer salsa legit.
I do hope you'll try it too. 🙂
Enjoy and I hope you'll find that salsas with plums are as delicious as I do!
And be a star and bring this Grape and Plum Salsa to the next party you're invited to!
More delicious summer fruit salsa recipes:
Melissa's Produce sent me samples of the grapes, and as always, all opinions are my own.
Grape-Plum Summer Salsa Recipe
With its vibrant, stunning colors and fresh flavors, this Grape-Plum Summer Salsa recipe is delicious with chips and over grilled chicken, meat or fish.*Makes about 4 cups
Ingredients
1

cup

black seedless grapes,

washed and dried, quartered (I used Melissa's Produce Black Muscato)

1

cup

green seedless grapes

washed and dried, quartered (I used Melissa's Produce Green Muscato)

1

cup

red plums (Elephant Heart plums are perfect),

diced (the size of the dice should closely match the size of the cut grapes)

¾

cup

red onion,

finely chopped

¼

cup

cilantro,

washed and dried, finely chopped

2

tablespoons

freshly squeezed lime juice

1

tablespoon

jalapeño pepper (red or green),

super finely chopped
Instructions
Add all of the ingredients except the salt and pepper, to a medium-sized mixing bowl and stir gently.
Have you tried this recipe?
I'd love to see it on Instagram! Tag me at @cookingontheweekends or leave a comment & rating below.
Save