This is simply the Best Turkey Brine Recipe Ever! Brining a Thanksgiving turkey is what I call going the extra mile — and it's SO worth it! This one extra step will bring your turkey to the next level.
What is brine?
A brine is a salt solution that preserves and seasons while enhancing tenderness. It often includes additional flavors such as herbs, spices, sugar, caramel and vinegar.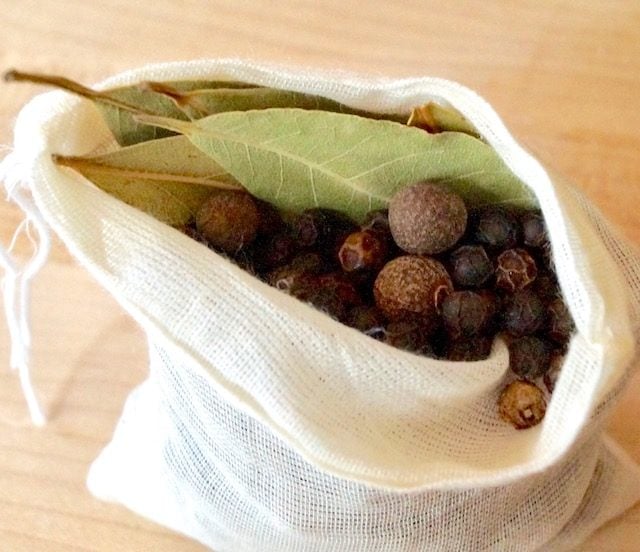 What will brining your turkey do?
It's pretty simple, really. Brining your Thanksgiving turkey will add moisture, flavor, and it will almost guarantee a very succulent, tender result.
It doesn't matter what roasting method you use to cook the turkey; brining it first is the key to your success.
Trust me.
What's in the Best Turkey Brine Recipe Ever?
water
kosher salt
bay leaves
allspice berries
black peppercorns
cinnamon sticks
whole cloves
maple syrup
honey
Think about all of that seeping into your turkey!
Is using the Best Turkey Brine Recipe Ever worth the extra time?
Yes! If you make the mistake of overcooking your turkey (it happens) — brining it first will help keep it from drying out. And dry turkey is really a bummer. Why risk it, right?
It's well worth the extra time it takes, and if you're anything like me in the kitchen, you might even think it's fun. Just saying.
Every year I use this Thanksgiving Turkey Brine recipe, and then carry on with my favorite Thanksgiving turkey recipe: Smoky Paprika-Bacon Roasted Turkey. You can't even imagine how amazing the results will be!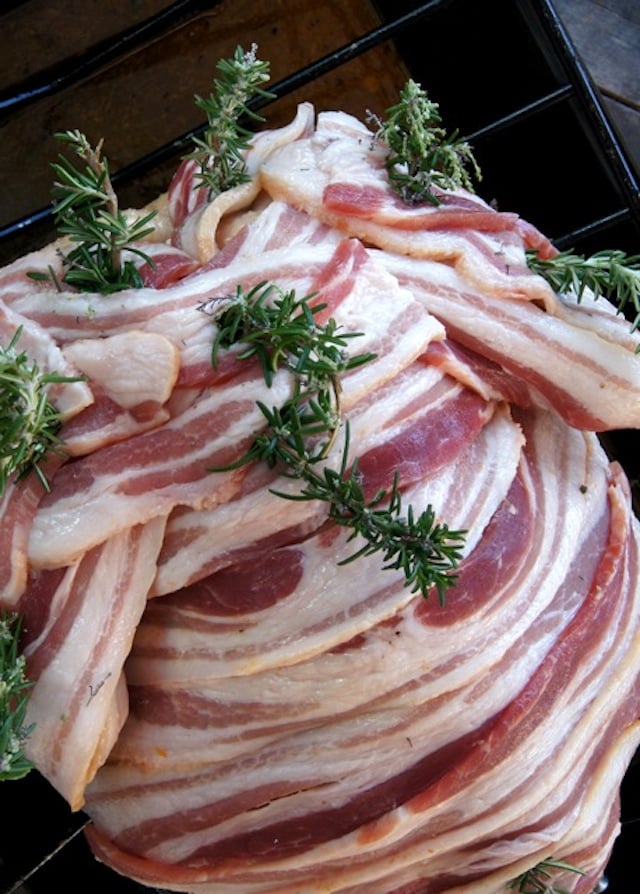 Can you make this turkey brine recipe ahead of time?
I always make my turkey brine two nights before Thanksgiving, and then leave it on the stove to cool to room temperature. Then the next afternoon or evening I add the turkey to it. This timing works out really well.
And remember, you don't have to wait for Thanksgiving or any other holiday to enjoy this as part of an incredible feast. I've been known to serve this turkey using this brine during the rest of the year too.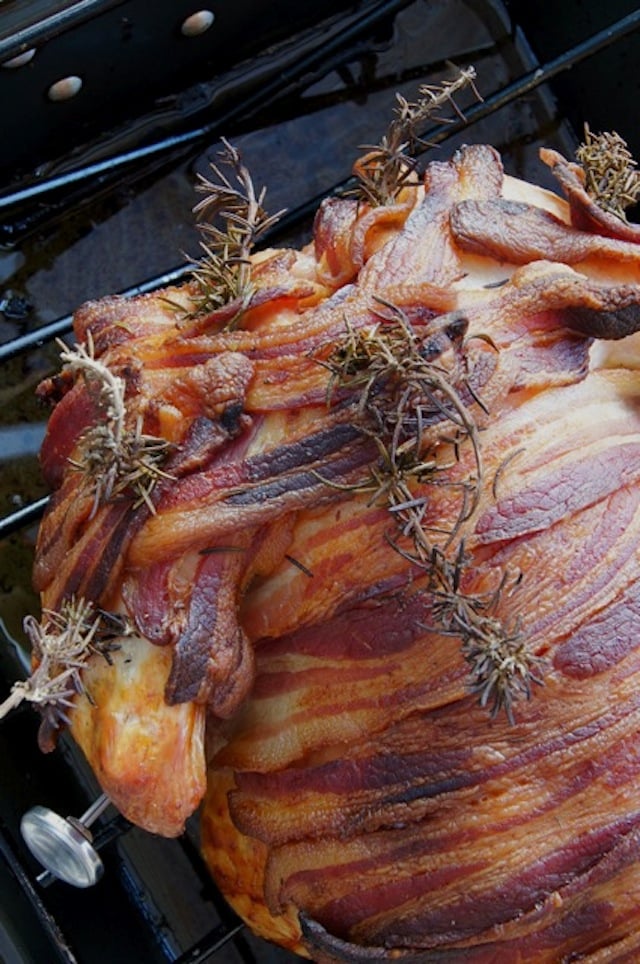 Can you use turkey brine on a chicken?
Absolutely! This brine, of course also has great results with chicken. Whenever I roast a whole chicken I use it. (Just alter the amounts accordingly. For a chicken that's around 5 pounds, I use half the recipe.)
>>>

Recipe Tips

<<<

This recipe calls for a bouquet garni, which is a small bundle of herbs and spices that will impart their flavors into the brine and turkey. We wrap them this way because it would be near impossible to collect (and find) all of the peppercorns, etc., once we're done with the brine. And it's not pleasant to find them while you're eating. The easiest way to make this bundle is with

bouquet garni bags

. Depending on how big they are, you might need a couple for this brine. Otherwise you can easily make one with butcher's twine and cheesecloth. (See recipe instruction no. 1.)
If you don't have the proper, or large enough, container, you can brine the turkey in a double layer of large plastic bags. However, please be aware that if you do so, that the bag has not been treated with any chemicals. (Many regular plastic trash bags have been.)
You will see pre-brined turkeys in many markets. The tip I offer here is, that if time permits, make your own. Make this one! You won't find a pre-brined turkey with these flavors. That's for sure. Just saying. 🙂
I've been told my turkey, which always takes a bath in the Best Turkey Brine Recipe Ever, is the best by everyone who has ever tasted it. So there you go.
Have fun and enjoy cooking!
update November 2019: This recipe was originally published in 2013 and has been updated with new photos.
Best Turkey Brine Recipe Ever
In addition to the listed ingredients, you will also need cheesecloth, butchers twine, a tub or pot large enough to comfortably hold the turkey and brine, without overflowing, and possibly a large cooler. (See instruction no. 4 in the recipe below. )
This brine recipe is for 1 (approximately 12 to 15-pound) turkey .
The turkey should be brined at least 18 hours and ideally 24.
Course:
Condiments, Sauces, Dressings and Vinaigrettes
Keyword:
best brine recipes, great for Thanksgiving, turkey brine
Instructions
If you don't have bouquet garni bags, cut a double layer of cheese cloth into an approximately 7 X 7-inch square. Place it on a clean, dry surface. Add the allspice berries, peppercorns and bay leaves to the center of the square. Bundle the cheesecloth around the spices, being sure there aren't any open areas, and then tie it with butchers twine. (If you're using bouquet garni bags, you will likely need to use at least two.) Set aside. This is called a Bouquet Garni, which is French for bouquet garnish -- it's a small bundle of herbs and spices, that will impart their flavors to a liquid being cooked.

In a very large stock pot, mix the water with the salt, and bring it to a boil. Mix to be sure it's dissolved and then lower the heat to a simmer and stir in the honey, syrup, ground cloves, cinnamon sticks, and the bouquet garni. Continue to simmer for about ten minutes. Then turn off the heat and cool to room temperature. (With a large quantity of liquid like this, cooling could take a few hours — I usually do this the night before I want to add the turkey, and let it cool, covered, all night on the stove.)

Once it has cooled to room temperature, pour the brine into a large plastic tub, or, if the pot is large enough, leave the brine there. (Make sure whatever you're using is large enough to avoid overflowing.)

Rinse the turkey with cold water, inside and out. Place the turkey in slowly, making sure it's fully submerged in the liquid, filling up the entire cavity. Leave the bouquet garni, cinnamon sticks in the brine. Cover with a lid or plastic wrap, if the lid doesn't quite fit. Brine the turkey overnight in the refrigerator for at least 18 hours and ideally 24. (If the container the turkey is in doesn't fit in the refrigerator, you can place it in a large cooler, surrounded by ice.)

Remove the turkey, pat dry with paper towels, and prepare according to the turkey roasting instructions.
Cooking On The Weekends is a participant in the Amazon Services LLC Associates Program, an affiliate advertising program designed to provide a means for sites to earn advertising fees by advertising and linking to Amazon.com.