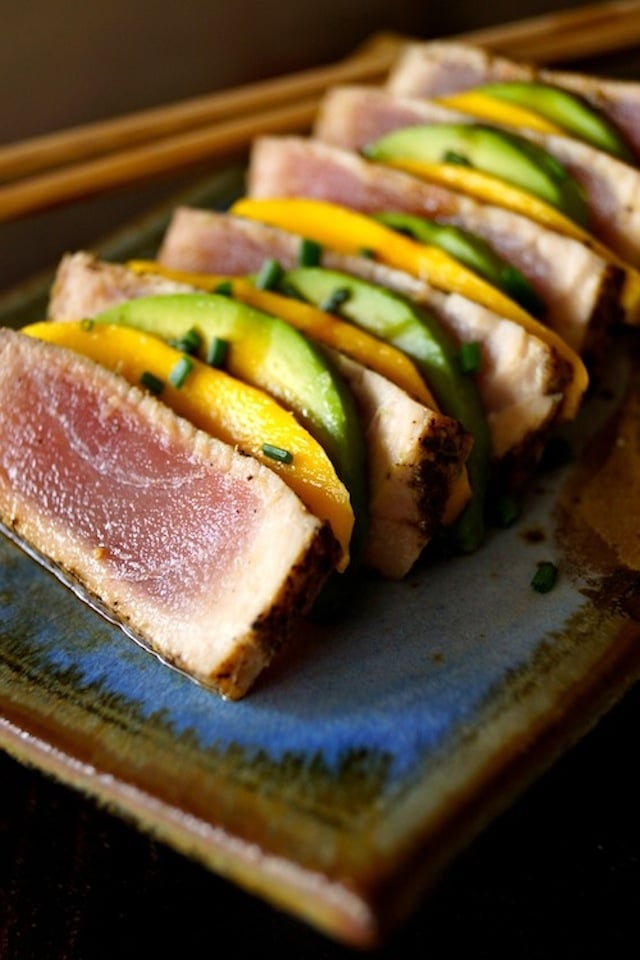 For weeks I've been thinking about avocado and mango slices together on a plate.  I know, there's no end to my exciting food thoughts. 😉
Gorgeous and delicious, sweet and creamy, they're both at the tippy top of my favorite foods list(s).
Pairing up with peppery, savory, seared Ahi, turns these two beauties into a scrumptious, summer appetizer that will for sure wow your guests.
And you!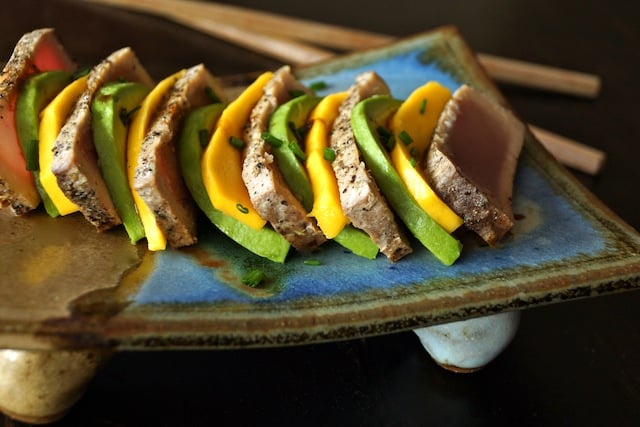 And now I'm thinking I really need to get lemon and lavender together on a plate — actually, a bowl.  Stay tuned.
Enjoy!
Seared Ahi Tuna Mango-Avocado Appetizer Recipe
Servings
:
2
as an appetizer
Ingredients
1

½-pound sushi grade Ahi tuna fillet (see notes)

1

Ataulfo mango

see notes

½

large

ripe avocado

Sea salt and freshly ground black pepper

see notes

Drizzle of Tamari if desired

About 2 teaspoons finely chopped chives
Instructions
Place the Ahi fillet on a clean, dry plate.

Lightly sprinkle all of the sides with sea salt, then either sprinkle or grind black pepper directly onto the top and bottom surfaces of the fillets. The pepper should be a thin, but generous layer.

Coat a small sauté pan with grape seed oil and place it over high heat.

Once the pan is very hot, add the Ahi and sear each side until it's only cooked through ⅛ to ¼-inch, 1 minute or less per side. (If you don't hear a sizzling sound when the tuna hits the pan, it's not hot enough -- wait for the sizzle!)

Remove the seared tuna from the pan and place it on a clean plate. Once it has cooled completely, cut it into thin, evenly sized slices -- about ¼-inch each. Set aside. (You should have at least 14 slices.)

Cut the mango into halves. Then, slice each half into approximately 14 evenly sized slices, about ¼-inch each.

HERE'S HOW TO CUT A MANGO

.

Cut the avocado into halves. Then, horizontally, slice the half into approximately 14 evenly sized slices, about ¼-inch each.

HERE'S HOW TO CUT AN AVOCADO

.

Arrange the Ahi, mango, and avocado slices evenly between two appetizer plates -- I like alternating them, but arrange them any way you'd like to.

Drizzle with a bit of Tamari if desired, and sprinkle with the chives.

Serve immediately, or cover the plates with plastic wrap, drizzle the avocados with a bit of lemon juice, and refrigerate them until you're ready. (Up to an hour or so.)
Recipe Notes
Ideally the Ahi tuna fillet is more or less a square -- you can trim it to be as close to the fruit slices as you can, if that's important to you.
Ataulfo mangoes are my favorite, but use any variety you like -- as long as they're perfectly ripe.
If you can get your hands on some, I love Kampot pepper on my Ahi. Here's why.
Save