A savory dinner waffle, that's chock-full of smoky, delicious flavors, and will totally wow everyone at the table! Savory waffle recipes can be fantastic and these Bacon-Cheddar Gluten-Free Waffles will not disappoint!
Savory waffles for dinner?
Yes, for dinner!  And not just because my kids thought it was a "totally awesome" idea. (Go figure.)
Why This is one of the Best Savory Waffle Recipes?
These divine, savory waffles are generously packed with melting cheddar cheese, perfect bites of smoky bacon, and ever-so-slightly, crunchy scallions. Imagine a little of that deliciousness in each and every bite — all encased in a super tasty, subtly smoky and rich batter, that's crisped to perfection.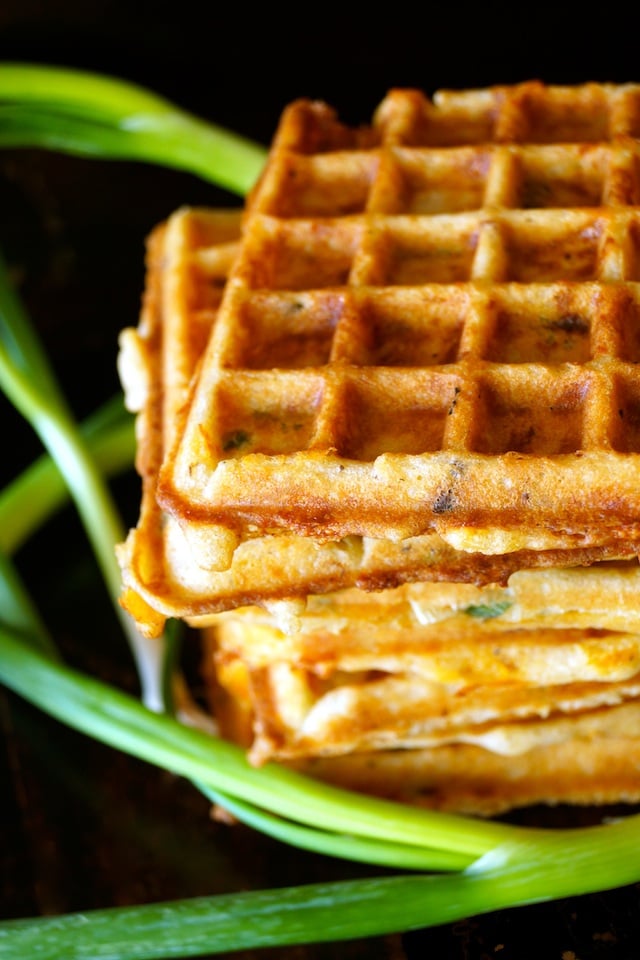 Why are these the best gluten-free waffles?
For all of the reasons listed above AND because you'd never know they were gluten-free! They are every bit as good as a gluten-full waffle — if not better! In my humble opinion, of course!
Dinner, indeed.
And now imagine, if you will, drizzling a bit of maple syrup over these beauties for brunch.
I know, right!?
I hope you enjoy every last crumb of these Bacon-Cheddar Gluten-Free Waffles!
This post contains Amazon affiliate links for your convenience at no additional cost to you.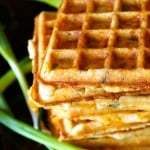 Bacon-Cheddar Gluten-Free Waffles Recipe
A savory dinner waffle, that's chock-full of smoky, delicious flavors, and will totally wow everyone at the table!
*Makes 8 to 9 waffles
Keyword:
best gluten-free waffles, best savory waffles
Ingredients
5

strips

applewood smoked bacon

1

cup

green onions,

finely chopped

1/4

cup

bacon fat,

from cooking the bacon (see recipe step 3)

about 1

tablespoon

olive oil

(see recipe step 3)

3

large

eggs

1

cup

non-fat milk

1 3/4

cup

gluten-free all-purpose flour

1

tablespoon plus 1 teaspoon

baking powder

1

teaspoon

granulated sugar

3/4

teaspoon

salt

a few turns of freshly ground black pepper

1

teaspoon

garlic,

minced

2

cups

mild cheddar cheese,

grated

about 2

teaspoons

unsalted butter for the waffle maker
Instructions
Cover a large plate with a double layer of paper towels and set aside.

In a large skillet cook the bacon over medium heat, until it's golden and crispy, about 4 minutes per side. Use kitchen tongs to remove the strips and place them on the paper towel-lined plate to drain. Turn off the heat, but leave the bacon fat in the pan! Add the scallions and mix to blend.

Once the bacon is cool enough to touch, roughly chop it and add it back to the pan and mix. Place a strainer over a bowl or large measuring beaker and then pour the contents of the pan into it. We want to drain the bacon fat and then measure 1/4 cup of it for the recipe. (There should be enough, but if not, add olive oil to it until it equals 1/4 cup.) Then add the 1 tablespoon of olive to it also.

Pour the 1/4 cup plus 1 tablespoon of bacon fat and olive oil into a large mixing bowl. Add the eggs and milk and whisk until blended. Set aside.

In another mixing bowl, combine the gluten-free flour with the baking powder, sugar, salt and pepper. Once it's evenly blended, add it to the wet ingredients and mix until it's smooth.

Fold in the bacon-onion mixture, garlic and cheese, and gently mix until all of the ingredients are evenly blended.

With a bit of the butter for each batch, if it's not non-stick, add the batter to the waffle iron, using it according to the manufacturers instructions. (Mine if fairly standard and uses about 1/3 cup batter per waffle.)

Let the waffles cool on a cooling rack and then serve!
Recommended items for this recipe: