What is a Comfort Food? The answer will be different for everyone — and for many very good reasons. Mood, weather, personality, memories, family, and friends are some of the many things that play into what your comfort foods might be.  Below are 20 of the best comfort food recipes.
What is a comfort food?
Why exactly do we grab for a particular food in our pantry, or cook a certain recipe at a certain time?
Some people think of comfort foods as something soothing when they're sad or upset.  You know, like if you've had a really rough day, so you stop on your way home for a pint of coffee ice cream, that you hope to have while you watch mindless TV?  (Not that I know who that would be.)
For others, a comfort food is something that might evoke a nostalgic or sentimental feeling.   For example, you love making waffles on lazy weekends because you remember your dad doing the same when you were growing up.  (Also me.)
 And then, there's simply a group of foods or meals that seem to have created their own special category called "Comfort Foods."  These are typically foods that roast, simmer, or braise for a long time.  (Why do you think slow cookers and crocks pots are so popular?)
Typically served warm or hot, think saucy and creamy, warming spices (cinnamon, cloves, cardamom are a few) or melting cheese. "Soups and Stews" might as well change their category name to Comfort Foods, as they can be all of these things.  Foods in this category are generally cooked in the cooler months of fall and winter. After all, they warm us up and they're cozy.  They simply make us feel good.
Comfort foods can be . . .
A food that can be calming.
Foods that might bring you back to a pleasant childhood memory.
Something that will warm you up in cold weather.
A meal that might help mend a broken heart.
A food that simply makes you feel good, for no particular reason.
And the list goes on.  And on.
From left to right in the image above, these are 20 of the best comfort food recipes. In my humble opinion, of course. Hopefully there are enough to keep you warm and feeling good for the next several weeks.
Off we go . . .
20 of the Best Comfort Food Recipes
Cuban Chicken Stew Recipe
This has ingredients found in Alcaparrado, which you'll learn all about as you explore the recipe. It's a hearty, comforting stew that's bursting with delicious flavors.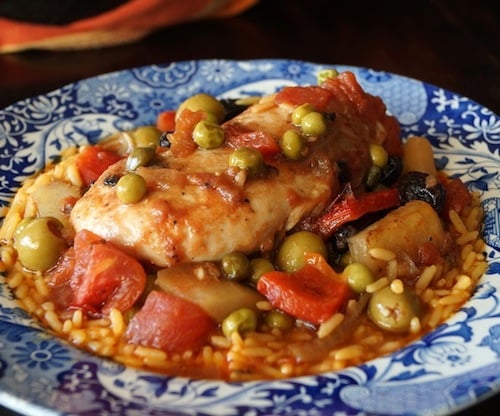 Spicy Sriracha Spaghetti and Meatballs
This is bursting with both deep and fresh flavors, that will keep you coming back for more.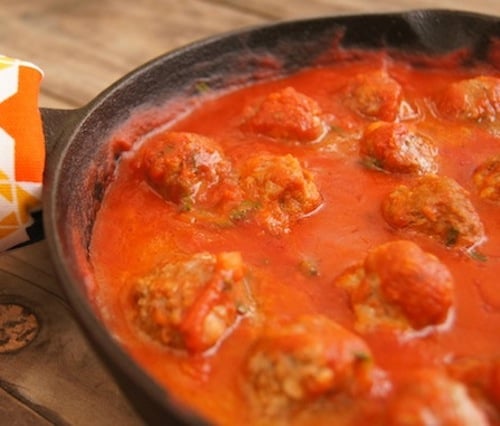 Braised Brisket Stew
The epitome of what I think of as a comfort food. It's full of fork-tender meat, and a sauce packed with vegetables that have taken on its delicious flavor. This was one of my mom's best comfort food recipes, and that makes it even more comforting — for me.
What is a comfort food that reminds you of your family?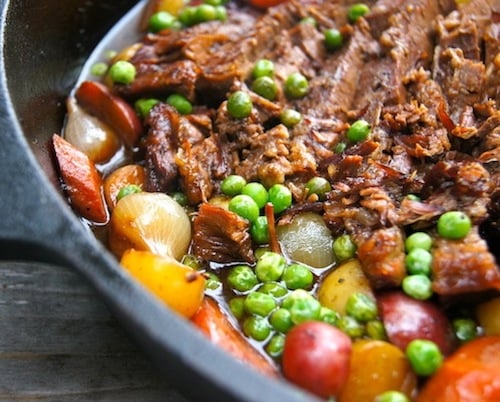 Curried Corn Stew with Lentils and Sweet Potato
This is vegetarian dish is subtly sweet bus has many deep, rich savory flavors from the Eastern spices used.
Black Garlic Pappardelle Pasta
A super flavorful, vegetarian main course that takes on a slight balsamic vinegar taste in a most delicious way.
Smoky Three Pepper Corn Chowder
With three different peppers in the mix, each one offers its own distinctive taste to this comforting bowl of deliciousness.  This is my favorite for a rainy day — what is a comfort food you'd love the most in cold weather?

Cheddar Grilled Cheese Bagel Breakfast  with Serrano-Bacon Caramelized Onions and Egg
The title is indicative of what a mouthful this recipe is.  A crazy delicious mouthful that you won't be able to get enough of!
Chicken Sausage Cassoulet
The long cooking time and combination of rich spices, aromatic herbs and hearty ingredients, make this recipe a comfort food perfect for cooler months.
Sardinian Pasta Recipe
Not an authentic version, this embodies some wonderful Italian flavors, includes tasty, salty sardines and is named after the Island of Sardinia.
Spiced Chicken Butternut Squash Lasagna
Hands down one of the most unique, delicious gluten-free lasagna recipes out there! 
Cardamom Buttermilk Roasted Chicken and Potatoes
There are so many warming spices and succulent textures in this dish — it couldn't possibly not be a comfort food.
Dubliner Panini with Blueberry-Bacon Caramelized Onions

The title says it all! Really, REALLY Good Chicken
Yes, that's really what it's called, and for good reason.
Braised Pork Ribs with Apple-Ginger Soy Sauce 
With essentially 4 ingredients, this dish is easy to prepare and perfect for a cool night.

Sweet Potato Shiitake Sausage Soup with Udon Noodles
With Asian flavors, a creamy texture and hearty ingredients, this is truly a bowl of comfort. 
Vegan Spiced Carrot Coconut Soup
You will not believe this soup isn't full of rich cream — but, it's true!
Roasted Butternut Squash Chili
A lovely, hearty vegetarian Chili that's perfect for fall and winter. 
Curried Tomato Beef Stew
With a Thai curry paste in the mix, this recipe is exploding with warms spices and fresh flavors.
Herbs de Provence Orange Roasted Chicken
Easy enough for a weeknight meal, and impressive enough for weekend guests.

Smoky Tomato Fish Stew
It's rich, hearty, light, and healthy — all at once.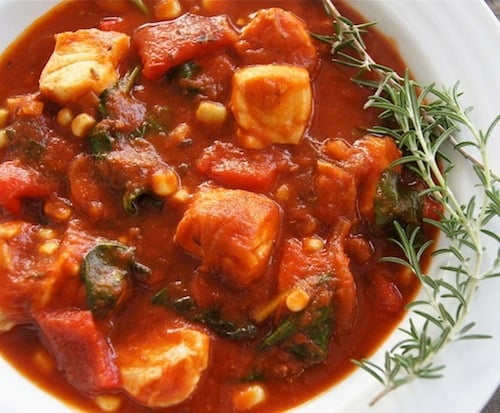 So what is a comfort food for you, and what do you think are the best comfort food recipes?
I want to know so please tell me in the comments!
Save
Save
Save
Save
Save
Sa