Creamy, rich, spicy and sweet, the mango sauce makes this baked chicken over the top delicious!  Over the top, I tell you!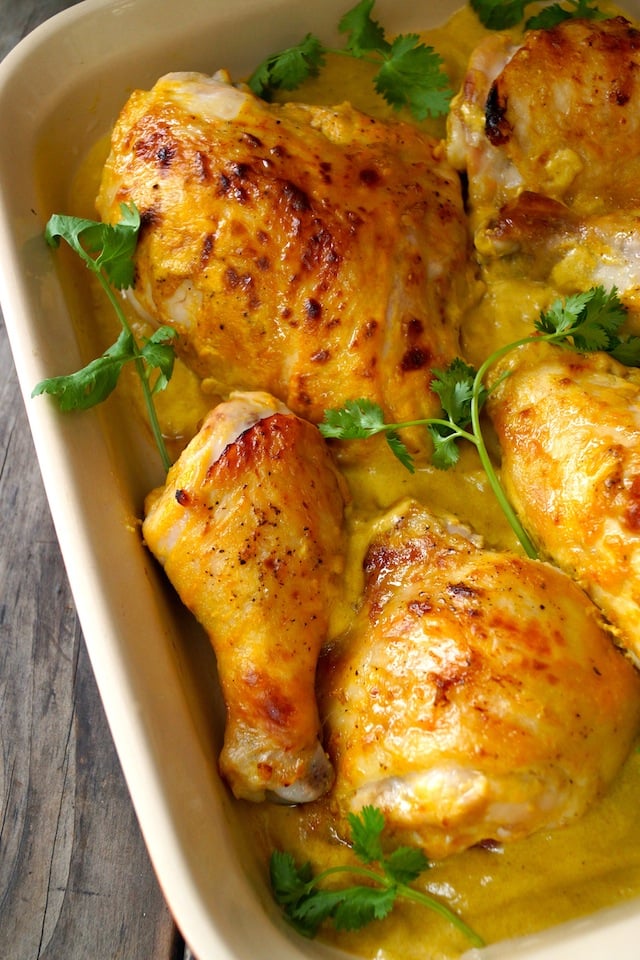 My mom and I have always loved the Mango Chicken Curry at a local Indian restaurant. 
And by loved, I mean we could drink the sauce.  Perhaps with a straw.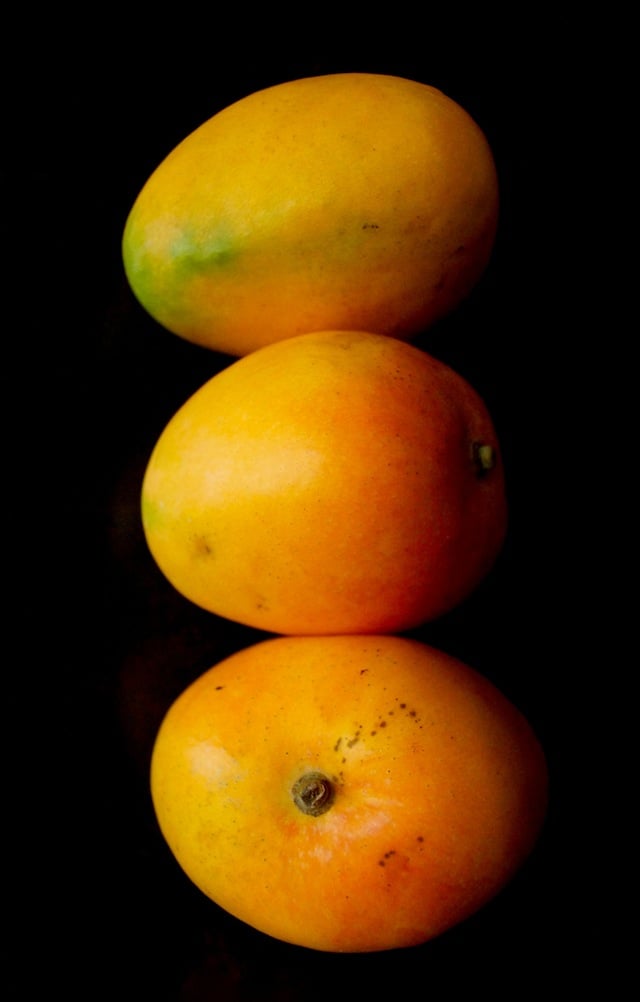 I remember that my mom would sometimes just order a giant container of the sauce to have on hand. 
Never mind the chicken!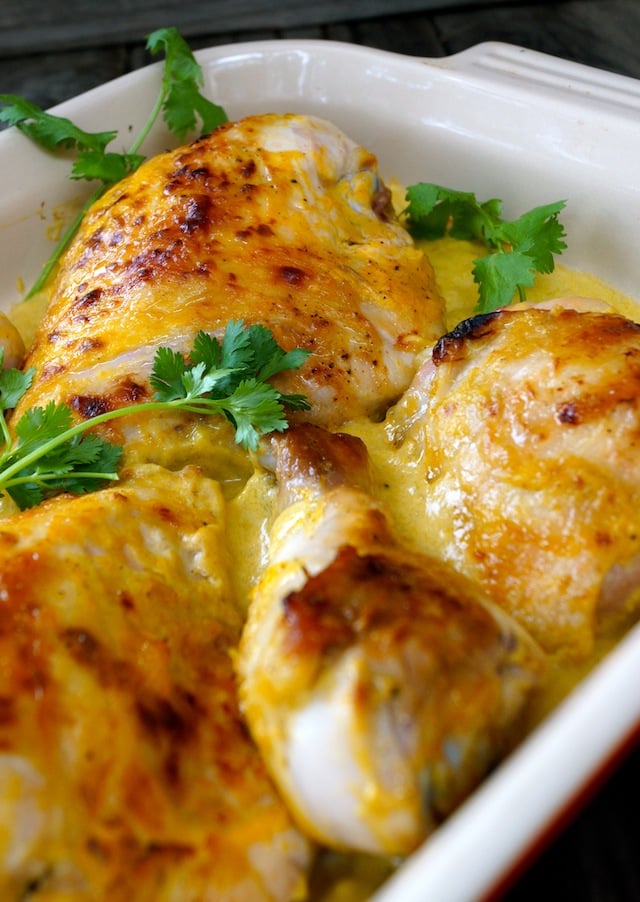 In this case the chicken is important, and the mango sauce is far from Indian, and other than the heat from the cayenne, it contains no curry spices.  However, it's very reminiscent of the sauce my mom and loved so much, so mission accomplished!
This is absolutely perfect with this Coconut-Cilantro Rice!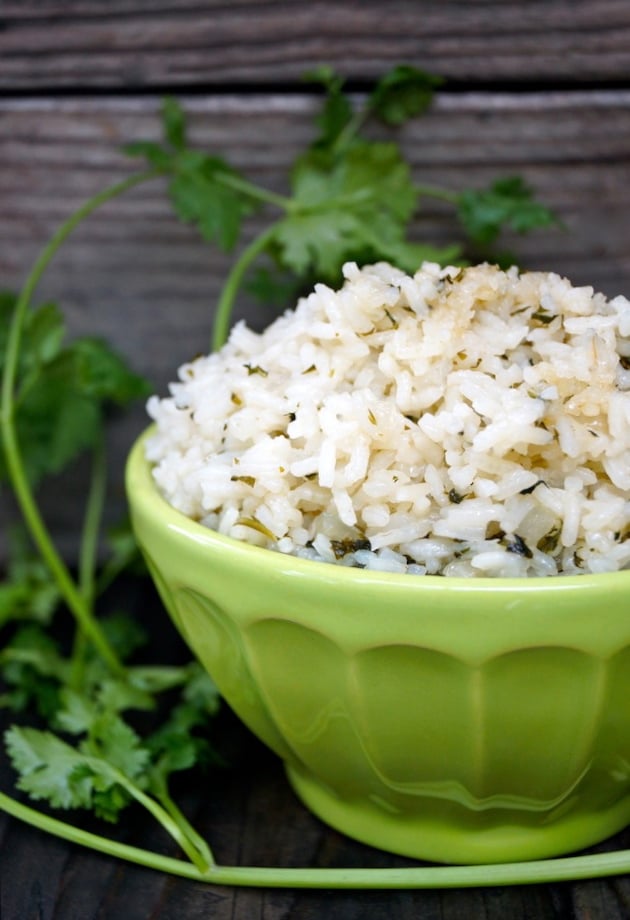 What a meal!  I'm telling you! 🙂

Coconut Mango Baked Chicken Recipe
Ingredients
4 tablespoons olive oil, divided
1 tablespoon annato seeds (see notes)
1 (14-ounce) can coconut milk
½ cup roughly chopped mango (Here's How to Cut a Mango: A Photographic Guide)
¼ teaspoon cayenne pepper
1 tablespoon plus 1 teaspoon honey, divided
1 (approximately 3¼-pound) whole cut up chicken, bone-in, skin-on
sea salt and freshly ground black pepper
Instructions
In a small saucepan, over low heat, gently simmer the annato seeds with 2 tablespoons of the olive oil. Once the oil is a golden-reddish color, turn off the heat. This should only take a couple of minutes. Strain the oil into a small bowl, and discard the seeds. Set the oil aside.
Add the coconut milk and mango to a blender and purée until smooth, about 10 seconds. Pour this mixture into an approximately 9 x 13 x 2-inch baking dish and then stir in the cayenne pepper, and the 2 tablespoons of the annato seed oil you just made.
Add the chicken pieces, being sure each one is well coated with the marinade. Cover tightly with plastic wrap and refrigerate for at least 6 hours, and ideally overnight.
After the chicken has marinated, preheat the oven to 450 degrees F.
Evenly drizzle the remaining 2 tablespoons of olive oil -- (the portion that did not cook with the annato seeds) -- on a baking sheet. Remove the chicken pieces from the marinade and add them to the baking sheet, with a couple of inches between them. Do not rub the marinade off the chicken pieces, but do let any excess drip off into the baking pan. (Do not throw it out -- it will become a sauce later in the recipe.)
Season both sides of the chicken pieces generously with salt and pepper, leaving them skin side up.
Drizzle 1 tablespoon of the honey evenly over the chicken and place the baking sheet in the preheated 450 degree F oven. Once you see the chicken sizzling, after about 5 minutes, reduce the heat to 375 degrees F. I remove the chicken pieces at various times to avoid overcooking the smaller pieces -- the wings should be done after about 15 minutes, the legs and thighs after about 20 to 25 minutes, and the breasts after about 30 to 35 minutes. As you remove them from the oven, place them on a large plate or platter and cover with foil. (They should have a nice golden color when they're done, and if they don't, you put them under the broiler just to brown them, about 30 seconds.)
While the chicken is baking, add the remaining marinade to a small saucepan. Mix in the last teaspoon of honey and bring to a boil. Let it boil for about 30 seconds, then turn the heat to low and simmer gently for about 10 minutes. Season to taste with salt and pepper and serve it with the chicken. (Here's How to Season to Taste.)
Notes
Annato seeds are derived from the fruit of the achiote tree. Though it has a very mild, sweet and peppery flavor, it's typically used as a natural food coloring. They won't change the flavor of this recipe— just the color — which I think is lovely and super appetizing. You can find annato seeds in most Mexican markets, and you can get them
here
. (And more about annato seeds
here
.)
Save
Save