Winter Persimmon Salad with Honey Glazed Pistachios and Blue Cheese is so festive and delicious — it's perfect for the holiday season!
Did you know that just like a bowl of chili, a salad can also be a comfort food!?  It's so true!  And this Winter Persimmon Salad is a perfect example.
This salad is rich with flavor — both sweet and savory — and has warming spices.  I even find a persimmon to be aesthetically comforting and warm.  Just look at them!  That deep, vibrant, fiery orange is stunning!
And I love the gorgeous, earthy green and brown tones of the leaves.  It reminds me of a very cool, antique dresser with distressed paint.  I know, not really related to food, but true. 😉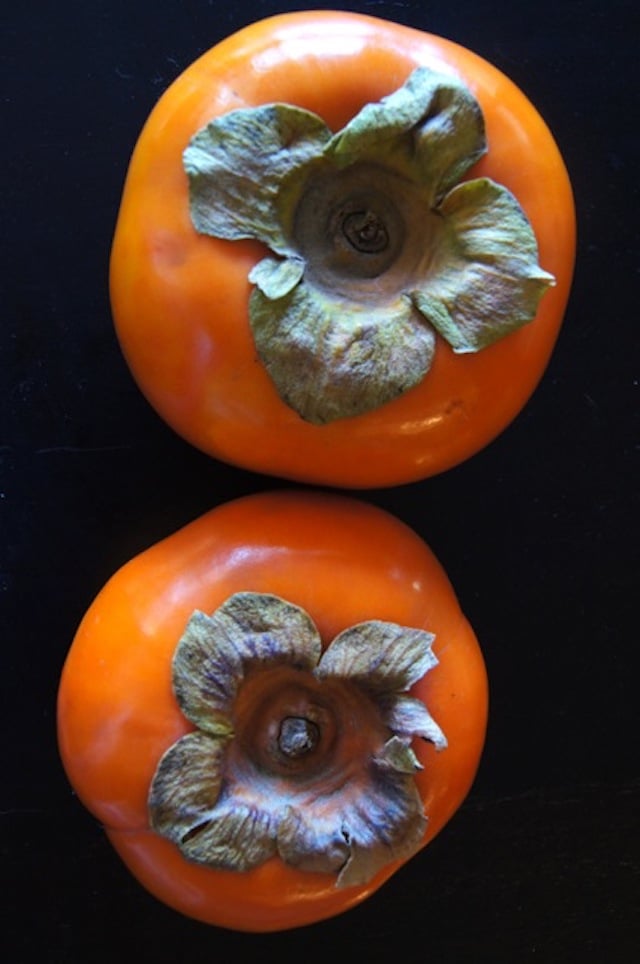 This is a beautiful, festive holiday salad!
If I were you, I'd make Creamy Cranberry-Ginger Balsamic Vinaigrette today and put it in the fridge.  Then I'd call a couple friends for a casual gathering over the weekend.
Chop up the salad ingredients Saturday morning, toss with your pre-made super-delicious vinaigrette, slice and warm some lovely bread, pour a few drinks, and then have a great time!
Do it!
There are two common types of persimmons; Hachiya and Fuyu. Hachiya persimmons are extremely tart if they're not absolutely, supremely ripe. Ripe hachiyas are incredibly soft and have a silky smooth pulp inside.
Hachiyas are typically used for baking, not eating on their own. Fuyus, on the other hand, are good when they're firm.  Fuyus can be peeled, sliced, or bitten into, just like an apple.
The flavor of a Fuyu is a bit reminiscent of pumpkin and mango. Imagine that with the glazed pistachios. Yum!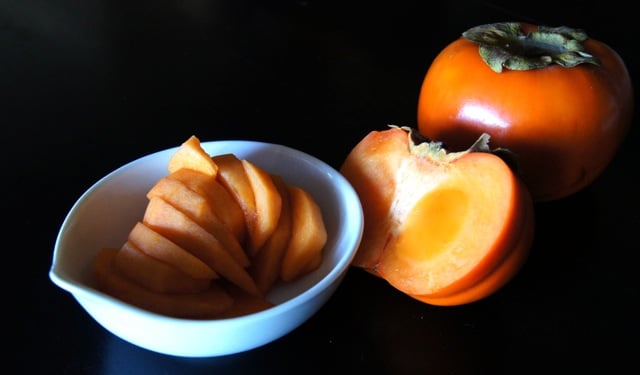 Enjoy!
Timeline:
Up to the day before and at least 20 minutes ahead: slice the onions, crumble the cheese, glaze the pistachios.
Just before you serve: combine all of the ingredients and toss the salad with the vinaigrette.
If you do any of the ingredient prep the day before, be sure to wrap each one tightly, separately, and keep them refrigerated.  The nuts should be kept out, lightly covered with foil.
Winter Persimmon Salad with Honey Glazed Pistachios and Blue Cheese
Prep time does not include making the vinaigrette.
Ingredients
2

Fuyu persimmons

About 6-ounces mixed baby greens

washed and dried

1/4

cup

thinly sliced red onion

1/4

cup

crumbled blue cheese

1/4

cup

dried cranberries

1/4

cup

pistachios

Cayenne pepper

Honey

about 1/2 recipe Creamy Cranberry-Ginger Balsamic Vinaigrette
Instructions
Peel the persimmons and cut each half into about 12 slices.

In a large mixing or serving bowl, combine the greens with the red onion, blue cheese, cranberries and sliced persimmons.

Place the pistachios on a plate, drizzle them with honey and sprinkle them with a touch of cayenne pepper. Add them to the salad and toss to combine.

Pour in the desired amount of the vinaigrette and toss!
Recipe Notes
For a more elegant presentation, hold the persimmon, cranberries, and pistachios out while you toss the remaining salad ingredients, including the vinaigrette. Then add the tossed salad to serving plates and "decorate" each serving with a pretty arrangement of the persimmon slices, cranberries and pistachios.
Save
Save